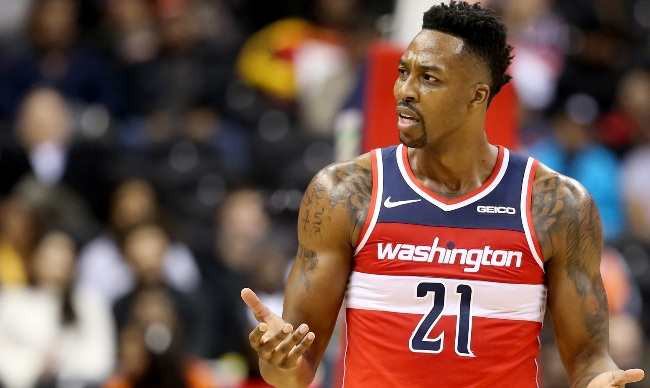 The Los Angeles Lakers' quest for center depth in the wake of news that DeMarcus Cousins has torn his left ACL has led them to a trio of veterans who are either free agents or are expected to be without a team soon.
Dwight Howard is the most interesting name that's been connected to the Lakers, simply because of the way his first tenure in Los Angeles went and the hurt feelings on all sides from his exit in free agency. However, Howard's not the only star from the aughts that is now on the Lakers radar, and they'll look to hammer down a signing in the relatively near future.
According to ESPN's Adrian Wojnarowski, Howard, Joakim Noah, and Mo Speights are all going to get some individual workout time with the Lakers over the next week in hopes of finding the player they feel can be the best fit.

Sources: Lakers planning individual workouts to evaluate centers Joakim Noah, Dwight Howard and Mo Speights this week in Los Angeles. Another consideration currently overseas: Marcin Gortat. Lakers want a window into physical condition and mindset of a potential addition.

— Adrian Wojnarowski (@wojespn) August 20, 2019
Woj also notes Marcin Gortat could be an option should they be able to lure him back to the NBA from overseas. Whatever the case, the Lakers are clearly seeking out a veteran presence that could eat up some minutes so they don't have to rely so heavily on JaVale McGee and playing Anthony Davis at the five in the regular season — it'll almost assuredly be Davis at the five a lot in the postseason to get their best lineups on the court.
Howard, when healthy, has been productive even as he gets shuttled off to a new team each summer because of his grating presence in the locker room. Noah bounced back from seemingly being headed out of the league last year in Memphis, proving he can still be a productive player when engaged and in shape. Speights spent last year in China, but was an important member of the pre-Durant Warriors teams and would provide floor spacing neither of the others could.