The San Antonio Spurs forged basketball's longest dynasty from organic growth. With the timeless Tim Duncan almost ready to call his storied career quits, though, it became crucial the team reach outside the draft and reclamation project scrap heap in hopes of avoiding an arduous rebuilding process.
Enter LaMarcus Aldridge, who's primed to help the Spurs to years of legitimate contention well after their seemingly endless ongoing era finally comes to an end.
San Antonio might be a juggernaut next season. It was close to dominant over the second half of 2014-2015, rebounding from a post All-Star lull to emerge as something close to odds-on title winners along with the eventual champion Golden State Warriors as the playoffs approached.
The Spurs' ensuing first round loss wasn't shocking, but only because of the Los Angeles Clippers' similar quality. Those teams were arguably two of the league's three best last season, and nagging injuries to Tony Parker and Tiago Splitter kept San Antonio from reaching its exalted level of one year prior at any point in their seven-game defeat at the hands of Chris Paul, Blake Griffin, and the since departed DeAndre Jordan.
The Spurs, basically, were far better than their season-ending result suggested. Even if R.C. Buford hadn't managed the summer's biggest free agency coup, they still would have been a potential winner of a typically loaded Western Conference next season. That's how effective the relentless San Antonio system is, how impactful Duncan remains on both ends of the floor, and how much better Kawhi Leonard still stands to get following a defensively award-winning and offensively eye-opening campaign.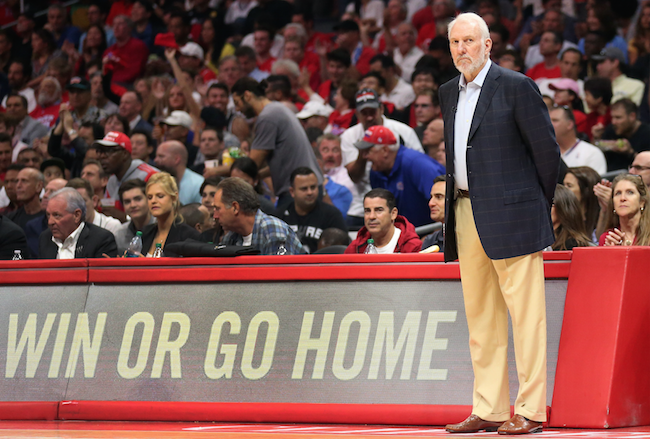 But Aldridge is coming to the Alamo City, and a couple smaller moves will likely follow, too. Does the Spurs' new circumstance make them the overwhelming title favorites some seem to believe? Not quite. That distinction doesn't exist in a league containing the Warriors, let alone Cleveland Cavaliers and Oklahoma City Thunder. San Antonio has simply cemented itself as one of several truly elite squads at the moment, a status that could have proven difficult to reach considering the age of many key contributors. No longer, though. The "experience" of Duncan, Parker, and Manu Ginobili (should he elect to put off retirement as expected) is suddenly a far bigger strength than weakness.
And that's only one of countless reasons why it's so tempting to see the addition of Aldridge through an immediate lens. The sweet-shooting big man provides the Spurs with the go-to option they've lacked ever since Duncan became a part-time one in the past few seasons. Watching Gregg Popovich integrate a steady diet of left block post-ups into his vaunted side-to-side pick-and-roll attack will fascinate, as will what the mere presence of such a productive, versatile scorer does to that system in general. San Antonio was basketball's seventh-best offense in 2014-2015 and Aldridge enjoyed a career season; both team and player are bound to fare even better together. The only question now, then, is the extent of those mutual benefits.
Here's the thing about the Spurs, though: They've always planned for the future while simultaneously thriving in the present. That's obvious every June when they select promising draft-and-stash prospects with late-round picks, and has been similarly evident in the past with acquisitions like a washed-up Boris Diaw, overweight Patty Mills, and cast-off Danny Green. San Antonio even played the long game during contract talks with Leonard last fall, fully confident that influence of its all-encompassing culture would supersede any tension gleaned from refusing the young star a max-level extension.
Even more than what signing Aldridge means for the Spurs in 2015-2016, what should scare the hell out of the league is what it means for the them in the future.
The long-term nucleus has already been established. Aldridge, Parker, Leonard, and Green will all be playing for San Antonio through 2017-2018 at the very least, and Yahoo Sports' Adrian Wojnarowski reports that part of what lured the former Portland Trail Blazers star back to his native Texas was an assurance that Popovich would complete his five-year contract inked in the glow of the franchise's most recent title.
Contracts signed under the new collective bargaining agreement are short. Continuity has never been easy to come by, and latest language of the CBA combined with cap booms over each of the next two summers have made it increasingly hard to develop – a reality that should concern the Spurs not just because they're a small-market outfit, but also because that normally fleeting stability has been the hallmark of their incredible, longstanding prosperity.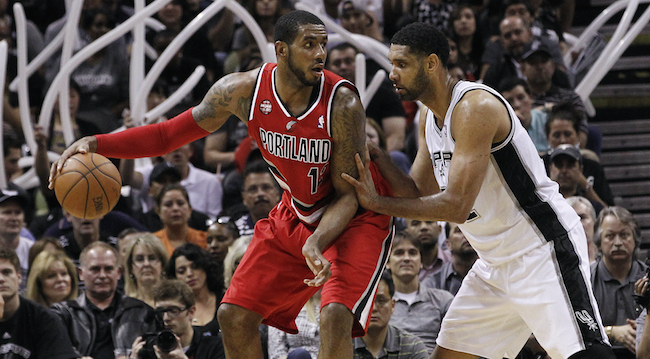 But that's not a worry anymore. San Antonio now has a talented core to begin its post-Duncan existence, and is suddenly a far more viable free agency player than it ever was in the past – just as a horde of stars will be hitting the open market and the salary cap is set to explode.
Yes, getting Aldridge gives Duncan a great chance to hoist a sixth Larry O'Brien Trophy in what will likely be his swan song. More importantly, though, landing free agency's biggest fish has ensured the Spurs will remain similarly successful for long after their greatest player in franchise history is gone.
Going forward, the league's new boss will definitely look a bit different than its old boss. But now that Aldridge wears silver-and-black, it could nevertheless be the same one who's reigned supreme for nearly two decades running.