CLEVELAND – The King sat alone … well, as alone as the best basketball player in the world could be while surrounded by people. Writers scrambled to dodge cords and cameras and microphones, bouncing from the whiteboard to lockers in hopes of finding a glimmer of insight into the King's thoughts and drives. The King was aware — as he always is — of everything going on around him, but headphones created a barrier as he went about his postgame routine.
Bystanders got caught almost whispering, either out of respect or to match the funeral-like nature of a team that saw its season reach its unceremonious conclusion. Faced with trying to solve a Rubik's Cube that had seen all its colors swapped and mangled, they could not. Some players dressed in silence and were left alone, others were grabbed for brief moments, and the cameras moved from target to target until the frenzy dissipated into the night.
Breaking through the somberness of the room like a wrecking ball to the side of an abandoned building, the King's boys and friends bounded into the locker room, bursting with energy and chattering as preteens do. One tripped over a pair of slides that had been left on the carpet, another narrowly avoided toppling over an ice bucket. They surrounded the King. There was no sadness, no agenda, no need for answers. It was an unguarded moment, and as quickly as it happened, it was over.
The King, headphones still on, shuffled into the showers, preparing for a press conference that would turn whispers into roars. For the second time in his career, a potential decision that could force the Cleveland Cavaliers to start back at square one looms large on the horizon.


LeBron James had a habit over the course of the 2018 NBA Finals of wearing his hat so low that the lights shining over the podium would cast shadows. His unusually expressive face was shrouded, and whether by design or a byproduct of fashion, his words had an extra bit of mystery to them. That didn't stop those interested in psychoanalyzing him to do so anyway, prodding and dipping in and out the same way James surveys a defense on the floor in search of weak points.
Following Game 4, James knew those questions were coming.
Those questions were there in 2010. They returned in 2014 and they've been there every year since in some form. It'd be foolish to think one of the most cerebral players of all time, one who can rattle off a series of plays as if he was doing Director's Commentary on them, wouldn't prepare for these. And yet, for someone who seemingly has had a plan of some sort since he entered the league (or, at the very least, since that first Decision in which he teamed with Dwyane Wade and Chris Bosh to take control of his own fate), anyone hoping for a tell wouldn't get one. Not yet, anyway.
"I have no idea at this point," James said. "The one thing that I've always done is considered, obviously, my family. Understanding especially where my boys are at this point in their age. They were a lot younger the last time I made a decision like this four years ago. I've got a teenage boy, a pre-teen and a little girl that wasn't around as well. So sitting down and considering everything, my family is a huge part of whatever I'll decide to do in my career, and it will continue to be that. So I don't have an answer for you right now as far as that."
Maybe this was part of the game. LeBron famously reads books in the locker room and in between games, and understands the allure of mysteries and codebreaking as well as anyone. It was only two years ago he dropped cryptic The Da Vinci Code-style tweets left and right midseason, leaving breadcrumbs so absurd it was a little shocking Nicolas Cage didn't try and use them to look for hidden treasure. This time around, if LeBron hasn't done it in print, there were moments throughout in which he's sought to amplify his message (and, perhaps, enhance his legacy).
For weeks he referenced how tired he was, dipping into the well again and again to the point that it seemed like he was creating a mythology around his shots and big moments. He said it out loud. He was seen chugging water on the sidelines. He'd even hide his face in a towel on the bench. This season was tiring — for the media, for fans, for players themselves. It had to be tiring for LeBron as well, as from the summer on there was no chance to rest. The team let its GM walk, went into the draft without a true replacement, saw its second-best player demand a trade, recouped a return that wasn't much of a return at all (save for a top-10 pick that we'll come back to), had one player go AWOL for a few weeks, had open disagreements in the locker room and through quotes and subtweets and Instagram posts, and retooled (well, overhauled) much of the roster at the trade deadline.
It took seven games of LeBron's best to avoid losing a first-round playoff series for the first time in his career, four games of magnificence to bury the Raptors, and another seven games of holding on for dear life before outlasting the young Celtics to even make it to the Finals for the fourth straight season.


Of course James was tired.
Intentional or not, what this set up was a new narrative before even entering the series with Warriors (again). It wasn't so much "LeBron has to do the unthinkable" as much as it was "LeBron had to do the unthinkable to even get here." A loss against the Warriors wasn't a blemish on his legacy anymore. By stressing how weary he was, James managed to do two things: Build up the depth of the Eastern Conference, which has been much maligned in the four straight years LeBron took his team to the Finals, and prove to those who assume otherwise that it was work to get to this point, emphasizing that LeBron's heavy lifting does take a toll.
"Sometimes you can give everything you've got and still come up short," Cavs coach Tyronn Lue said after the series was over. While he was referring to the Finals themselves, he could've been referring to our professional careers, our hopes and dreams, or even our lives in general.
So what now? The foregone conclusion proved true. The sweep happened, although not without casualties. J.R. Smith's Game 1 blunder will have ripple effects, not just for him, or for George Hill (who missed the free throw in the first place), but potentially for many Cavaliers, including James. It was revealed he punched a whiteboard after the loss out of frustration and had played through the remainder of the series with an injured hand.
"I still think there was another level that we could've gotten to," Larry Nance Jr. said in the locker room after Game 4. "I think we were capable of, but for whatever reason we didn't get there."
The team simply never reached that higher gear, whether it was lack of practice time, poor fit, coaching, or otherwise. Changes will be made, and players who gave everything might be caught in the undertow.
Part of dealing with a star as large as LeBron is dealing with the gravity that surrounds him. Manage to exist in his orbit and you'll gain all the benefits that go along with that. Try to fight that gravity and you run the risk of skipping off the atmosphere into total darkness. It's not right or wrong, it just is. LeBron's greatness can be debated ad nauseam, but he is who he is because of who he is, along with all the motivations, drives, desires, quirks, and decisions that go along with that.
The idea that we can distill someone into their best moments and try and hold this expectation of them as YouTube highlight packages and nothing else is disingenuous. They deserve better. They deserve to have their lives be built with the care and exhaustive detail of a James Joyce novel. And so even in LeBron's most ordinary Bloomsdays, context is not only appreciated, but demanded.
This brings us to the decision at hand. What does the best player in the world do when it's clear the indomitable object in front of him has upended the meticulously crafted plan he's sought to execute for the better part of the decade? As in all things, there's a drive to gnash and claw and "beat on, boats against the current borne ceaselessly into the past." If the Warriors are LeBron's green light, how does he avoid being defined by them? How does he retake ownership of his own legacy?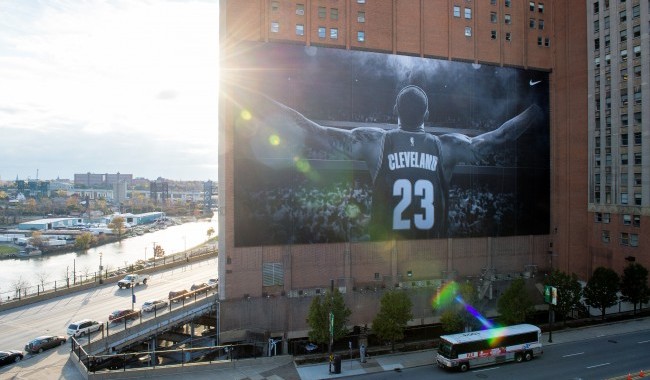 In some ways, as it always has been, home might be the answer.
Home doesn't offer him the best roster or the best shot at besting this foe, but Moby Dick isn't a story about a whale. LeBron, neuroses and all, has never set things up to be about him vs. anyone else. It's bigger than that. His story is too rich, too deep, too stuffed with allegories and allusions. Unintended or not, it's what we're left with. We're all faced with the inevitability of something, and the struggle against that inevitability has created the richest narratives throughout human history.
For LeBron's legacy to truly shine in this post-post-modern basketball world that was torn asunder and blown apart by the greatness of the Warriors, he has to move beyond the Warriors. Chasing them — in Houston, in Philadelphia, or otherwise — makes his legacy, and his story, about them. Staying in Cleveland makes his legacy, and his story, about him. That's the power he has.
His impact is felt in Northeast Ohio every single day, through the foundation he's established, through the people he inspires, and through the family he has built and fostered. It allows his daily life to shape his legacy. It allows him to be remembered beyond basketball. That isn't to say he can't continue to do so from Los Angeles, or even reach and impact a whole new generation there. But those moments resonate and vibrate at a frequency that reaches people on an entirely different level here. James knows this, and he understands this better than any athlete ever has. Were he to leave and explore another option, he'd be supported far more than he ever was in 2010. He did what he promised. He accomplished the unthinkable. He brought a championship to Cleveland.
Sticking around would require a trust that might not be there — in a roster, in a coaching staff, in a front office, and with an owner with whom he has plenty of bad blood. That roster will change, but will that be enough? The coaching staff could, too, but who realistically is out there who can draw even more greatness out of him? The front office has plenty to prove and pieces to dangle, but are there moves to be made? The owner has shown his narcissism and competitive drive can be wielded as a tool, but can his ego be overcome? Those questions may not have realistic answers, but they're questions LeBron is at least familiar with. Any new situation brings potential, but reveals a completely different set of questions that are found in time.
"Being a part of the start-fresh mode is something that you definitely don't want to be a part of," James said after Game 4. "It has its pros and it definitely has its cons."
On some level, no matter where he ends up because of the gravity he commands, he'll be starting fresh. If the Cavs do what needs to be done to keep him around, this is a new situation. If he joins the Rockets, or the Sixers, or the Lakers, or even the Celtics, he'll be starting fresh. The pros are that anything is possible, but the cons are that anything is possible. We know home is where the heart is, but the decision this time around for LeBron is whether or not home is where his legacy will be secured.