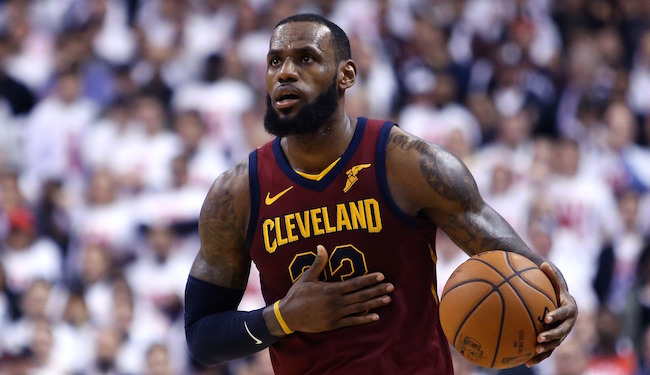 It's official: LeBron James is going to hit the open market this summer. The Cleveland Cavaliers' star will decline his player option for the 2018-19 season, preventing him from making $35.6 million for the upcoming campaign and making him an unrestricted free agent. Now the question that hangs over the entire league is whether James will come to terms on a new deal with the Cavaliers or if he'll take his talents elsewhere.
The news of James opting out of his deal came via Joe Vardon of Cleveland.com and confirmed by Shams Charania of Yahoo Sports.

While Kawhi Leonard is, to some extent, on the trade market and Paul George's future is also in question, everything for the foreseeable future will revolve around what James ends up doing. Him opting out is terrible news for teams like the Rockets and the Spurs that don't have the room to sign him to the big money contract he will command, because those sorts of teams would have needed to bank on him opting in and then working out a trade with Cleveland.
This news means that three teams that have been rumored landing spots with space for a max contract — the Cavaliers, the Lakers, and the Sixers — are in a great position to acquire his services. Of course, anything is possible, and another team could work to free up the room necessary to attract James, but they'd have to do that in enough time to sit down with him and sell them on their organization.
James has said that two things will dictate his decision: His family, and the fact that he still believes he's in "championship mode." It remains to be see which place helps him achieve those two things, but for now, all we know is that when the clock hits midnight on July 1, LeBron James will be a free agent.