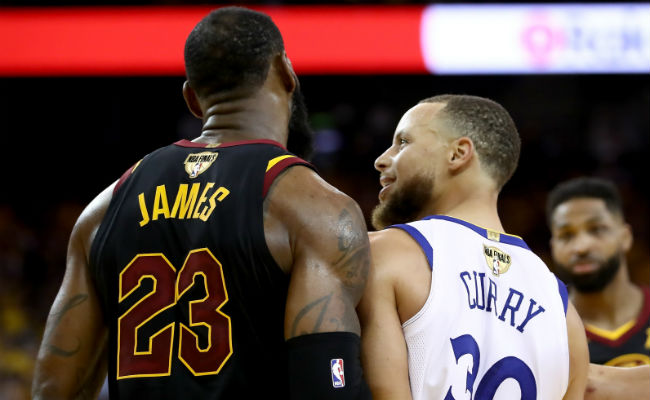 The enduring moment of Game 1 of the 2018 NBA Finals will forever be JR Smith forgetting the score in the dying seconds of regulation. The Cleveland Cavaliers needed to score to win. They did not, the game went into overtime and the Golden State Warriors went on to win in the extra session.
The rest of the series went Golden State's way as well, and that moment became as close as the Cavaliers got to preventing a sweep and a second straight Warriors title. There were many more wild moments in that game, though, including a skirmish started after James blocked a Steph Curry layup in the game's dying seconds that sparked a small war of words we never really got to hear.
But now that the dust has settled and the series is long gone, we're starting to learn just what that whole situation was all about. Curry was on The Bill Simmons Podcast and revealed just what was said between himself and James during some tense moments of Game 1.

Curry said he was mad that James took the moment so seriously, especially when the game was essentially wrapped up.
"It was never going to spill over to that. But it was an interesting moment …I was hot because I was trying to finish out a possession, I think it was less than a minute left, I didn't see him coming over from the weak side so I tried to do a little soft scoop layup and he pinned it. Then he stared me down and he said something to me.

"And I was like, 'That's what we're really on right now? We're about to win and you're worried about mean-blocking my shot and talking trash?'
That wasn't even the wildest moment in overtime, of course, as Tristan Thompson and Draymond Green got into it and actually created a bit of a physical altercation seconds later. But that gave Curry a chance to go back to LeBron and clarify what just happened between the two of them.
"And then the whole Tristan and Draymond thing happened and I went back up to him and I was like, 'Yo, what's up? Is this really what we're about right now?'

"And he was like, 'I gotta do that to make sure my teammates know I'm a mentor' and it's a part of his leadership and that type of deal. And I was like, 'I don't want to be the sacrificial lamb for your leadership.' (laughter). Come on man, that's messed up."
Basketball doesn't have the weird scraps that hockey often does in the postseason, where a losing team causes some trouble physically at a game's end to "send a message" to the other team that they intend on it being a long series. But "mean-blocking," as Curry described the move, is about as close the sport gets to that kind of message-sending.
For Curry, that message felt unnecessary, and it didn't actually mean much in the end because the Warriors swept anyway. We know just how frustrated James was after putting on a stunning performance, only to have it come up short due to Smith's mistake in the endgame. Curry bore the brunt of that frustration for James in overtime, but it ultimately didn't matter.
(via Bleacher Report)