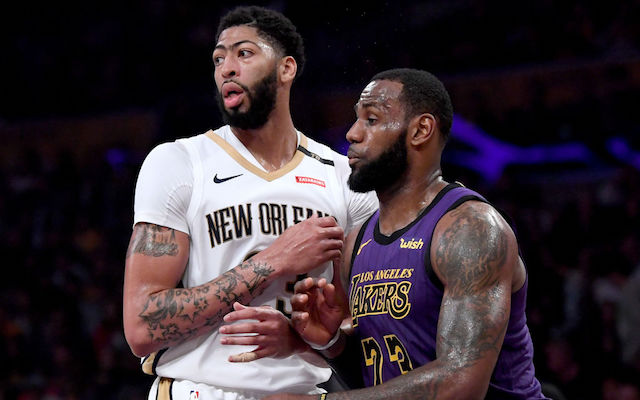 The saga of Space Jam 2 has been a long and arduous one. It's evolved from a rumor, to silence, to rumor again before finally being confirmed to release in the summer of 2021. If that announcement didn't make things feel real, perhaps some leaked footage from the first week of shooting will get you excited for the LeBron James-driven vehicle.
TMZ has acquired some very brief footage from the early stages of shooting, and it features James alongside new teammate Anthony Davis, Draymond Green, Damian Lillard and a gimpy Klay Thompson in a gym. Thompson remains on crutches after having surgery for the torn ACL he suffered during Game 6 of the NBA Finals, and it will be fascinating to see how Space Jam 2's producers use special effects to, you know, make him resemble a fully healthy basketball player — or if his injury somehow plays a role.
Each player looks to be wearing a jersey with the words "All-Star" across the front, though it's unknown if the threads are simply stand-ins for whatever jerseys will actually appear in the movie — or if it is at the All-Star Game where shenanigans take place. Davis, Green, Thompson, and Lillard are a pretty strong start for a possible Monstar skill-stealing squad. It's unknown what's happened, exactly, to the Monstars (known as the Nerdlucks when not chock full of NBA star power) since the end of the original Space Jam, when Michael Jordan helped them turn on their cruel overlord, Mr. Swackhammer, or if they'll appear in the sequel.
So there you have it, folks. Space Jam 2 filming is off and running. Now we hold on tight until June of 2021.