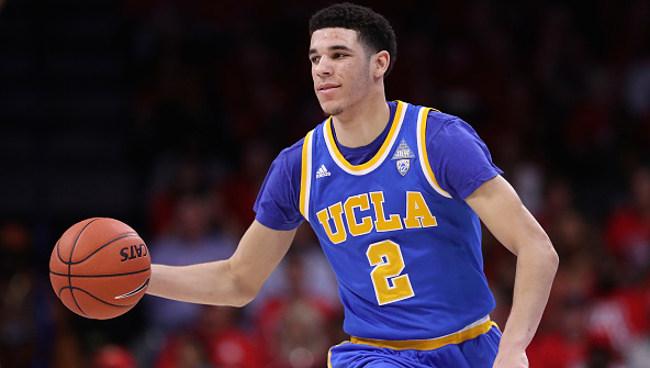 UCLA guard Lonzo Ball is a surefire star and destined to become a top three pick in this summer's NBA Draft. But his father LaVar Ball's verbosity continues to make life more difficult than it needs to be. On several occasions, the elder Ball has made wild proclamations about his son being better than Steph Curry, and he recently stepped on his tongue once again when he declared that Lonzo wouldn't play for any team other than the Lakers.
That is, of course, not how things work when it comes to the NBA Draft, and if he were, in fact, picked by some other team, it would raise serious concerns about his desire to be there. He later clarified that, as southern California natives, he and his son have simply pegged the hometown Lakers as their preferred destination and that he'd do everything in his power to make it happen.
Translation: he isn't about to stop micromanaging his sons' careers, no matter how much criticism he receives. That's what he told ESPN's Morning Show with Keyshawn, Jorge and LZ:
"Here's the thing right here. I know what my son's about. He knows what I'm about. Now, all these people saying, 'Oh, LaVar needs to shut up and let his son just play.' No. You shut up and let my son just play. I'm going to say whatever I want to say, and I've been like this all my life. Everybody expects this right now, Keyshawn, for me to back up. They can go and do what they do. I'm not backing up. I've been in my son's life all this time. He would be thinking differently if I didn't say anything."
LaVar went on to talk about the new brand (Big Baller Brand or Triple B's) he's developing for his trio of star-athlete sons (LaMelo and LiAngelo are both high-school basketball stars).
They're kicking in the door, but they're shocked at what I'm telling them. I said, 'I'm not looking for no endorsement deal. I'm looking for a marketing and distribution deal.' Branding. The only person doing that is (Michael) Jordan with Nike. That's what we're for. If Lonzo doesn't sign with Adidas, Nike or Under Armour, guess what — I'll sign the Big Baller Brand.

"We already got our own brand. Triple B's. Lonzo is going to be the first one drafted with his own brand. That don't happen."
LaVar certainly doesn't lack for confidence, if that wasn't obvious by the fact that he readily compares his upstart apparel company to Nike and Jordan Brand. The bottom line seems to be that we haven't heard the last from LaVar Ball, not by a long shot.
(ESPN; h/t For The Win)