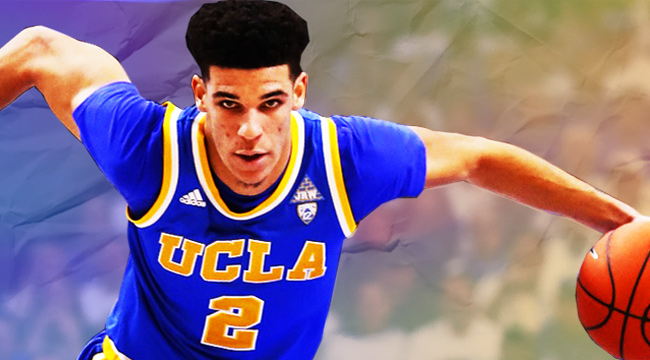 Just a few weeks ago, Lonzo Ball was a name only known to basketball recruiting die-hards. The 6'6, 190-pound guard from Chino, Calif. was something of a sensation at the high school level, putting up video game-like numbers alongside his brothers in a high-octane prep system. Ball was seen as at least one step below the uber-elite in the Class of 2016 and his decision to stay close to home at UCLA instead of jumping to Kentucky, Duke, or another more nationally dissected program likely helped to deepen that belief.
As of early December, though, Ball and the 9-0 Bruins are easily the biggest story of the early college basketball season, and a dominant road victory against many of his contemporaries at Kentucky over the weekend did nothing to dissuade that. Through those nine contests, Ball is averaging 14.6 points, 5.0 rebounds, and a nation-leading 9.3 assists per game, and he has been incredibly efficient in converting 55.4 percent of his field goals and 43.5 percent of his attempts from beyond the three-point arc.
Ball's assist numbers speak for themselves, but dishing out that kind of aid for his teammates while standing at 6-foot-6 is is doubly impressive. While his jumper isn't the prettiest in the country by any means, they are falling right now.
As an NBA Draft prospect, there are some question marks between that jump shot and some raw tendencies, but he profiles as a potentially devastating defender at the NBA level, and big guards with versatility and vision are certainly in vogue right now. It is (far) too early to pencil Lonzo Ball in alongside Markelle Fultz as a certain "1-A" when looking ahead to June, but the early returns are wildly encouraging. It doesn't hurt that Ball is helping to make UCLA a trendy program for folks that often don't take a long look at college basketball until March.

The Lottery
1) Markelle Fultz (PG, Washington) – Fultz entered the year as the consensus No. 1 prospect and he has done nothing to tarnish that. The 6-foot-4 lead guard is averaging 22.7 points, 6.7 rebounds, and 6.6 assists per game while operating with high-level efficiency, and not even a lackluster supporting cast can keep him out of the top spot.
2) Josh Jackson (SG/SF, Kansas) – While Fultz is the player most often linked to the No. 1 spot, Jackson has been featured at the top of a few prominent lists already, and it is easy to see why. The NBA continues to search for high-quality wings, and Jackson brings a combination of crazy athleticism, size and skill to the table. For good measure, he's even performing well in efficiency at Kansas, and the Jayhawks haven't always been a safe haven for top-end prospects.
3) Harry Giles (PF, Duke) – Giles hasn't appeared in a college game to this point because of knee issues, and that is the big red flag for his prospect status. If he didn't have that problem, the 6'11 big man would probably sit atop this list.
4) Lonzo Ball (PG/SG, UCLA) – This is (much) higher than he would've been a few weeks ago, but the hype train is justified. He has such a fun game.
5) Jayson Tatum (SF, Duke) – Tatum debuted on Saturday after missing the start of Duke's season with a foot sprain, and the 6-foot-8 freshman looked rusty. Still, he is incredibly talented and isn't nearly the injury concern of his teammate in Giles. Tatum just happens to have a (slightly) lower ceiling.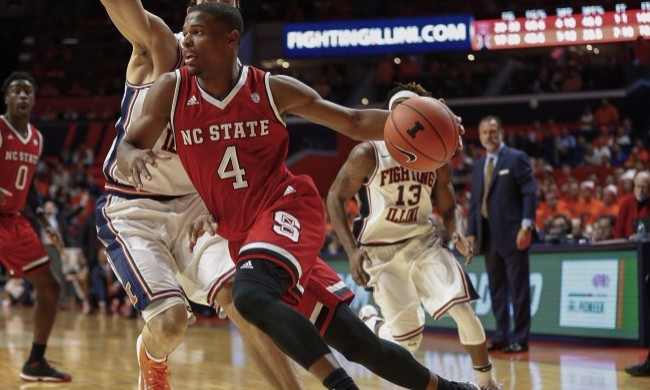 6) Dennis Smith (PG, NC State) – Because he chose to sign away from a blue blood program, Smith is flying under the radar, but he is an explosive athlete with all of the tools you'd want in a modern point guard prospect. His jumper is a concern, but Smith can get to the rim at will and that is a nice trait to boast.
7) De'Aaron Fox (PG, Kentucky) – Oh look, another wildly athletic point guard. Are you sensing a theme? I think I'm higher on Fox than most, but the comparisons to John Wall athletically make a ton of sense, and his game has translated well in the early going for Kentucky. It should be noted, though, that he can't shoot. At all.
8) Malik Monk (SG, Kentucky) – If Monk was 6'6, he'd probably be higher on this list. The Arkansas product might be the best pure scorer in the entire class, and he certainly isn't shy about displaying that trait prominently. His jumper has been more impressive than advertised early on as well, and that could help to buoy Monk's prospect star.
9) OG Anunoby (SF/PF, Indiana) – 3-and-D guys are all the rage, and Anunoby qualifies. He is converting 38.1 percent of his threes this season, and with big-time athletic tools on the defensive end, you can talk yourself into him as a top-10 pick rather easily.
10) Frank Ntilikina (PG/SG, France) – Ntilikina looks to be the top international player in this class at a (very) early stage, and 6'5 point guards (see above) are something that NBA teams like. He is seen as arguably the best "pure" point guard in that he is more of a facilitator than some of the guys ranked ahead of him, but Ntilikina could also be a longer-term prospect than you might think.
11) Jonathan Isaac (SF/PF, Florida State) – Isaac is one of those players that won't be on television enough to jump into the casual fan's consciousness until March, but he is a monster prospect. At 6'11, he is converting 44 percent of his threes, and Isaac is averaging more than 15 points and and seven rebounds per game in fewer than 26 minutes of court time per contest. He is too skinny, but that hasn't stopped many players with his traits.
12) Ivan Rabb (PF/C, California) – Anunoby was the first college "veteran" on this list, but considering the small role he played for Indiana during most of his freshman year, Rabb is really that guy. It was a surprise, at least to me, that Rabb went back to school, but he is dominating (19.8 points, 10.2 rebounds per game) during the season's first month. He looks like a late lottery pick that is safer than most.
13) Bam Adebayo (PF/C, Kentucky) – Offensively, Adebayo is a work in progress and that pushes him down for me. In addition, power forwards in his mold aren't as popular as they used to be. Still, he is blessed with very nice athletic tools and is a monster to deal with around the rim.
14) Lauri Markkanen (PF/C, Arizona) – Legitimate seven-footers with mobility and the ability to shoot 43 percent from three are rare, but Markkanen qualifies. He is also a competent rebounder and a less than embarrassing defender. I'm in.
The Rest
15) Jarrett Allen (C, Texas)
16) Terrance Ferguson (SG/SF, Australia)
17) Miles Bridges (PF, Michigan State)
18) Thomas Bryant (PF/C, Indiana)
19) Marques Bolden (C, Duke)
20) Jaron Blossomgame (SF, Clemson)
21) Grayson Allen (SG, Duke)
22) Omer Yurtseven (C, NC State)
23) Isaiah Hartenstein (PF, Germany)
24) Luke Kennard (SG, Duke)

25) Edmond Sumner (PG/SG, Xavier)
26) Frank Jackson (PG, Duke)
27) Dwayne Bacon (SG/SF, Florida State)
28) Tony Bradley (C, North Carolina)
29) Tyler Lydon (SF/PF, Syracuse)
30) Rodions Kurucs (SF, Latvia)