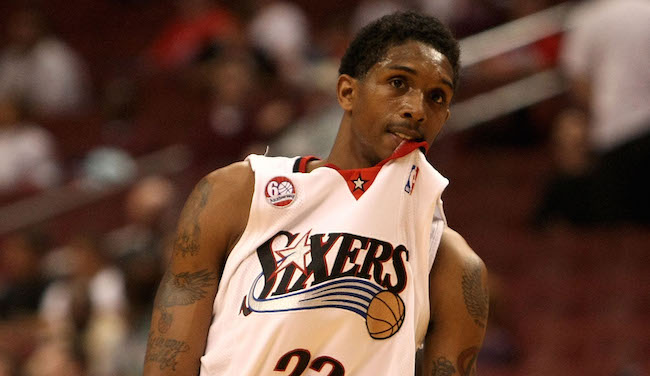 Lou Williams was among the final preps-to-pros stars in the NBA, being drafted 45th overall by the 76ers in the 2005 NBA Draft. Williams was a great scorer in high school and it was perhaps fortuitous that he was drafted onto a team with one of the league's best scoring guards ever in Allen Iverson.
Iverson was an idol to Williams, and as a rookie, he happily tagged along with Iverson to everything he could, at the Sixers facility and beyond. Among their regular meeting spots was the TGI Friday's in Philadelphia, where Williams told Sports Illustrated's Lee Jenkins they met so often that "he should have bought" the place.
Anyone that's heard Iverson's propensity for enjoying chain restaurant bars wouldn't be surprised by that, whether it's a place like Friday's or the Cheesecake Factory. Williams was also privy to tagging along to an Iverson excursion to Atlantic City as a young player — Iverson's enjoyment of the tables is also not a secret.
However, there was one catch for the young Sixers guard in Atlantic City: He wasn't old enough to be on the casino floor.
"A.I. didn't ask me to do a bunch of stuff for him," Williams remembers. "He just wanted me around. Usually we were at the Friday's in Philly, which he should have bought, because he was there so much. But once he took me to a casino in Atlantic City even though I couldn't get in. So I sat in the lobby while he gambled. It was fine with me. I was with my idol."
Anyone that's made the mistake of traveling to Las Vegas, Atlantic City or any other place with casinos before the age of 21 knows this pain, but it's a little bit of a funny visual to think of an NBA player just hanging out in the lobby because they can't get in while A.I. does his thing at the tables.
As Williams notes, he was just happy Iverson wanted him around and he was thrilled to be invited to trips with the guy he idolized. Now, Iverson still talks regularly with Lou-Will about things he sees in his game and ways he can attack better while Williams puts up his best career season in Los Angeles. And if they still make casino trips together, Williams can now take a seat inside with Iverson rather than posting up in a lobby.