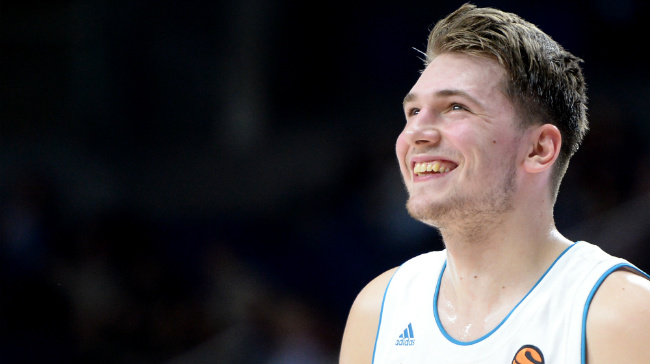 Slowly but surely, ratings are trickling in for players in NBA 2K19. We've seen a number of established guys get ratings handed out by 2K Sports, and of course, there has been debate and discussion on whether these ratings are too high, too low, or just right. But on Friday, we got our first rating for someone who is going to make their NBA debut during the 2018-19 campaign.
That someone is Luka Doncic, as the Dallas Mavericks' prized rookie had his rating revealed by the Twitter account for 2K Sports in Spain. The former Real Madrid star and third overall pick in the 2018 NBA Draft will enter his first professional season in the United States with a 79 overall rating.
Doncic is a fascinating person for the game to rate, because unlike most of the incoming recruiting class, he has spent years going up against professional competition, with some of the guys he's faced off against having NBA experience. Still, NBA 2K generally tries to temper expectations for rookies, and last year, the top two picks from the 2017 NBA Draft (Markelle Fultz and Lonzo Ball) were given 80 overall ratings as they entered the league.
Additionally, last year's third and fourth picks — Jayson Tatum and Josh Jackson — respectively received 77 and 78 overall ratings at first.
It's totally possible that Doncic steps in, wows the NBA right away with his incredibly refined game, and outperforms this rating, but time will tell whether that ends up being the case. It's also going to be fun to see how the folks at NBA 2K compare Doncic to Deandre Ayton and Marvin Bagley, but we'll cross that bridge when we get to it.