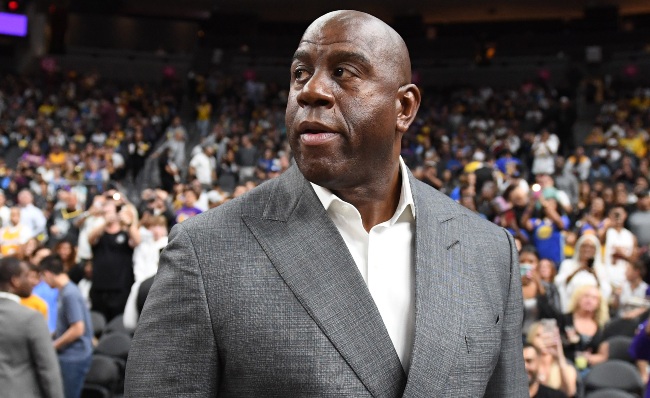 Twitter was ablaze during the 91st Academy Awards on Sunday night. Over the course of several hours, movie buffs and award show fans went through a rollercoaster of emotions surrounding some of the best films and performances that occurred over the last year.
This included Lakers president of basketball operations and Hall of Fame inductee Magic Johnson, who, as it turns out, really loves the Oscars.
Johnson is known for his Twitter presence. It's endearing, in a way, because Johnson tweets like an extremely normal person who likes stuff and not like every other billionaire who tweets about, I don't know, Changing The Way We Think About Tires Through Apps or whatever. A few non-Oscars examples:

Now that the thesis of this post has been established, let's look into his posts from last night. Johnson sent 15 tweets on Sunday evening, 13 of which were related to the Academy Awards. The NBA's all-time leader in assists per game was quick to dish out praise (sorry) to the winners of the various major awards.

At a certain point in the night, Spike Lee and Samuel L. Jackson got their chances to shine — the latter presented the former with his first Academy Award win, as Lee's BlacKkKlansman won the Oscar for Best Adapted Screenplay. This excited Johnson, as he's tight with both dudes and was over the moon that they shared this moment together.

Johnson kept tweeting as the event went on. He was an especially big fan of Lady Gaga's performance in A Star is Born and the necklace she wore to the ceremony.
To end the night, Johnson disagreed with seemingly much of the Twitterverse when it came to the Best Picture winner.
Before we learned the Best Picture winner, though, Johnson had to send his two non-Oscars tweets of the night. Both of them had to do with his alma mater winning a hard-fought road game against their biggest rivals.
Sure, the Academy Awards were going on, but it was a legitimately huge win for Michigan State, and as we all know, Johnson is a Spartan for life.