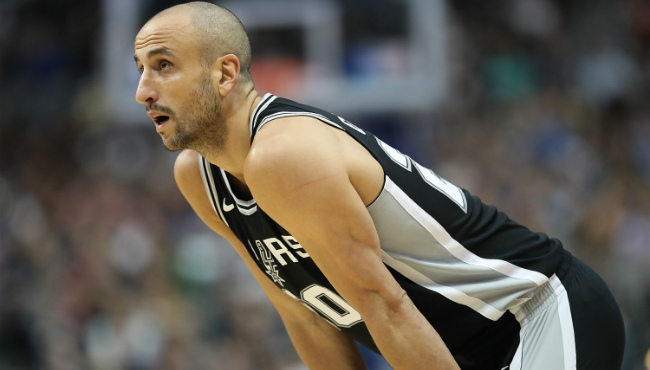 Manu Ginobili is one of the best players in NBA history at making shots that don't make any sense. He's a master at throwing up heaves from strange angles that have zero business going in, but find their way through the cylinder, anyway. It's one of those skills that will never go away, even though he's 40 and on his final legs.
For proof of this, let's head to Tuesday night's game between San Antonio and New York. The Spurs put the ball in Ginobili's hands, who chucked up … something? It might be a shot, but more likely, it was an attempted pass to LaMarcus Aldridge that slipped out of his hand wrong.
Either way, the ball went in. It made no sense, but Ginobili's lob went through the hoop.

The best reaction from this is, obviously, Michael Beasley taking the basketball and just playing anyway. The craziest part of that is that someone in the arena claims Beasley knew it went in and just, like, kept going.
And of course, Gregg Popovich looking like he was about to lose his mind was tremendous. As was the fact that the officials had to straight up stop the game to review the play and eventually decide it went in.

In fact, Popovich admitted that he wasn't sure what happened with this one, but he acted like he knew it went in, anyway.
Ginobili reminds people that he is an all-time great H-O-R-S-E player a few times a season, and he managed to do that again on Tuesday night.
Check out the latest DIME podcast with college basketball analyst Jay Bilas!
[protected-iframe id="24fe581e9ede2fe2c89fd99d4c443d4d-60970621-10222937″ info="https://omny.fm/shows/the-dime-podcast/episode-13-jay-bilas/embed?style=artwork" width="100%" height="180″ frameborder="0″]