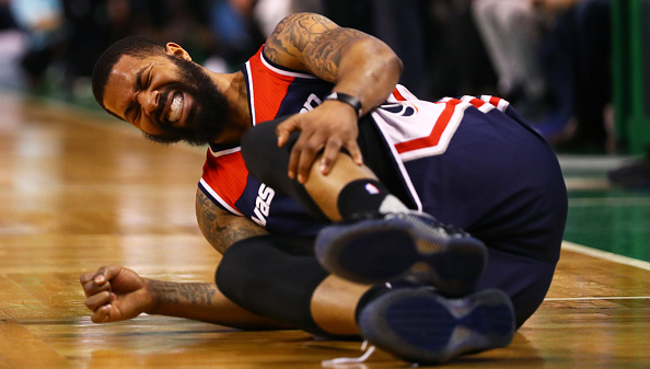 The Celtics got a decisive win against the Wizards in Game 1 of their second round series on Sunday, despite the fact that Washington sprinted out to a 16-0 lead in the first quarter. Things got physical at times, too, as Isaiah Thomas had a tooth knocked out in the first half, yet kept playing and finished with a game-high 33 points.
Markieff Morris, however, wasn't so lucky. About midway through the second quarter, Morris elevated for a step-back jumper, then came down awkwardly on Al Horford's foot, who had moved in to contest the shot. The replays showed that Morris rolled his ankle badly, and after the game, the Wizards forward alluded to the idea that Horford might have intentionally tried to "Jalen Rose" him.

Morris didn't return after that, but since x-rays later came back negative, he plans on playing in Game 2 on Tuesday night. He also plans on confronting Horford about the incident. Via J. Michael of CSN Mid-Atlantic:
"I'm not sure," Morris said of the second-quarter incident Sunday vs. the Boston Celtics. "I'm going to ask him, though. I looked at it a couple times. It's not really that pretty, so I couldn't really watch it too much."
Morris is no stranger to this type of beef. He was side-tracked all series long against the Hawks in the first round with all his extracurricular activities with Paul Millsap.
But it's unclear exactly what Morris is trying to accomplish with this. Can he really imagine a scenario in which Horford says "yeah, I totally tried to injure you and take you out of the series and potentially endanger your career"? And if he says "no, it was an accident" will that be enough for Morris to take him at his word and move on? Is he simply looking for an apology? (Horford has already apologized and explained that he did not intentionally try to hurt Morris).
Nevertheless, the Wizards will need Morris healthy and available if they want to get back in this series, and starting the next game with a confrontation that could potentially lead to technical fouls and/or suspensions probably isn't the best way to proceed.
(Via CSN Mid-Atlantic)