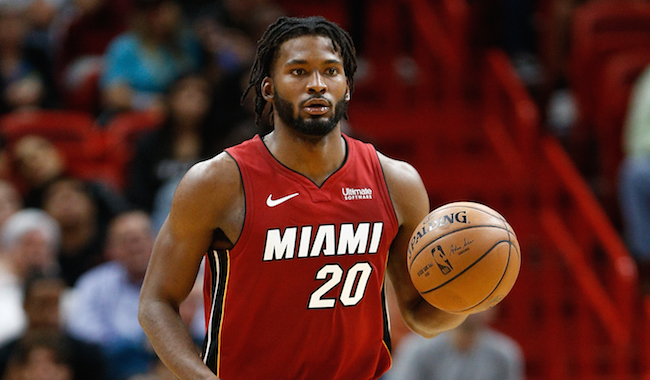 Earlier this year, when rumors abounded that the Houston Rockets were willing to part with four first-round picks to acquire Jimmy Butler, there was a discussion on Twitter about if any player in the league was actually worth that price.
The funniest answer to that question was naturally Justise Winslow, who the Boston Celtics were reportedly so enamored with back on draft night in 2015 that they were willing to surrender an even steeper haul to select him.
It's been a long time since Winslow was the apple of Danny Ainge's eye, back when he was coming off a dazzling freshman season at Duke where he won a national championship and emerged as a potential do-it-all wing player in the evolving NBA. Since then, Winslow has been, at best, an average player for a depressingly mediocre Heat team.
But Miami has perked up ever so slightly on its recent west coast swing (setting aside the brutal loss to Utah that Rudy Gobert clearly circled on his calendar after the teams' first meeting), and Winslow has also seen a little boost in his play along the way. Whether it's a sign of sustained improvement or just another small sample on the fourth-year player's resume is unclear, but it's interesting to take a look at nonetheless.


Injuries have forced the Heat to use Winslow as a backup point guard recently, where he's benefitted from more time directing the offense. On the team's road trip, Winslow has averaged about 16 points, 6 rebounds, and 4 assists in the last five games while shooting 13-of-29 from three. Within that stretch were Winslow setting career highs in back-to-back nights with nine assists against the LA Clippers followed by 28 points against the Lakers.
After the win over the Clippers, Winslow explained why he enjoys playing the point.
"I'm in more control," he said. "Obviously, I'm at the top of the key, so all the eyes are on me, so I can get guys organized and that sort of thing, but I love it. It gets me more aggressive just having the ball in my hands, and feeling the ball helps me find rhythm throughout the game."
Winslow's usage has bumped up to 22 percent on Miami's road trip, he is turning the ball over less, and his effective field goal percentage has shot up from 45.7 percent to 57 percent. That's always been the great challenge with Winslow — he's not a good shooter. He shoots about 40 percent from the field and 66 percent from the foul line, meaning he needs to cash in on his threes to have a chance of being efficient on offense. In the last two seasons, he has shot 38 percent from beyond the arc, though he still only takes 31 percent of his shots from that range (per Cleaning the Glass). Winslow is only really capable of being a catch-and-shoot threat at this point in his career; 94 percent of his 3-point jumpers come after zero dribbles. He'll need to earn respect as a shooter to fix his interior scoring because his drives into the paint have been dreadful at generating offense thus far.
What has worked for Winslow is his defense. His 6-foot-10 wingspan is overwhelming for many of the perimeter players he is tasked with guarding, and even though his block and steal numbers don't jump off the page, Winslow just doesn't let his man get into the paint. They don't shoot well when they get there, either, though Bam Adebayo can take some of that credit. Only Adebayo's defensive rating (99.6) outpaces Winslow (101.7) among Miami's rotation players, allowing Winslow to remain on the floor even as his jumper waxes and wanes.
The outlines of a successful NBA player have always been there with Winslow, but they still hadn't been filled in, which is why the Heat were able to retain him at such a discount this summer. It's a small sample size, but the Heat may have found something in putting the ball in Winslow's hands more and if he can sustain this level of play in this role, it could bode well for Miami's playoff push.