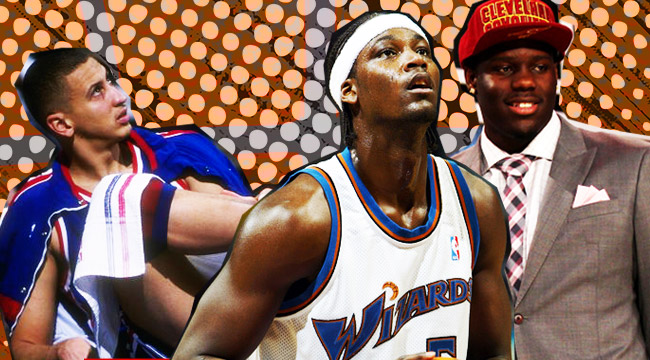 The 2016 NBA Draft is nearly upon us, and though most accounts have Ben Simmons and Brandon Ingram as the jewels of this class and a tier above the rest, the one guarantee is that someone who's widely considered a lesser pick will prove over the course of his career that he should have been selected a lot higher. For the players, being overlooked is often motivation to prove the doubters wrong, but for the teams, those mistakes represent brutal "what if" scenarios that change the course of history forever. Let's look at 10 of the most regrettable oversights in draft history.
(NOTE: While there is considerable overlap here with the millions of draft bust lists out there, and necessarily so, these choices are made more for who teams didn't select rather than who they did.)
1984: Portland Trail Blazers, Sam Bowie
The man from the crying face meme wasn't the first or second pick of the 1984 Draft, but the third behind Hakeem Olajuwon (unimpeachable) and Sam Bowie. You can wonder why the Blazers drafted him — probably some combination of the league's constant thirst for big men, and the presence of star Clyde Drexler at Michael Jordan's position of shooting guard — but you will never wonder as much as Blazers fan do about the possibility of Michael Jordan going to Portland at No. 2.
1987: Los Angeles Clippers, Reggie Williams
The Dunbar high school star has never shown up on any all-time draft busts we've seen, because he was only the fourth pick and played 10 seasons with a couple of good ones thrown in. But he was a small forward, and a different small forward was picked one selection after, at fifth overall: Scottie Pippen, picked by the Seattle Supersonics (RIP) before being traded the same day to Chicago for a package centered around eighth pick Olden Polynice. Williams was an elite scorer for an elite college program in Georgetown while Pippen played for Central Arkansas, so the selection was defensible at the time. Looking back, though… yes. And it's worth noting that self-important Bulls general manager Jerry Krause was super paranoid someone else would discover Pippen was so good and went out of his way to shroud his talent from other teams.
1995: Golden State Warriors, Joe Smith
Of the first five picks in the 1995 Draft, four of them were power forwards. All of them would go on to have long careers, but Smith's was significantly less distinguished than all the other three: Antonio McDyess, Rasheed Wallace and — most notably — Kevin Garnett. McDyess had a couple of 20-point, 10-rebound seasons for Denver before settling in as a useful role player later in his career following knee surgery that limited his athleticism; 'Sheed was 'Sheed, and KG is still KG. Joe Smith's biggest NBA distinction was as one of the most traded players in league history. Not the kind of legacy the Warriors were envisioning.
2001: Washington Wizards, Kwame Brown
For my money, Kwame Brown is still quite possibly the biggest bust at No. 1 overall since the lottery began. His was another case of being the worst choice among a host of big men picked near the top of the draft, though one could go on about who was worse between him and Eddy Curry, taken fourth overall. But second and third were Tyson Chandler, an NBA champion and Defensive Player of the Year, and Pau Gasol, who won two titles with Kobe in Los Angeles, led some middling Grizzlies teams to the playoffs before being traded, and might wind up in the Hall of Fame when all is said and done. Meanwhile, Kwame provided the rare instance when a Stephen A. Smith rant was completely correct.
2003: Detroit Pistons, Darko Milicic
Of all the teams picking in the top five of the 2003 Draft, the Pistons were an outlier. They were already a successful team that, thanks to a trade from six years prior, still lucked into the second overall pick. Sure, LeBron was always going first overall, but there was loads of other talent available. Perhaps, with a roster that would go on to win the NBA title the following season, the Pistons felt free to swing for the fences, but they popped out on a 3-0 count with the bases loaded and missed on (in order): Carmelo Anthony, Chris Bosh and Dwyane Wade. Think about the second life the Billups/Wallace/Wallace/Hamilton core could have had with one of those guys, and despair.
2006: Toronto Raptors, Andrea Bargnani