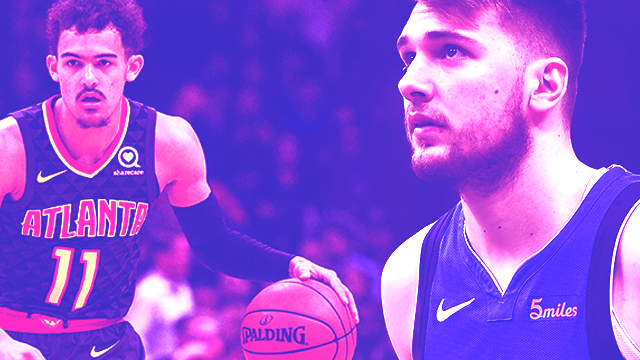 Like every draft in every sport, the NBA Draft is an extremely inexact science. Projecting how 18/19/20 year olds will develop their skills and adapt to life on and off the court as a professional basketball player is extremely hard, and being able to map out exactly how everything will go down in a player's career is damn near impossible.
That's reflected in the wide variance we see in output from draft picks every year, as well as the uneven development we see from draft classes from year-to-year. It's difficult to know whether a rookie will develop into a superstar or simply be what they are, but the best thing you can say about the class of 2018 draftees is that they all appear to be solid NBA players as rookies. That's not to say this will go down as the greatest class of all-time or that any of them will reach their full potential, but it's exceedingly rare for the first five picks to all have long careers in the Association as — at minimum — solid rotation contributors in front of them.
Prior to the 2018 draft, I looked back through recent draft history to determine what can be reasonably expected of players from each draft slot, in hopes of tempering expectations that every top 10 pick should be a star-caliber player. In reality, the top pick should be a franchise-changing star, the second and third picks can reasonably be expected to be a quality starter and possible All-Stars, and the fourth and fifth picks, hopefully, are future starters. The thing is, you rarely achieve those things in every draft, as there are hits or misses.
This season, that appears to be the case. It's admittedly very early to take victory laps for any of these teams, but health pending, the Suns, Kings, Mavericks, Grizzlies, and Hawks all hit on their picks to varying degrees.


Deandre Ayton is quietly doing work for the miserable Suns, an absolute force offensively and on the glass. He averages 16.5 points and 10.5 rebounds per game and is spectacularly efficient. His frame, at his age, is unreal, and he has deft footwork on the offensive end to complement that power and bounce. There are certainly questions about his defense and ability to be an anchor on that end of the floor that will determine his ceiling, but at the very least, he's an exceptionally skilled offensive big man with the athleticism to give him ample opportunity to improve on both ends.
The Kings' decision to select Marvin Bagley III over Luka Doncic was widely panned, and while it seems as though that was an error in terms of ceiling, Bagley is having a good year for the surprisingly good Kings. Bagley averages 13.3 points and 7.0 rebounds per game, but has looked much better of late now that he's fully healthy. The world knows Bagley wants to get to his left hand, and it's impressive how often he's successful in doing so despite the defense knowing what he wants to do. He'll keep developing skills on offense, but he's a beast in transition, an invaluable trait for the uptempo Kings. Like Ayton, there are questions about what he can do defensively, but at the very least, he appears to be a rotation big who will be a handful on offense.
Doncic is the runaway favorite for Rookie of the Year. Dallas completely traded away the entire starting lineup aside from him and centered a full (but quick) rebuild around the Slovenian star. Doncic is averaging 20.8 points, seven rebounds, and 5.5 assists per game and his heroics in the clutch have been well documented. Offensively, he has as diverse a move set as you'll see from a young perimeter player and is a master at changing pace despite not having tremendous burst. He appears to be the cream of the crop in this rookie class and will be the bar to which everyone else is compared, fairly or unfairly. He seems to be on his way to a number of All-Star appearances in his career, and if he continues to push his ceiling higher, legitimate superstardom.
Jaren Jackson Jr. is flying under the radar, but is without a doubt the best defensive player of the bunch and has flashed plenty of offensive upside that makes him the focal point of the Grizzlies rebuilding effort. Jackson averages 13.9 points and 4.7 rebounds per game, but he's a defensive marvel, with his 1.4 blocks a night leading all rookies. He's proven to be an efficient scorer on the offensive end and a better creator for himself than many expected coming out of Michigan State, partially due to the handcuffs placed on him by Tom Izzo. Jackson is learning patience on defense while being asked to be more aggressive offensively, and if he can keep building on the latter, his ceiling is incredibly high.
Finally we get to Trae Young. While his shooting has been erratic for the Hawks, he's flashed the scoring potential that wowed fans when he was with at Oklahoma. By far his best attribute in the NBA has been his passing. His rookie-leading 7.4 assists per game, with a potential assist total that is nearly twice as high. Young has a spectacular feel for the game as a point guard and the vision to match, and if he can ever find the bottom of the net on a consistent and efficient basis, he just might be one of the league's most dangerous offensive point guards. Defensively, well, let's just say major questions exist, but the positives on offense far outweigh the deficiencies on that side. At the worst, Young could be an electric sixth man, and if he can simply become a marginal defender, he's a good starter.
Having five players at the top of the draft who were, at the very least, solid NBA players hasn't happened in some time. The last time it occurred was 2005, when Andrew Bogut, Marvin Williams, Deron Williams, Chris Paul, and Raymond Felton put together more than decade-long careers.
The classes in between that can be debated are as follows: 2007, which was a great top five and is only marred by the awful injury luck of Greg Oden; 2008, depending on how much you want to ride for Michael Beasley and O.J. Mayo; and 2010, pending your feelings on Evan Turner and Wesley Johnson. At the very least, it's been about a decade since such a solid top five existed. Between then and now there have been excellent drafts, but somewhere in the top five there's been a misstep or two (or three).
The point of this is that these five fan bases in question should be fairly pleased with their rookie in the grand scheme of things, even if they didn't necessarily end up with the best prospect. It's rare for every team in the top five to get a useful player, and while there's an urge to compare and debate the picks, for once I think we can appreciate strong play from the top of a rookie class, fully understanding we won't know exactly what these players are for some time.