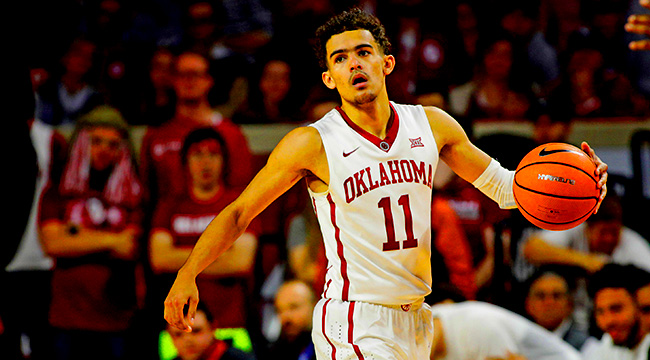 Ask any prospect during the pre-draft process, especially ones projected to go in the high lottery, and they'll probably tell you they're the best player in the draft. Oklahoma's Trae Young, who is expected to be one of the first 10 players off the board on Thursday night, is no exception. Whether he's right or not in that assessment remains to be seen, but at the very least, Young can lay claim to another title: the draft's most polarizing player.
Besides, he doesn't particularly care about being the best player selected in the 2018 NBA Draft. Instead, Young's goals are much more lofty.
"I think I'm the best player in this draft," Young said at the NBA Draft Combine in Chicago in May. "But my goal isn't to be the best player in this draft. My goal is to be the best player in the NBA. That's what I'm focusing on."
Whether or not Young ever gets there, it's no longer unthinkable for a player of his archetype to be in that conversation. That's one way in which this newly-minted Golden State Warriors dynasty has changed the game. Thanks to Steph Curry, undersized three-point shooters can now be viewed among the very best players in the league. Curry's impact is impossible to replicate — it's no longer arguable that he's the best shooter the sport has ever seen.

But his impact on younger players has been impossible to ignore, and Young is one of the first post-Curry prospects in that mold since the start of this Warriors run. Coming off a freshman campaign in which he looked like the best scoring guard in college basketball history at times, how Young adapts to bigger players and tougher defenses at the NBA level will be the first true test of whether the Curry model is replicable beyond that one-of-a-kind specimen.
"I love the comparisons," Young says of talk that he's the next Curry. "He's a two-time MVP and a champion. But I feel like I bring a lot of things from different players' games to the table. I'm just trying to be the best version of Trae Young that I can be. That's all that matters to me."
There are reasons to believe Young will be able to fulfill that promise, just like there are reasons to be skeptical. He's a skilled ballhandler who possesses the ability to pick apart a defense with his passing in addition to his shooting prowess. On his best nights, he's completely unstoppable due to his ability to score from anywhere on the floor and make plays.
But as with most guards his size, there are no shortage of defensive question marks. His lack of strength compared to the NBA's other top point guards is an undeniable concern — will he be able to power his way through tougher defenses than the ones he faced in college? Can he improve his finishing and decision-making and find ways to be effective at the next level when the defense takes away his shot?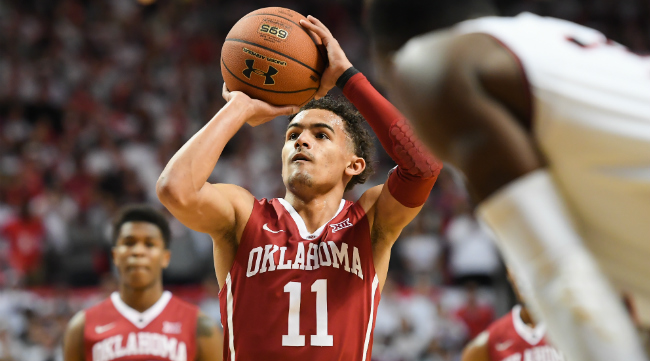 All of that remains to be seen, but his calling card — that shooting ability — is what he's banking on to mitigate those weaknesses at this level.
"I bring immediate impact," Young says. "As far as my skillset, I can space out the defense. I can attack defenders in multiple ways, get my teammates involved. I can pretty much do it all for a team."
Depending on where he goes in the draft, it's unlikely Young will have to handle the near-unprecedented workload he did at Oklahoma. He finished his freshman season with a usage rate of 37.1 percent, the second-highest in all of college basketball. That he was as effective as he was with that volume of possessions speaks well to his ability to make an impact in the NBA. He's the only player in the last 10 years with a usage rate that high to also post an assist percentage of at least his 48.6 percent, a true shooting percentage of 57.5, and make at least 75 three-pointers. That's the kind of bonkers production that makes teams more than willing to overlook whatever weaknesses the rest of his game may have. He's only 19, so it stands to reason that if his skill, proven production, basketball IQ, and feel for the game are there, the rest can be worked out.
Perhaps Young's name will get called in the first three picks on Thursday night, but various outlets' mock drafts have him going any number of places beyond that — maybe to Orlando at No. 6, Chicago at No. 7, Cleveland at No. 8, or New York at No. 9. For all the reasons to be hesitant about the impact he can have at the NBA level, his ceiling is one of the highest in the draft, and his particular skill set is perfectly suited for a post-Warriors NBA. Several teams will pass on him at the very top of the draft, and he intends to make them regret it for the rest of his career while rewarding whichever front office does put its faith in him.
"My main focus is going to the right team," Young says. "It's not about being 1, 2, 3, or 30. You see a lot of guys go in the second round and make big impacts on teams. It's all about the fit for me. Whether that's 1, whatever that is. I'm gonna be ready to make an impact."