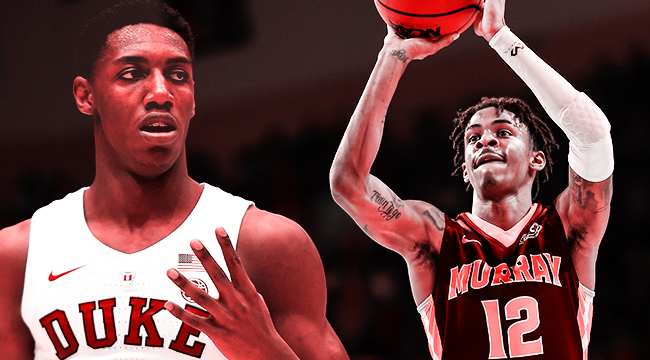 The 2019 NBA Draft Lottery is in the books and, while there could be a massive curve ball between now and June 20, the New Orleans Pelicans are in pole position to select Duke forward Zion Williamson. That is the headline takeaway from the bouncing of ping-pong balls but, of course, there are 29 other first-round selections to examine and that is the backdrop for our first DIME mock draft in a post-lottery world.
Let's get weird.
1. New Orleans Pelicans – Zion Williamson (F, Duke)
There isn't much to say that hasn't already been said, and that is amusing with five weeks until draft night. Zion is the clear No. 1 prospect in this class and the most interesting evaluation of the selection stems from what happens with Anthony Davis. Williamson is a no-brainer and, quite honestly, the Pelicans could go ahead and call it in right now.
2. Memphis Grizzlies – Ja Morant (G, Murray State)
This isn't a perfect fit right now, as the Grizzlies continue to employ a high-end point guard in Mike Conley. However, buzz was already out there that Memphis will be looking to move on from Conley in pursuit of a continued rebuild, and that would open the door for Morant. For me, Morant is the No. 2 overall player in the class and, in addition to being the best prospect available, his potential fit with Jaren Jackson Jr. is enticing from a long-term viewpoint.
3. New York Knicks – R.J. Barrett (F/G, Duke)
Knicks fans had to be levitating during ESPN's commercial break, with the best chance to land Zion Williamson. That didn't happen, though, and New York is in an interesting position. From a consensus standpoint, Barrett is the best player available and that would seemingly make the decision easy. With that said, he isn't a perfect fit if New York's dream pairing of Kevin Durant and Kyrie Irving arrives. Intel will be key and who they pick could indicate exactly how confident they are in what will happen in free agency.
4. Los Angeles Lakers – Jarrett Culver (G/F, Texas Tech)
The Lakers might trade this pick because, well, LeBron James probably doesn't have much interest in adding another (very) young player to the fold. Still, it's a coup for Los Angeles to add another intriguing asset to their war chest and, if they do make the pick, Culver would be an interesting choice. He has two-way appeal and presents the combination of safety and intriguing upside.
5. Cleveland Cavaliers – DeAndre Hunter (F, Virginia)
Hunter isn't a sexy pick but he happens to be the best player available and a strong fit in Cleveland. The Final Four star doesn't need the ball to be successful offensively and Hunter brings a combination of shooting acumen and the ability to fill in the gaps offensively. On the other end, Hunter may not be a game-changing defender but, at the very least, he projects to be above-average and his defense against Culver in the National Championship game was a memorable example of his ability.

6. Phoenix Suns – Darius Garland (G, Vanderbilt)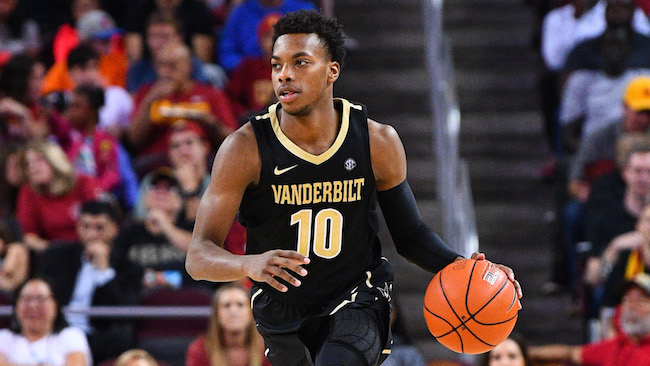 The Suns probably would have preferred Morant but, in the end, Garland may fall in their lap. Phoenix has a well-documented need at the point guard position and Garland is more than a reasonable choice in this slot. Is he a perfect fit with Devin Booker? Probably not, but Garland might be the best player available and the pressure to find Booker's running mate in the backcourt is severe.
7. Chicago Bulls – Coby White (G, North Carolina)
This might be a tad high for White but he could benefit from Chicago being the second consecutive team on the board with a glaring need in the backcourt. If anything, the fit with White alongside the Bulls' current roster might be better than that of Garland and Phoenix, and he brings size and versatility to the point guard spot. It probably isn't what fans in Chicago were envisioning before the lottery, but White would make sense.
8. Atlanta Hawks – Cameron Reddish (F, Duke)
The Hawks have been tied to Reddish for a long time, at least in the rumor mill, and Atlanta passing on him here would be at least a mild surprise. There is more risk in Reddish than there would have been with Culver or Hunter, but his high school pedigree remains tantalizing and, if you squint a little bit, it isn't difficult to see a player with immense upside. In contrast, Reddish was often harmful to his own team at Duke and you have to get past the way that he struggled in college to be comfortable with a top-10 investment.
9. Washington Wizards – Jaxson Hayes (C, Texas)
Quite honestly, the top eight are pretty easy to project, at least at this (very) early stage. From this point forward, things are more difficult, and the Wizards could do just about anything. Hayes would give them a young, talented center to build with and Washington doesn't currently have that, particularly with Thomas Bryant hitting free agency. On the flip side, there are players with more modern-day upside that the Wizards could explore if they wanted to take a big swing.
10. Atlanta Hawks (via Dallas) – Brandon Clarke (F/C, Gonzaga)
Clarke will be a (very) popular pairing with the Wolves at No. 11 in the coming days but, here, he doesn't last that long. The biggest knock on Clarke is his age, as the San Jose State transfer will turn 23 before playing in a regular season NBA game. Even with that on the table, though, Clarke was arguably the second-best player in college basketball this season and he brings a versatile, modern game to the professional ranks. If you don't buy his shooting development, this might feel high. If you do, this might be low, and Clarke would be an excellent fit around the offense-driven core in Atlanta.

11. Minnesota Timberwolves – Sekou Doumbouya (F, France)
This is an upside play and, frankly, people in the league seem to be higher on Doumbouya than I am at this stage. The Wolves may want to take a big swing, though, and he would fit the bill in the absence of a glaringly obvious fit elsewhere. Doumbouya's skill set is wildly intriguing when combined with his size and (very) young age, opening the door for high-end potential.
12. Charlotte Hornets – Bol Bol (C, Oregon)
Somebody has to take the grand slam swing and it might as well be Charlotte. Bol has serious warts, including a troubling defensive performance during his brief time at Oregon, but his raw tools are openly tantalizing. The Hornets may not be ready to rebuild but, even if they bring the band back, it is time to search for a way to break through the glass ceiling. Bol might provide it, even if there is real downside.
13. Miami Heat – Kevin Porter (G, USC)
The thinking here is very similar to that of Charlotte. Miami has a bunch of quality NBA players but no clear path to upside beyond early playoff exists. Porter, like Bol, put together a mixed sample in college, but his offensive ceiling is quite high if the pieces come together. Add in Miami's penchant for player development and you have a potentially impressive fit.
14. Boston Celtics (via Sacramento) – P.J. Washington (F, Kentucky)
Washington enjoyed a breakout campaign this year in Lexington, cementing a mid-first projection despite a potential lack of explosive upside. In Boston, he would fit nicely as a supporting piece that does a lot of things well, and he doesn't need the ball to be successful. That is a selling point with the way the Celtics roster currently lines up, and he'd fill in a lot of gaps.
15. Detroit Pistons – Romeo Langford (G/F, Indiana)
The Pistons could use a scorer. Romeo Langford is a scorer. The big (and obvious) question with the Indiana standout is his shooting (27 percent from three) but, if Detroit believes they can rehabilitate that crucial skill, the reward outweighs the risk at this point in the draft. Langford was a projected lottery pick for a reason. He's very talented.

16. Orlando Magic – Rui Hachimura (F, Gonzaga)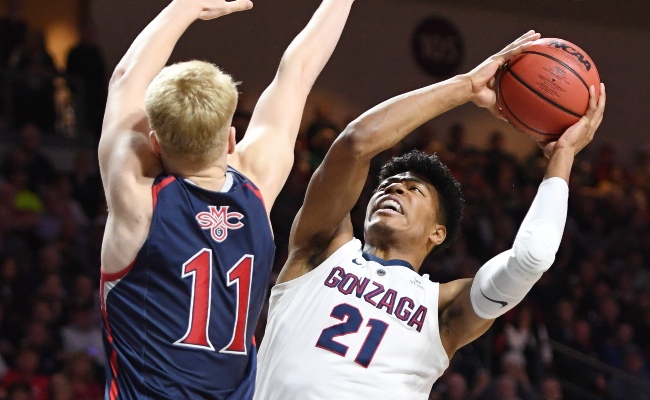 Hachimura is a mixed bag. Some value his collegiate production at a high level and believe this would be too low for him. Some see the warts and believe this might be too high. We'll split the difference with a soft landing spot in Orlando, as this front office always seems to value athleticism and size. Hachimura has it, even if it doesn't really translate to defense or some crucial aspects of the way the NBA game is played at the highest level.
17. Brooklyn Nets – Nassir Little (F, North Carolina)
It would be a lot of fun to see Little in Brooklyn's developmental system. He was a projected top-five pick in a lot of circles before arriving in Chapel Hill but, in short, things didn't go well. Little wasn't a full-blown disaster at the college level, but he was out-shined by veteran teammates and never gained full traction. Honestly, this feels too low, but the Nets would benefit in a big way from the drop.
18. Indiana Pacers – Tyler Herro (G, Kentucky)
Herro can really shoot it and he brings value as a result. After some skepticism about his upside early in the season, Herro seems to be settling in as a consensus top-20 prospect and the Pacers have a lot of roster turnover happening right now. He might not be the sexy, upside-driven selection, but Herro fits almost anywhere.
19. San Antonio Spurs – Goga Bitadze (C, Georgia)
Some view Bitadze as a lottery pick and it wouldn't be stunning to see him selected (much) higher than this under that guise. He is an accomplished prospect at a high level in Europe and, if scouts believe his athleticism will translate, there isn't much to worry about with Bitadze. In San Antonio, they deploy a more "traditional" scheme on both ends and, without a long-term center aside from Jakob Poeltl, a "best player available" makes some sense here.
20. Boston Celtics (via LA Clippers) – Keldon Johnson (G/F, Kentucky)
It would be ironic to pair Johnson with Boston's first pick in P.J. Washington, as the two players were teammates at Kentucky. Johnson is still a top-20 prospect, though, and the Celtics might be attracted to his do-it-all profile. The positive evaluation of Johnson is that he doesn't take much off the table. The negative evaluation is that he doesn't change the game in any singular way, particularly with relatively pedestrian athleticism at this stage. There is still room for that kind of player on the wing, though, and Boston has picks to burn.

21. Oklahoma City Thunder – Cameron Johnson (F, North Carolina)
The Thunder have needed shooting seemingly forever and Johnson is perhaps the best catch-and-shoot player in the entire draft. Is he older than you would want him to be? Absolutely, but Oklahoma City desperately needs role players that can function on both ends. I believe Johnson can do that and do so without too much risk.
22. Boston Celtics – Nickeil Alexander-Walker (G, Virginia Tech)
Terry Rozier might not be long for Boston and, of course, there is real uncertainty with Kyrie Irving. That could open the door for backcourt players in Boston and Alexander-Walker would also constitute a tremendous value pick outside of the top 20. He's a smart player with good shooting acumen and good size. Even if his best long-term fit comes as a backup, this draft slot presents value.
23. Utah Jazz – Grant Williams (F, Tennessee)
Williams does a ton of things well and Utah should be in the market for a strong, functional, versatile power forward with this pick. He fits their culture beautifully and, if anything, Williams should go higher than this in terms of his overall projection. It's a great marriage.
24. Philadelphia 76ers – Ty Jerome (G, Virginia)
Jerome is a (very) good shooter that can also function well at both guard spots. Aside from the glaring need for a backup center in Philadelphia, it would be tough to find a better archetype for what the Sixers might need. For good measure, Jerome should be able to help right away and this is a franchise firmly in win-now mode.
25. Portland Trail Blazers – KZ Okpala (F, Stanford)
At 6'9 with a 7'2 wingspan, Okpala brings a ton of interesting traits to the table. He can play both forward spots, convert open shooting opportunities and even create a bit of offense for himself. In addition, his physical profile might be that of a player that could improve as a defender and the Blazers need versatile options to go along with their star-studded backcourt.

26. Cleveland Cavaliers (via Houston) – Bruno Fernando (C, Maryland)
Fernando isn't a terribly sexy pick in the modern NBA but he's a functional two-way big man with some substantial appeal. He brings an NBA-ready body to the table and, at the very least, should be able to serve as a competent backup center sooner rather than later. There is starter upside as well.
27. Brooklyn Nets (via Denver) – Carsen Edwards (G, Purdue)
If Edwards can defend at all, he's probably worth a first round investment. There is something of a ceiling in his profile as a (very) small, score-first guard, but Edwards is an electric shooter and that always helps. In Brooklyn, he'd be a supporting option but one with value.
28. Golden State Warriors – Matisse Thybulle (G/F, Washington)
This might be unfair. Thybulle is extremely talented, with an off-the-charts steal rate and highly impressive defensive upside. It remains to be seen as to how that translates within an NBA scheme but the Warriors could unlock his two-way potential and, well, that's terrifying.
29. San Antonio Spurs (via Toronto) – Talen Horton-Tucker (F, Iowa State)
Horton-Tucker is super divisive and he almost feels like a Spurs prospect because he's such an odd evaluation. He's 6'4 with a 7'1 wingspan and the rosiest evaluation of his offense leads to him as a near-primary option. Then you factor in that he didn't really defend at Iowa State (even with raw tools) and things get more shaky. In the end, a team will probably take a chance with an eye toward four years of guaranteed control, but Horton-Tucker is kind of a project.
30. Milwaukee Bucks – Luka Samanic (F/C, Slovenia)
The Bucks don't have a ton of present-day needs and they might want to kick the can down the road a bit. Samanic is the top remaining international prospect available and he would fit Milwaukee's mold as a big man who can really shoot it. He probably isn't ready to come over now but, without a perfect fit available, he checks a lot of boxes.