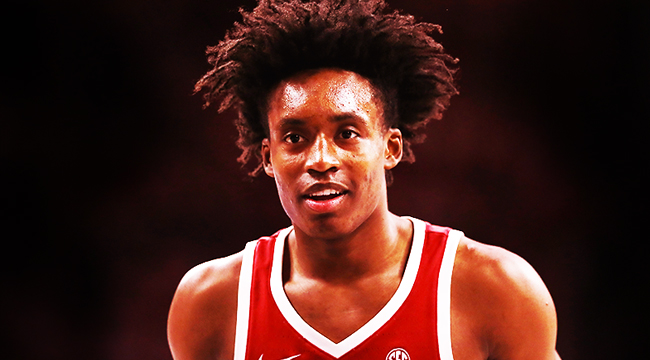 The 2017 NBA Draft was praised for its depth at the point guard position. No. 1 pick Markelle Fultz may be sidelined right now but, with the then-Washington star operating in tandem with Lonzo Ball, Dennis Smith Jr., De'Aaron Fox and Frank Ntilikina, last year's point guard class was both deep and talented at the very top.
While it is still early, the 2018 group is mostly recognized for its talent at the big man positions. In Alabama point guard Collin Sexton, though, it features at least one sure-fire top 10 pick at the point. At this point, Sexton's claim to fame on a national scale may be his ridiculous performance in leading the Crimson Tide to a competitive outcome while playing 3-on-5 earlier this season. His skill set moves far beyond that, though, even if it is a hat-tip in the direction of his already-legendary competitive streak.
The 6'2 freshman is averaging 21.8 points (on 47.1 percent shooting) to go along with 3.3 assists per game to begin his one and (likely) only college season and Sexton's full skill set has been on display. He is a terrific athlete that knows how to use his quality size and burst on both ends, with the caveat that his jump shot is still a work in progress, despite the fact that he's hitting 47.1 percent of his threes. If anything, that is the one knock on his game, as Sexton appears to have the drive to put in the effort needed to impact the game on the defensive end and that bit of safety helps to override the shooting questions.
It is certainly fair to suggest that Sexton's ultimate ceiling may not reach that of players like Luka Doncic, Marvin Bagley III and DeAndre Ayton but, in terms of what he has shown, there is little doubt that he will be a quality NBA point guard for a long time. How much is that valued in the current draft landscape? Well, let's find out with our December mock draft.
1. Chicago Bulls – Luka Doncic (SG/SF, Slovenia)
There will be plenty of momentum for American college players, simply because the visibility is much greater with the vast majority of the basketball-watching population. Still, it cannot be overstated just how impressive Doncic has been to this point in his development and that matters. Is his upside quite as high as some of the explosive big men in this class? Perhaps not, but Doncic's floor is so high that it almost doesn't matter.
2. Sacramento Kings – DeAndre Ayton (C, Arizona)
Ayton's performance to this point has done nothing to discourage the thought that his upside exceeds anyone in this group. Offensively, he is already a terror with an NBA-ready body and, because he presents some floor game to go along with size and strength, the sky is the limit. On the other end, Ayton is more tools-y than anything right now but, once he figures out how to use his gifts to protect the rim, look out.
3. Atlanta Hawks – Marvin Bagley III (C/PF, Duke)
Because of his early production at arguably the most visible program in college basketball, Bagley has been the most discussed player in the early going. He has been absurdly good (and efficient) on a per-minute basis and that helps to assuage any doubt about his ability to make a quick impact when joining the NBA. That was a legitimate concern given that he reclassified late in the process to enter college a year early, but his motor and athleticism already play up in a big way. Can he shoot consistently from the perimeter and/or protect the rim? Those are the open questions but he's a top-five player already and, if he proves one or both of those over the course of the campaign, No. 1 isn't out of the question.
4. Phoenix Suns – Mo Bamba (C, Texas)
This is the first "reach" in this particular mock draft, if only because Michael Porter Jr. would be a brutal fit given Phoenix's recent draft history. Making selections based on fit this high is perilous but there is enough concern about Porter Jr.'s health to open the door. With Bamba, the Suns would add a much-needed defensive anchor for the future and his 7'9 wingspan is the talk of the pre-draft process. There are real questions offensively, but Bamba has a functional jump shot and could be a terror by simply evolving into an average offensive center at the NBA level.
5. Cleveland Cavaliers (via Brooklyn) – Michael Porter Jr. (PF, Missouri)
Porter Jr. is done for the season after surgery and that is the biggest reason he slips out of the top-three mix for me. When healthy, many were on the bandwagon for Porter as a potential No. 1 pick but, for me, he wasn't quite there. The injury is impossible to gauge without medical information that we likely won't get. With that said, Porter's projection as a talented, versatile stretch four at the next level and is wildly intriguing in Cleveland, no matter if LeBron James still there in the future. He's also the last player in the top tier, making the choice easy.

6. Dallas Mavericks – Jaren Jackson Jr. (PF/C, Michigan State)
The Mavs have quite a few needs but the frontcourt in a post-Nerlens Noel world is certainly one of them. Enter Jackson, who is the highest ranking big man available in my eyes and one that presents legitimate two-way value. As an added bonus, he doesn't profile as a player that would drive Rick Carlisle insane and, in short, Jackson should be good sooner rather than later.
7. Philadelphia 76ers (via LA Lakers) – Miles Bridges (PF/SF, Michigan State)
At the moment, Philly is virtually impossible to "mock" given their roster construction. If anything, it makes some sense for the Sixers to reach and find someone that can fill the shooting guard spot long-term, but no one is ranked quite highly enough for me to do just that. In Bridges, Bryan Colangelo adds a (very) safe player that can fill multiple roles and he is probably the most logical player available. We're a long way from draft night but, if this scenario plays out, look for the Sixers to potentially move this pick in some way.
8. Orlando Magic – Collin Sexton (PG, Alabama)
This is already a popular pairing and it makes a ton of sense. As noted above, Sexton is the best point guard available and, at this point, the Magic aren't necessarily married to Elfrid Payton as a long-term starting option. It isn't a complete no-brainer but Orlando needs an alpha dog of some sort and Sexton fits that bill beautifully.
9. New York Knicks – Kevin Knox (SF/PF, Kentucky)
The jury is out as to whether Knox is actually a small forward and, if he isn't, this pick makes less sense. Still, New York has a glaring need at the three, even if it still may be wise to pair Kristaps Porzingis with a more natural power forward in the long-term. Either way, Knox's upside is considerable given his size (6'9) and build. When taking his skill set into account, the Knicks make sense for him.
10. Memphis Grizzlies – Mikal Bridges (SF, Villanova)
Bridges is what everyone assumed he'd be as a sophomore. The 6'7 junior has always profiled as a monster 3-and-D prospect due to his 7'1 wingspan, but his offense has come along enough to project him as a legitimate lottery pick right now. Memphis could certainly use more high-end explosiveness but, in this case, Bridges is the best non-center available and there is always a place for a player with his size, length and skill set.

11. Charlotte Hornets – Lonnie Walker (SG, Miami)
It is odd to project Walker ahead of Miami teammate Bruce Brown but it just might happen. The biggest reason is that Walker is a more natural fit as a pure shooting guard and his 6'10 wingspan helps him to project as a legitimate 3-and-D option. This Hornets team has always needed more wing depth and, in Walker, they add a player that is malleable with the ability to make something of a leap as an impact player.
12. Los Angeles Clippers – Robert Williams (C/PF, Texas A&M)

There was a ton of buzz about Williams when he elected to return for a second college season. With that said, his overall production has been a slight disappointment to some, even if this was kind of always the player he was projected to be. At 6'10, he is slightly undersized for full-time center work but that projects as his best position given his terrorizing nature on the glass and springy burst as an athlete. The question is whether he can produce a more well-rounded offensive game and consistent rim protection, which follows the model of most young, talented big men.
13. Phoenix Suns (via Miami) – Trevon Duval (PG, Duke)

The gap seemed to be closer between Duval and Collin Sexton as the best point guard prospect prior to the season but, as Sexton pulls away, some of Duval's issues continue. In short, he is basically a non-shooter right now, and while it isn't impossible to see that working out in some way, it limits his upside considerably. In Phoenix, though, the Suns have their primary shooter/scorer in the backcourt with Devin Booker and a glaring hole next to him. The fit works even if some questions remain.
14. New Orleans Pelicans – Bruce Brown (SG, Miami)
As noted above, Brown is the best player for the Hurricanes right now but his combo guard nature might ding him a little bit in draft circles. With that said, the Pelicans just need really good basketball players and he would be a very intriguing fit alongside Jrue Holiday long-term. He's a potential monster defensively whose ability to create provides optimism. This would work.
15. Indiana Pacers – Troy Brown (SG/SF, Oregon)
Like Mikal Bridges before him, every team in the NBA can use someone with Brown's build, length and defensive acumen. Brown isn't a complete non-shooter, but there are concerns about his ability to shoot. With a 6'11 wingspan, he fills a lot of holes at once, and his basketball IQ appears to be quite impressive. The fit with Victor Oladipo on the wing could be tremendous.

16. Utah Jazz – Wendell Carter (C/PF, Duke)
It would have been surprising to see Carter outside of the lottery a couple of months ago but his early-season performance at Duke has been flawed. That isn't to say that Carter has been bad but his issues have been magnified and, well, he's been overshadowed by the stellar play of Marvin Bagley. Playing with (and mostly behind) Rudy Gobert in Utah makes some sense in a post-Derrick Favors universe and he's also the best player on the board here.
17. Milwaukee Bucks – Dzanan Musa (SF, Cedevita)
There is a ton of momentum behind Musa as the second-best European prospect and that has sent him flying into the lottery in some projections. I'm not quite there yet but his scoring profile is impressive at his age (18) and Milwaukee's absurd length could help to paper over some of his defensive weaknesses. If nothing else, Musa has helium right now and it is easy to see why.
18. Portland Trail Blazers – Shake Milton (PG, SMU)
Milton isn't rated this highly by everyone but I remain smitten with his game. At 6'6 with a 6'11 wingspan, he has cross-over appeal positionally and his defense will play almost immediately. His upside is in question but, in Portland, that remains less of a problem behind the team's two-guard front. Milton is just a rock-solid prospect in my eyes.
19. Denver Nuggets – De'Anthony Melton (PG/SG, USC)
Melton is still not playing as the Trojans are being exceedingly cautious in the shadow of the FBI probe. That won't slow me down on Melton's potential, though, and he would be fun in Denver. Yes, the Nuggets have a log-jam of sorts in the backcourt but, in a long-term sense, Melton and Jamal Murray would be a fun partnership because the USC standout doesn't need the ball and can defend point guards in a way that Murray cannot. It isn't perfect, but he's worthy of this level of investment.
20. Detroit Pistons – Hamidou Diallo (SG, Kentucky)

Detroit's roster is very interesting. With that as the backdrop, Diallo represents the highest upside player available and, even with last year's investment in Luke Kennard, they could go back to the 2-guard well here. Moreover, these are two very different players at the same position and, sometimes, you just have to take the swing. It also helps that no ideal fit is available.

21. Philadelphia 76ers – Grayson Allen (SG, Duke)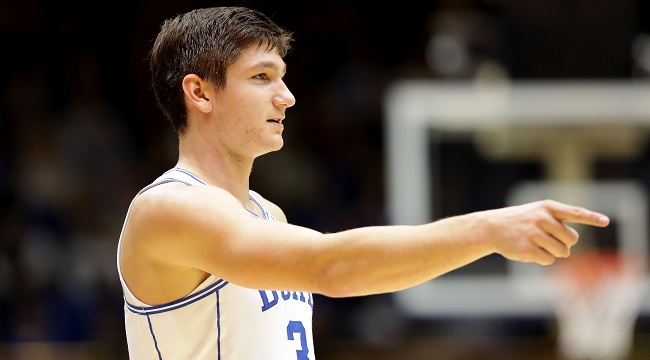 The Sixers are very difficult to draft for. Shooting guard is the glaring need and, with Miles Bridges on board in this scenario, it only makes sense to turn to that position. Allen is an intriguing fit with what Philadelphia already has but he has always been his best when not asked to facilitate the offense. He clearly wouldn't need to do that in Philly. It might be a slight reach, but Allen is a first-round talent.
22. Atlanta Hawks (via Minnesota) – Trae Young (PG, Oklahoma)
The second of Atlanta's three first-round selections will land on an interesting player. Young is skyrocketing on boards right now after a wildly productive start to his freshman season and, in short, he is a professional bucket-getter. Will that translate? Maybe not, but there is a possibility that Dennis Schröder isn't long for Atlanta and this could be interesting.
23. Minnesota Timberwolves (via Oklahoma City) – Justin Jackson (PF/SF, Maryland)
Minnesota's offense is quite good. Minnesota's defense is not. Enter Justin Jackson. He doesn't need the ball to succeed, guards multiple decisions and can make jumpers when prompted to do so. Frankly, it's a no-brainer if he's available in this range.
24. Washington Wizards – Mitchell Robinson (C, High School)

Robinson isn't going to play college basketball after a weird stint at Western Kentucky but he should still be a first-round pick. In fact, this might be an absolute heist given his talent and the workout portion of the pre-draft process should be very kind to him. Washington adds a high-upside big and some much-needed youth and burst up front.
25. Brooklyn Nets (via Toronto) – Anfernee Simons (SG, High School)
Simons may not enter the draft, but he's certainly thinking about it. This is a pure upside play from a team that, well, needs that kind of ceiling. For now, Simons is an offensive talent that can really score and it also helps that he is the kind of off-the-charts athlete that could make the straight-to-the-NBA jump.

26. Cleveland Cavaliers – Aaron Holiday (PG, UCLA)
Obviously, everything in Cleveland hinges on whether LeBron James (and even Isaiah Thomas) sticks around beyond this season. Regardless, the Cavs can't trot out the same point guard mess that they did this year and, in Holiday, they find a strong fit if James elects to stay. Holiday is the somewhat rare point guard that doesn't necessarily need the ball, as he really defends and can knock down 3's at a high level. He won't be a star but, at No. 26, he doesn't need to be.
27. San Antonio Spurs – Killian Tillie (PF/C, Gonzaga)

This would be an extremely Spurs pick. Tillie's defensive aptitude is off the charts and he can fill in a number of holes with his shooting, touch around the rim and passing. San Antonio seems to find these intelligent, skilled players in this range and Tillie has been impressing quite a bit this season for the Bulldogs.
28. Boston Celtics – Rodions Kurucs (SF/PF, Barcelona)
Boston's roster is so deep right now that it is tough to find anything outside of a draft-and-stash that makes sense. Kurucs was in the first-round discussion last year before pulling out of the draft and he should be around this range again. He isn't an offense-only player, but his skill on that end is impressive and the Celtics could certainly take their time, watch him develop abroad and bring him over when the time is right.
29. Atlanta Hawks (via Houston) – Tyus Battle (SG/SF, Syracuse)
The Hawks went with two established college wings in 2016 before taking another established college big man (John Collins) in 2017. There was a regime change in the middle but, after adding Bagley and Young in this mock, Battle is a strong fit. He is a long, talented defender that can be switch-y if things break right — Syracuse defenders are notoriously tough to gauge due to Jim Boeheim's preferred 2-3 zone. With former Warriors exec Travis Schlenk as the new GM, this feels like the kind of pick he would make. Keep an eye on Atlanta for a stash, though, as it is tough to grab three college players in one draft.
30. Golden State Warriors – Chimezie Metu (C, USC)

The Warriors like to draft centers at the end of the first round. Because some of the log-jam will clear in the future, Metu makes sense and, frankly, he should be off the board before this. If he's available, though, Golden State adds a talented, athletic big man with an ability to finish effectively around the rim.