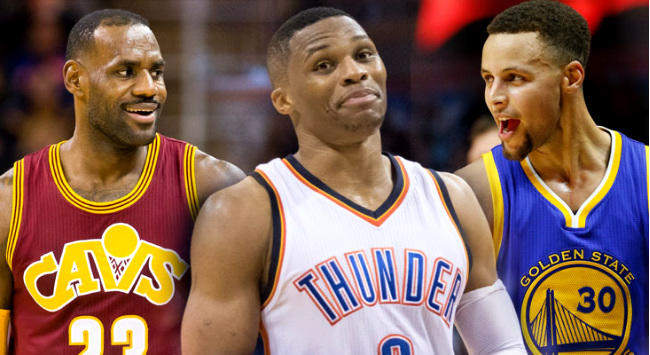 We don't have to waste a lot of digital ink charting out the Byzantine complexity involved in trying to quantify a given player's value to his team or revisiting the old familiar arguments about which major factors should weigh more heavily than others when it comes to awarding the league's most prestigious individual accolade, i.e. the Kia NBA MVP trophy. It's well-trod territory. So, rather suffice it to say that a number of criteria come into play, such as available statistical data (both basic and advanced), team success, recent play, strength of schedule, that rather nebulous quality we like to call "leadership," clutch play, defense, hustle, overall basketball IQ, championship contender status, toughness, entertainment factor/GIFability, a healthy amount of subjectivity and/or confirmation bias on our part, "what have you done for me lately," and much, much more.
So, here are our top five MVP candidates through November 22, plus a handful of other players who just missed the cut, but deserve a shout-out nonetheless.
1. Steph Curry
The NBA world is collectively running out of hyperbole to describe what reigning MVP Steph Curry and the Golden State Warriors are doing so far this season. Remember last year when it was an exhilarating three-man race between Curry, James Harden, and Russell Westbrook? What a difference eight months can make. While Westbrook picked up right where he left off last season stuffing the stat sheet fuller than a holiday turducken, Harden and his Rockets have regressed spectacularly. Curry, meanwhile, has somehow gotten even better this year.
After beating the Denver Nuggets on Sunday night, his Warriors are a perfect 15-0, which is tied for the best start to a season in NBA history. Only two other teams have started an NBA season 15-0: the 1993-94 Houston Rockets and the 1948-49 Washington Capitals.
Golden State's incendiary start is justifiably eliciting comparisons to the '96 Bulls team that won a record 72 games. The Warriors also recently set the mark for the longest streak of consecutive wins when leading their opponents by 15 points or more (since that data started being collected in 1996). Stretching back to the beginning of last season, they're now 69-0 in games when they've held at least a 15-point advantage. They reached that magic number in a stunning 10 of their first 12 contests this season, per NBA.com.
And it all starts with Curry. He's leading the league in scoring at 33.6 points per game and ranks third in steals with 2.6 per contest. He also leads the pack in Player Impact Estimate (PIE) with a 21.4 rating. He's on pace to shatter his own single-season record of three-pointers made, and he's doing all this while taking more attempts from the field and from downtown than he did last season while making a higher percentage from both, which are above his career averages. His astounding productivity might not be sustainable over the course of an entire NBA season, but he's done more than enough to solidify his case as the runaway favorite to repeat as MVP during the first month of the season.
If all that wasn't enough, he withstood a grueling test from Chris Paul and the Clippers on Thursday, helping the Warriors turn a 23-point deficit into a 124-117 win by leading a 25-8 run to close out the game, including a fourth-quarter charge during which Golden State was a nearly immaculate 8-of-9 from three-point range.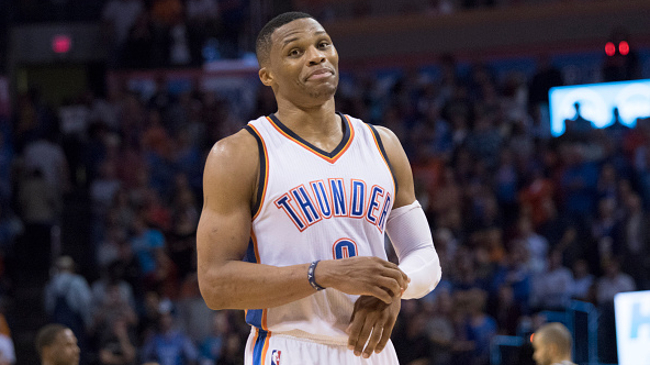 2. Russell Westbrook
What can we say about Russell Westbrook that hasn't already been said about Achilles of the ancient Greek myths? He plays with a ferocity that is quite literally unrivaled in today's game, and is arguably the most explosive player in the world at his position.
He's averaging 28.5 points per game, good for second in the league behind only Curry, leads the NBA in assists with 10.2 per game and ranks fourth in steals with 2.3 per game. And he just keeps getting better. One area he's improved on so far this season is his efficiency. He's shooting 46.5 percent from the field and a respectable 33.3 percent from the behind-the-arc (both career highs), while taking a career-high 5.5 three-point attempts per game.
Like last season, Westbrook has also kicked it into turbo-drive with Kevin Durant missing the last six games with a hamstring injury. OKC is just 3-3 during that stretch, but not for a lack of effort on Westbrook's part, as he posted back-to-back 40-plus point games against the Grizzlies and Pelicans, and had a monster triple double in a win against the Sixers when he put up 21 points, 17 rebounds and 11 assists (and three steals).
It was his second triple double of the season, and his second in a row following a win against Washington the game before during which Durant sustained said hamstring injury. But he's flirted with a triple double on five other occasions:
Oct. 28: 48 points, 11 rebounds, eight assists
Nov. 1: 15 points, nine rebounds, eight assists
Nov. 2: 25 points, eight rebounds, 11 assists
Nov. 5: 20 points, eight rebounds, 10 assists
Nov. 18: 43 points, nine rebounds, eight assists
Above all, he's keeping the Thunder afloat during Durant's absence. They're sitting right at 8-6 and ranked fourth overall in the Western Conference.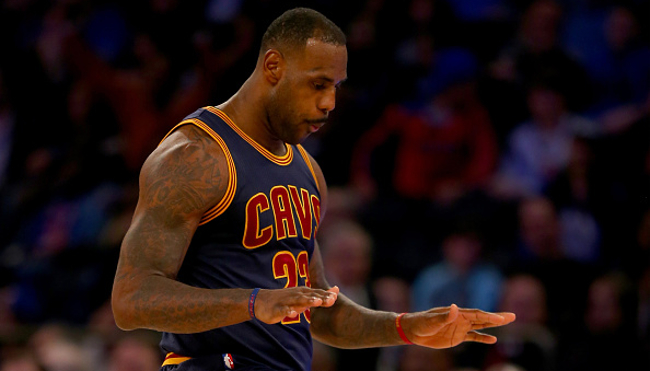 3. LeBron James
After a two-game losing streak and a little public-shaming from their normally-benevolent leader, the perpetually-undermanned Cleveland Cavaliers have overtaken the No. 1 seed in the Eastern Conference standings. That's thanks in no small part to LeBron James, who has been putting up ludicrous stats along the way (this despite his somewhat disingenuous declaration that Kevin Love is the team's new offensive focus). He's averaging 26.6 points, 7.2 rebounds, and 6.2 assists per game, which are all right on par with his career marks. Those numbers are also eerily similar to the stat lines he posted during his four previous MVP campaigns.
In short, LeBron James is as good as he's ever been. Granted, the Cavs suffered back-to-back losses to the Bucks and Pistons last week, games they probably should've won, but LeBron nearly threw his back out carrying Cleveland during those games with 37 points, 12 rebounds, five assists and three blocks against Milwaukee, followed by a 30-point, six rebounds, and six assists performance in Detroit. He also had some choice words about his team's effort and mental toughness in the wake of those losses. So, how did they respond? By winning the next two and claiming the No. 1 spot in the East.
LeBron has the Cleveland Cavaliers poised for another run at the Eastern Conference crown, despite the fact that his team is nowhere even near full strength yet.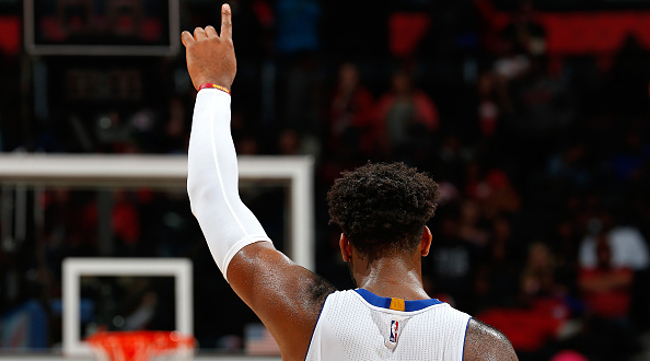 4. Andre Drummond
The Detroit Pistons were one of the pleasant surprises of the early season when they sprinted to a 5-1 start. But they've fizzled since, losing four-straight after that and settling in at 7-6 overall, good for eighth place in the Eastern Conference standings. But the truly remarkable part of the Pistons' first few weeks has been the stellar play of fourth-year big man Andre Drummond, who is averaging an astounding 18.4 points and 17.8 rebounds per game, making him the runaway leader in the latter department for the season (his closest competition is DeAndre Jordan, who is averaging a meager 13 boards per game, by comparison).
In the process, he's put in some performances the likes of which we haven't seen since the Big Dipper, including eight-consecutive double-doubles to start the season and a trio of games during which he scored at least 20 points and grabbed at least 20 rebounds. He joined elite company as one of only three players ever to accomplish that feat during the first six games of the season. The other two are Wilt Chamberlain and Kareem Abdul-Jabbar.
Credit Stan Van Gundy for jettisoning Greg Monroe in the offseason and opening more space for the 22-year-old (!!!) Drummond to operate. After all, SVG knows a thing or two about developing dominant big men (not that has ever earned him anything but grief).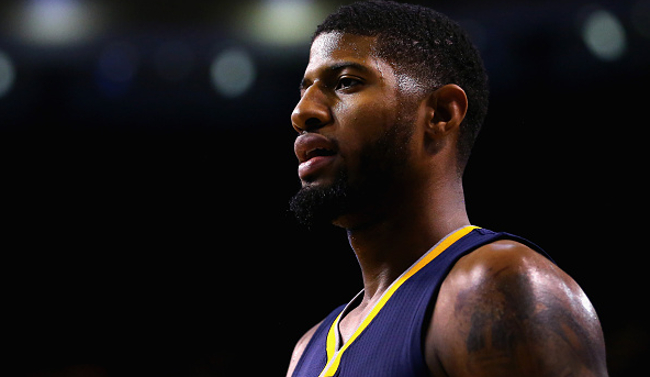 5. Paul George
Paul George is back. Not much else needs to be said. After missing most of last season following that unspeakable leg injury, PG-13 is filling up the box sheet as if nothing ever happened. He's averaging 24.8 points, 8.5 rebounds, 4.8 assists and is shooting nearly 42 percent from downtown (all career highs, by the way). More important, he has his Pacers in the four spot in the Eastern Conference standings and just two games behind the No. 1 seeded Cavs.
In what became an instant classic showdown against LeBron James and the Cavs on November 8, George put up an MVP-like performance: 32 points, 11 rebounds, and six assists on better than 50 percent shooting from the field and from long-range. George and the Pacers would ultimately lose that duel against the defending Eastern Conference champs, but one thing was clear: One of the league's most entertaining individual rivalries is alive and well. And with a healthy George in tow, Indiana is a much better team than we might have anticipated and could pose a problem for a few teams' postseason aspirations come next spring.
Honorable mentions:
Kawhi Leonard, Dirk Nowitzki, Jimmy Butler, Blake Griffin, Rajon Rondo, James Harden, John Wall, Kyle Lowry

Now Watch: Who Is The Better Player: LeBron James Or Kobe Bryant?