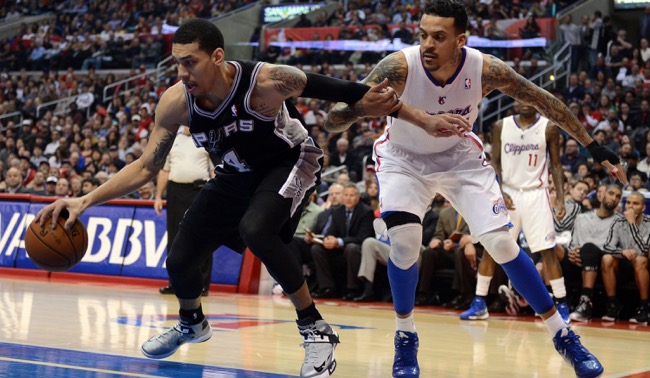 Stars win championships. Anyone telling you differently is lying.
Even anomalous recent title teams like the 2004 Detroit Pistons and 2011 Dallas Mavericks possessed guys like Rasheed Wallace and Dirk Nowitzki at their forefront. But the misdirection of those espousing the merits of team play is only so deep. Superstars indeed hoist Larry O'Brien trophies, but wouldn't have the privilege of doing so without the many players standing behind them.
Tough the eight national no-names below might never be among those role players crowned as champions, they nevertheless have the ability to swing a series – and thus give their teams the chance for ultimate.
These are the Unsung Heroes of the postseason's first round.
Thabo Sefolosha doesn't start for the Atlanta Hawks, but that doesn't mean his loss is insignificant. The 6'7 wing is Mike Budenholzer's best and most disruptive perimeter defender, perhaps the most integral cog of his team's third-leading opponent turnover rate. Due to Sefolosha's unfortunate run-in with the New York City Police Department, though, he'll be sitting the postseason out.
Enter Bazemore, a 25 year-old southpaw with energy, arms, and athleticism for days.
Call this choice one for future rounds. We doubt Atlanta will have much trouble with the Brooklyn Nets, frankly, and Lionel Hollins' squad doesn't boast the perimeter offensive threat that will put fear into hearts of the Hawks. Pay close attention to Bazemore stymying isolations, prohibiting open jumpers, and generally wreaking defensive havoc either way, though.
Atlanta needs to replace Sefolosha's unique impact on that end somehow, after all, and the Old Dominion product is their best bet to do it – he and the San Antonio Spurs' Danny Green were the only two smalls in basketball this season with steal and block rates better than 2.0 percent. And once the Hawks advance to face a formidable foe, don't be surprised if Bazemore makes an impact defensive play that changes a game's complexion.
You know all about Timofey Mozgov by now. More than the acquisition of J.R. Smith and Iman Shumpert or even the health and re-commitment of LeBron James, it's the seven-foot Russian's January addition that turned the Cleveland Cavaliers' season around. He may not be a star, but Mozgov's defensive impact is fully understood.
How can the Boston Celtics combat it? A healthy diet of pick-and-rolls involving Zeller.
Brad Stevens' starting center is one of the more skilled 5s in basketball. He doesn't put up huge box score numbers in any category and leaves much to be desired as a rim-protector, but offsets those weaknesses with varied offensive comfort that belies his position. If the Celtics are to have any chance versus the Cavaliers, they'll need Isaiah Thomas and Evan Turner to consistently crease the paint and create scoring opportunities. The surest way for them to do so? Drawing Mozgov away from the basket, a strategic nuance made easy by Zeller's shooting prowess.