The Utah Jazz posted a 48-34 record during the 2017-18 season and, along the way, Quin Snyder's team became a darling of the analytical community. In many ways, Utah should have won more than 48 games when digging into their peripheral numbers and that success, combined with the emergence of Donovan Mitchell, prompted many to project big things from the Jazz during the 2018-19 campaign.
However, the Jazz fell flat at the start of the season, floundering to the tune of an 8-11 record and a tie for 14th place in the jam-packed Western Conference. Though there was (clearly) time to recover, Utah's hideous start brought a number of questions about both the their floor and ceiling. Since then, however, the Jazz have been essentially what most projected and, in many ways, things can be traced to strength of schedule.
Utah faced a gauntlet early in the season, carrying the NBA's most difficult strength of schedule for much of the first half. With that now in the rear-view mirror, the Jazz have a relatively soft journey ahead and, in some ways, that is already manifesting in the team's overall performance. Though Utah scuffled in the second half of a loss to Portland on Monday evening, the Jazz have won six of seven games and that quality work would allow Utah to slip into the playoffs if the season ended today.
The season does not, in fact, end today but the good folks at FiveThirtyEight project the Jazz for 49 victories and that would place the team in a tie with the Houston Rockets for the No. 4 seed in the West. That might seem rosy for a squad with a 26-22 record and, in many ways, it probably is. Still, when you combine Utah's recent performance with their favorable schedule, things fall into place, particularly if Mitchell is able to sustain his bounce-back after early-season struggles.
In January, the second-year guard is averaging 27.7 points per game on 46/40/84 shooting and that is a massive step forward after an inefficient start. Utah's success (or failure) seems to fall in line with the way Mitchell is playing and, to that end, he is converting 46.5 percent of his field goal attempts in the team's wins and just 37.9 percent of his shots when the team loses. It isn't perfectly linear, of course, but Utah's offense will go as far as Mitchell goes and, considering the Jazz boast (easily) the league's best defensive rating (102.2) over this 29-game uptick (18-11), scoring at an efficient clip is the difference between average and much better than that.
The Jazz aren't sexy and, as a result, they're often overlooked in some corners of the basketball world. It is worth noting, though, that they've been borderline elite for two months at this point and there aren't many signs of that success fading down the stretch of the campaign.
Where does Utah land this week in our DIME power rankings? Let's find out.

1. Golden State Warriors (33-14, Last week — 2nd)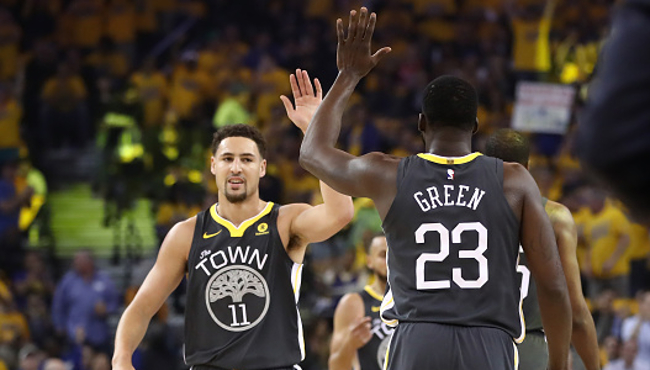 Stop me if you've heard this before, but the Warriors are pretty good. Golden State is riding an eight-game winning streak and, during that barrage, the reigning champs sport a 127.4 offensive rating. There have been arguments against the Warriors in the top spot this season but they are fading by the day.
2. Milwaukee Bucks (34-12), Last week — 3rd)

All the Bucks do is win basketball games. Milwaukee's recent schedule didn't provide much in the way of opportunity for headline-making wins but the Bucks just took care of business to the tune of five straight positive results. Ho-hum.
3. Toronto Raptors (35-13, Last week — 1st)

Toronto falling two spots feels wrong, simply because they didn't really do anything to warrant the drop. Yes, the Raptors lost to the Celtics but it was a single-digit game on the road and, since then, Toronto won back-to-back games. It's more about what Golden State and Milwaukee were able to do. Toronto is very good.
4. Boston Celtics (29-18, Last week — 10th)
Last week in this space, we lamented Boston's performance during an 0-3 stretch. Since then, the Celtics have won four straight, beginning with the aforementioned win over the Raptors. Boston's resume just isn't as good as any of the top three teams here but, after that, it wouldn't be difficult to argue on behalf of the Celtics.
5. Denver Nuggets (31-14, Last week — 5th)

Should the Nuggets be punished for a 31-point loss? Maybe… but that defeat came at the hands of the scorching-hot Warriors and that makes it more excusable. Denver then bounced back with two "taking care of business" wins and that allows them to stay put at No. 5 overall.
6. Indiana Pacers (31-15, Last week — 4th)

Unlike Denver's lopsided defeat this week, Indiana dropped a home game by 24 points and it wasn't against the Warriors. It isn't as if they lost to a bad team (the Sixers) but there is some pain to be had with that kind of performance on your own floor. Don't worry, thought, the Pacers remain in fantastic shape.
7. Philadelphia 76ers (31-17, Last week — 8th)

Joel Embiid and company are in the midst of a positive stretch, with four wins in the last five games. Of course, the loss came on the biggest stage with a national TV game against OKC but, in general, Philadelphia is playing quite well and the results show it.
8. Portland Trail Blazers (29-19, Last week — 13th)

Every time you think the Blazers may fade, they just refuse to do so. This week was another example, as Portland won three in a row, including a lopsided defeat of New Orleans and an impressive road win in Salt Lake City. They're just solid, even if unspectacular.
9. Utah Jazz (26-22, Last week — 9th)

The Jazz play host to the Nuggets in an ESPN game on Wednesday night. That's one to circle.
10. Oklahoma City Thunder (28-18, Last week — 6th)

The good? OKC ended the week with two straight road wins, including a prominent victory over Philadelphia. The bad? OKC gave up 142 (!) points to the Hawks in a 16-point loss and followed that up with a home loss to the LeBron-less Lakers.
11. Brooklyn Nets (25-23, Last week — 18th)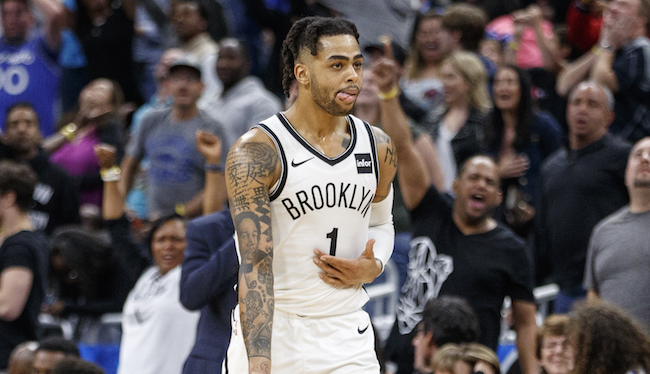 Brooklyn is just 4.5 games shy of Boston for the No. 5 seed in the East. That is a wild realization. The Nets are carrying a four-game winning streak right now and, during that run, D'Angelo Russell and company knocked off the Celtics, Rockets and Kings. It's been both fun and impressive.
12. Houston Rockets (26-20, Last week — 7th)

The James Harden traveling road show continues, as the Rockets are still operating in short-handed fashion. There are nights when it has been brilliant but Houston has alternated wins and losses in 10 straight and Monday's flop against Philly precipitated a fall in the rankings.
13. LA Clippers (25-21, Last week — 16th)

I wanted to drop the Clippers this week but the teams in this tier just didn't want to accommodate that. It helped that LA beat San Antonio on the road on Sunday but, prior to that, the Clippers lost five in a row with four of the losses coming at home. Let's just say that there is a big drop-off from No. 12 to No. 13 this week.
14. San Antonio Spurs (27-21, Last week — 11th)
The Spurs have officially cooled off after their red-hot stretch and things are normalizing. A home loss to the Clippers isn't a great way to end the week but, in the same breath, that isn't a bad loss and San Antonio went to both Dallas and Minnesota and won.
15. New Orleans Pelicans (22-25, Last week — 15th)

Did you know that the Pelicans are 3.5 games out of the playoffs? That is a tall hill to climb with only 35 games to play. On the positive side, New Orleans thrashed Memphis on the road on Monday and they did so without Anthony Davis.

16. Washington Wizards (20-26, Last week — 23rd)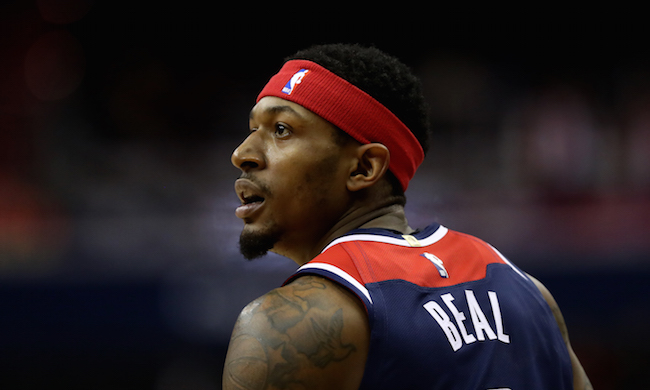 An extended homestand is helping Washington find its footing but the Wizards are still doing the work. They've won four of five and the Wizards are now 9-5 without John Wall this season.
17. Minnesota Timberwolves (22-24, Last week — 14th)

Everything was relatively normal this week… except for a 42-point (!) loss in Philadelphia. That's one that you just can't ignore, even if that kind of outlier just happens in the NBA sometimes.
18. Los Angeles Lakers (25-23, Last week — 19th)

It's impossible to evaluate the Lakers, at least in a big-picture sense, in a world that doesn't involve LeBron James. On the bright side, James' absence gives us a chance to take stock with regard to the team's young assets but, on the flip side, the team was largely non-competitive at home against the Warriors on MLK Day. Come back soon, LeBron.
19. Charlotte Hornets (22-24, Last week — 20th)

It would be easier to get excited about the Hornets if they had been more competitive on Sunday in Indiana. Losing to the Pacers by 25 points isn't completely shameful (especially on the second night of a back-to-back) but it certainly doesn't help Charlotte's overall standing. They did win in decisive fashion over the Kings, though, and that was a nice victory.
20. Sacramento Kings (24-23, Last week — 12th)

As noted above, the Kings lost by 19 in Charlotte and that pushed them down another peg. There was another big blow this week in a 29-point loss to Brooklyn and the combination of the two sparks the eight-slot drop. Sorry, Sacramento. I still enjoy your work.

21. Miami Heat (22-23, Last week — 17th)

The Heat completed a road trip with a 1-3 record and that pours a bit of cold water on their candidacy. Still, Miami held serve against Chicago and that helps to raise their floor in this space.
22. Detroit Pistons (20-26, Last week — 24th)
A four-game week for the Pistons ended with two wins and two losses. The wins were the games Detroit was supposed to win. The losses were the games Detroit was supposed to lose. Let's just move on.
23. Orlando Magic (20-27, Last week — 22nd)

Orlando may have dropped even more if not for a strong road showing in Atlanta on Monday. Not only did the Magic beat the Hawks on the road, but they did so without Aaron Gordon and by a decisive margin. That helps when trying to differentiate between teams in the bottom third of the league.
24. Dallas Mavericks (20-26, Last week — 21st)

There is no great shame in losing to the Warriors, Spurs, Pacers and Bucks. In fact, the Mavs are supposed to lose to all of those teams. With that said, Dallas is now facing a two percent playoff chance (per FiveThirtyEight) with an active four-game losing streak, and they could really use some victories.
25. Memphis Grizzlies (19-28, Last week — 26th)
Memphis lost to New Orleans by 20 on MLK Day and that isn't great under any circumstances. Throw in the fact that the game took place at FedEx Forum and the Pelicans didn't have Anthony Davis? It becomes a full-blown disaster. The Grizzlies are a staggering 4-19 in their last 23 games and the ever-present "should they tank?" conversation is back in full force.

26. Atlanta Hawks (14-32, Last week — 25th)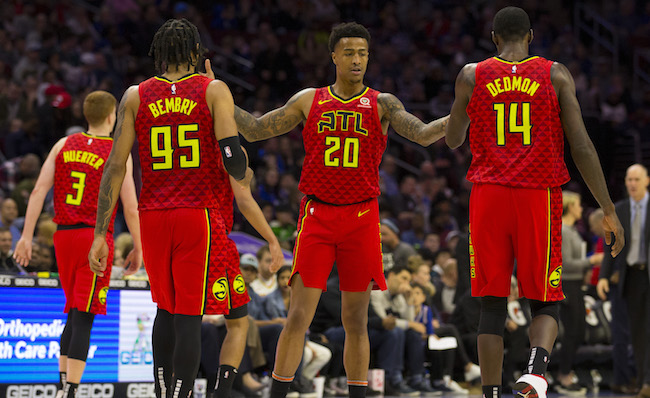 The Hawks have made real progress in recent days but Atlanta has to be docked for their performance on MLK Day. Trae Young, John Collins and company lost (at home) to the Magic by 19 points and, on the heels of that effort, the Hawks must vacate their home building for more than two weeks as the Super Bowl arrives in Atlanta. It may not go well.
27. Phoenix Suns (11-37, Last week — 27th)
For as bad as the Suns have been at times this season, they weren't close to cracking the bottom three this week. That is somewhat encouraging and, although Phoenix just lost four straight on the road, they were (very) competitive in two of those games against superior competition in the Raptors and Wolves.
28. Chicago Bulls (11-36, Last week — 29th)
If you're trying to be positive, it would be easy to point out that Chicago won their last game and they did so on the road. In a big-picture sense, though, that wasn't the most impressive of victories (we'll get there momentarily) and it came on the heels of a 10-game losing streak.
29. New York Knicks (10-35, Last week — 28th)
It is wild that the Knicks aren't No. 30 this week. New York is a ghastly 2-19 in their last 21 games, including a four-game homestand that just came to a close without a single victory. It's been brutal. That's the only way to put it, but for New York fans that may be down, just know it could be worse.
30. Cleveland Cavaliers (9-39, Last week — 30th)

Monday's home loss to the Bulls might be a new low for the Cavs, simply because they weren't even competitive. Cleveland has lost 16 of 17 (with a -17.7 net rating during that run) and slotting them at No. 30 was the easiest decision on the board.