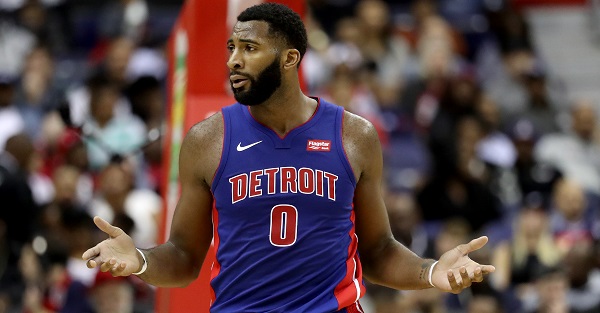 The 2016-2017 NBA season was supposed to be a productive and encouraging one for the Detroit Pistons… until it wasn't. Stan Van Gundy's team entered last year riding high after a playoff appearance and a semi-competitive series against the Cleveland Cavaliers but, in short order, the wheels came flying off the wagon. When things settled, the Pistons emerged with a dismal 37-45 record that fell four games out of the playoffs and, given the expectations, that performance was nothing short of disastrous.
With the Eastern Conference immersed in turmoil, though, many projected Detroit to bounce back and they have done just that in the opening days of the campaign. The Pistons are off to a flying 5-2 start that doubles as the best mark in the East and the team is riding a three-game winning streak over the likes of the Wolves, Clippers and Warriors. Is that level of play real? Probably not, but there are actual encouraging signs that don't all revolve around the opening of Little Caesars Arena.
Reggie Jackson looks to be "back" as a real, live starting point guard in the NBA, Tobias Harris is on an early-season tear and Avery Bradley remains the uber-solid shooting guard that Detroit likely assumed it was getting in trade with the Celtics. Beyond that, Andre Drummond has been effective (including a 70 percent clip at the free throw line) and the Pistons are even coaxing helpful minutes out of Stanley Johnson and Henry Ellenson.
The complete package may not be "sexy" and, in short, there is nothing tremendously appealing from a national sense about the Pistons. What this team appears to be, however, is a playoff-caliber squad in a weakened Eastern Conference and, well, that is much better than not being a playoff-caliber squad in a weakened Eastern Conference.
Where do the Pistons land in this week's edition of our NBA power rankings? Let's find out.

1. Golden State Warriors (5-3, Last week — 1st)
The Warriors hung 141 points on the Clippers on Tuesday evening. That was enough for me to leave the champs in the top spot, especially given that Los Angeles entered the game with the league's best defense on a per-possession basis. When the Dubs care, no one else is close.
2. Toronto Raptors (4-2, Last week — 5th)

In the absence of a clear No. 2, the Raptors have the best current resume. Toronto's two losses came on the road to the Warriors and Spurs and, at the moment, Kyle Lowry and company sport a sparkling +9.9 net rating. They are pretty good, even if this seems high.
3. Boston Celtics (5-2, Last week — 15th)

I don't think this is real from Boston but five straight wins seem to say otherwise. The young core has been quite effective and, while they won't approximate Gordon Hayward's overall impact, it is easy to forget sometimes that Brad Stevens is a genius.
4. Houston Rockets (5-3, Last week — 3rd)
Back-to-back losses aren't scaring me off just yet, especially in the absence of Chris Paul. Mike D'Antoni might have to do some interesting balancing in the future when it comes to offense vs. defense but the talent level remains jarringly high.
5. Washington Wizards (4-2, Last week — 4th)

Losing to the Lakers, even on the road, is weird but I'm still buying the Wizards. If anything, Washington is probably the consensus pick to meet Cleveland in the Eastern Conference Finals and, for the most part, they look like it right now.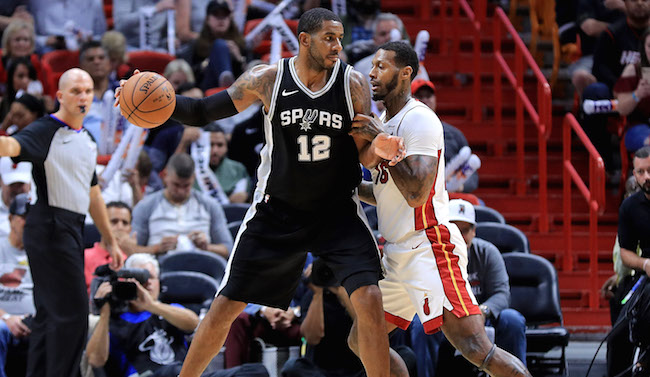 6. San Antonio Spurs (4-3, Last week — 2nd)

The Spurs have actually been outscored for the season but, without Kawhi, surviving with a record above .500 is a huge win. Everything is fine… as long as Leonard returns.
7. Orlando Magic (5-2, Last week — 17th)
Aaron Gordon looks great, the Magic are cooking on both ends and most of the damage has come without Elfrid Payton. If anything, this ranking is low based on pure performance, as Orlando sits in a tie with Golden State for the best net rating in the league. Will it last? I have no idea, but it's been fun.
8. Memphis Grizzlies (5-2, Last week — 10th)

The Grizz and Magic face off Wednesday night in what should be a good measuring stick battle but Memphis has been pretty darn good in their own right. It's a gentle reminder that the team has a very high floor as long as Marc Gasol and Mike Conley are upright but David Fizdale is also getting strong contributions elsewhere. Chandler Parsons is even doing stuff!
9. Oklahoma City Thunder (3-3, Last week — 8th)

The Thunder are a top-five team in net rating and their 3-3 mark is misleading in that way. There are things to nitpick with how Oklahoma City is deploying its trio of high-profile players but, overall, the results are favorable and Steven Adams looks rejuvenated in the middle.
10. Milwaukee Bucks (4-2, Last week — 9th)
It's silly how good Giannis has been and that has some folks getting carried away about Milwaukee's overall arc as a squad. The Bucks are safely a playoff team as long as their centerpiece is on the floor but the upside for this season might not be quite as high. By the way, that's fine considering how young the group is and how entertaining the product is on a nightly basis.

11. Los Angeles Clippers (4-2, Last week — 11th)

The Clippers were non-competitive against the Warriors on Monday but that, well, isn't the fault of the Clippers. Prior to that, all signs were positive and one game against Golden State shouldn't fully detract from that.
12. Portland Trail Blazers (4-3, Last week — 12th)

Portland's metrics are unfairly aided by two match-ups against the Suns but the Blazers are still playing well. Let's just say they won't have a top-10 defense for the full season but they look the part of a playoff contender.
13. Detroit Pistons (5-2, Last week — 19th)
As noted above, the Pistons are doing some stuff and the bar to clear in the East is quite low. Playoffs seem likely and that is a stark change from last season.
14. Cleveland Cavaliers (3-4, Last week — 6th)

The Cavs aren't as bad defensively as some (ahem, Wolves) but it's really ugly on that end. Obviously, no one thinks that Cleveland is the 14th-best team in the NBA in a macro sense but they certainly aren't playing well right now.
15. Minnesota Timberwolves (4-3, Last week — 7th)

Yes, the Wolves are 4-3 but Minnesota sports the worst defense in the NBA by a hefty margin. It is honestly amazing how bad the Wolves have been in preventing the opponent from scoring and, until that is fixed, there is a defined ceiling on this team.
16. Utah Jazz (4-3, Last week — 13th)
The Jazz are still being punished for a weird road loss in Phoenix but, overall, Quin Snyder's team is doing what we thought they would do. Utah is 26th in offense and fourth in defense. If anything, I expect the defense to improve (at least compared to the rest of the league) but scoring is the reason they'll hang around the middle.
17. Charlotte Hornets (4-3, Last week — 21st)

The Hornets have done a tremendous job treading water while short-handed in the early going. Dwight Howard (yes, that Dwight Howard) looks spry and Kemba Walker is a machine. Oh, and Steve Clifford remains perpetually underrated.
18. Denver Nuggets (3-4, Last week — 16th)

Denver deploying a below-average offense has been weird and troubling to watch. They've been better defensively, but running everything through Nikola Jokic as a distributor seems to be the best course of action and the sooner they realize that, the better things will go.
19. Philadelphia 76ers (3-4, Last week — 22nd)
Joel Embiid and company have won three of four, including a wildly impressive road win in Houston. Embiid has predictably been electric but it is the play of Ben Simmons that has everyone's heads turning at this early stage. If they can both stay healthy… look out.
20. New Orleans Pelicans (3-4, Last week — 20th)

The Pelicans have been awesome when Boogie and AD play together and it looks to be sustainable. The problem is when even one of them leaves the floor. Losing to Orlando at home isn't as bad as it once looked but New Orleans is punished for a lackluster showing there and beating Cleveland right now isn't the feather in one's cap it once was.

21. Miami Heat (2-4, Last week — 14th)

Three straight losses don't make Miami look great but context does matter. Those defeats came to the Spurs, Celtics and Wolves and that, of course, isn't necessarily indicative of an imploding squad. The Heat haven't looked great, though, so file that away.
22. Indiana Pacers (3-3, Last week — 23rd)
No one outside of Indiana predicted wins over the Spurs and Wolves but the Pacers have been relatively impressive. This is still a largely anonymous team but the Victor Oladipo renaissance is happening and I'm here for it.
23. Brooklyn Nets (3-4, Last week — 18th)

This is a very entertaining squad to watch. That isn't going to change the end result a lot of the time but, honestly, it is a sharp uptick from some previous seasons and the Nets are competitive. Just ask the Cavs.
24. New York Knicks (3-3, Last week — 28th)

Break up the Knicks! New York has won three in a row and, while that isn't enough to skyrocket in these rankings, it should be plenty to inspire some level of optimism in the city. Make no mistake, this isn't going to end well in 2017-2018 but Kristaps Porzingis looks great and Tim Hardaway Jr. is beginning to show signs of life.
25. Los Angeles Lakers (2-4, Last week — 25th)
I'm very confused by the Lakers being decent (11th in the NBA) on defense and horrific (29th in the NBA) on offense. Make no mistake, this is not a good basketball team at the moment but, if you are a positive person, cling to hope that comes with an offense that will likely improve and a defense that has exceeded (very) low expectations.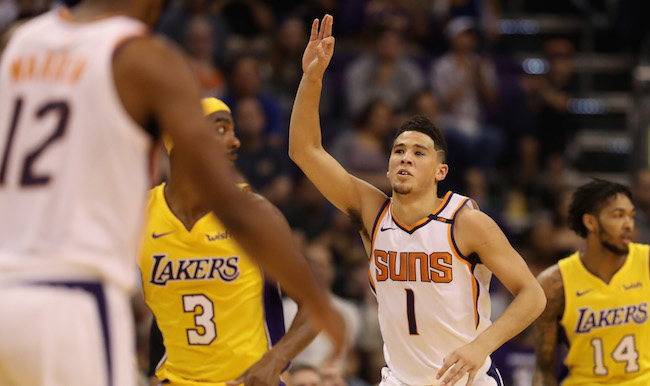 26. Phoenix Suns (2-4, Last week — 30th)

Since closing the book on Earl Watson, the Suns appear semi-competent but the Eric Bledsoe situation looms. Home wins over the Kings (eh) and Jazz (nice!) are helpful. With that said, Phoenix still isn't good and one of the team's best players is sitting at home awaiting a trade. That is not the ideal recipe for continued success.
27. Atlanta Hawks (1-6, Last week — 24th)

The Hawks were given no favors with an opening schedule that included five consecutive road games but the results aren't great. Atlanta has battled some injury issues but, as expected, this is a sub-par squad on both ends of the floor that doesn't include any current top-tier talent. With an upcoming three-game stretch against the Rockets, Cavs and Celtics, things may get even uglier before a bounce-back can possibly occur.
28. Dallas Mavericks (1-7, Last week — 26th)
In truth, I believe the Mavs are better than the Hawks but Atlanta's lone victory came in Dallas on Opening Night. With a small sample, that tiebreaker matters. Regardless, Dallas has been an absolute mess in the early going and any buzz that this team could be better than expected (to the point of fringe playoff contention in the minds of some) has largely vanished.
29. Chicago Bulls (1-4, Last week — 29th)

The Bulls beat the Hawks but, given that Atlanta knocked off Dallas, there are some transitive property issues. In short, we'll just put the worst team in the worst spot and the Bulls are, well, bad at basketball. An illustration of that comes in a league-worst offense that is scoring only 91.0 points per 100 possessions. Yikes.
30. Sacramento Kings (1-5, Last week — 27th)

Remember that transitive property issue? The Kings beat the Mavs! The George Hill experiment is not off to a strong start, though, and that really hurts Sacramento when it comes to immediate respectability. On the bright side, there are a myriad of young guys to be interested in throughout the campaign.