"The Summer League doesn't matter. It's a joke."
---
Those are the words I often hear when discussing the NBA's summer competition, a gathering of teenagers trying to make a name for themselves and older players trying to hang on and find spots in the Association.
From Saturday, July 4 through Friday, July 10 — the duration of the Orlando Summer League — more than 3,000 tweets containing the phrase "summer league" and the word "joke" were used together in some form, according to Topsy, a Twitter search and monitoring service. It indicates a large number of people who think summer league action is, in fact, a farce.
Sure, the final score might not hold much weight, but the games themselves? They matter. If you're solely interested in the overall greatness of LeBron James or the offensive savvy of Kevin Durant, I get that. But if you enjoy watching players scraping for a living, a lot of athleticism and a surprising amount of talent thrown into the mix, summer league checks all those boxes.
Watching 30 hours of basketball in a five-day span at the Amway Center in Orlando earlier this month, I saw first-hand the hustle and effort these men are giving in search of contracts, a training camp invite and — ultimately — a way to make a living playing a game they all love. They have to.
Aside from the handful of second-year players like Elfrid Payton and Aaron Gordon, and apart from the few top picks from last month's draft — Stanley Johnson, Justise Winslow and Myles Turner were all in Orlando — summer league squads are predominantly filled with Developmental League players vying to reach the NBA, or American talent playing overseas looking to return home.
"The people saying Summer League is a joke are the ones sitting at home typing on their computers." – Peyton Siva
---
Take Peyton Siva, for example, the 24-year-old who starred in high school, as well as college at Louisville, during which his team won the national championship, while averaging more than nine points and five assists per game. At the NBA level, however, the guard has yet to find his place.
After being drafted late in the second round by the Pistons in 2013, Siva has been assigned to the D-League multiple times, been waived by two different teams, and — more than two years later — is still looking for a home.
"The people saying summer league is a joke are the ones sitting at home typing on their computers," Siva told DIME. "They're not actually playing out there, they're not going through two-a-days, or auditioning for a job, essentially.
"You take what those people say with a grain of salt. A lot of people get jobs from summer league," the two-time Big East Tournament MVP added. "I'm not really worried about what anyone says. We just have to go out there and focus on what we're doing. This hasn't really been what I expected. I'm just trying to continue to grow, trying to make a team."
Siva, though, is not alone.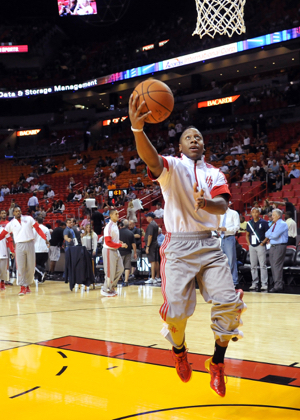 Akil Mitchell, who is playing in the summer league this year with the Brooklyn Nets, can also relate to the grind. He started every game but one during his junior and senior seasons at the University of Virginia, emerging as a force for the Cavaliers while helping them advance to the NCAA Sweet 16 in 2014, the program's first appearance in seven seasons.
Yet, he went undrafted, signing with the Rockets last summer before being waived less than one month later. The 23-year-old spent last season with Houston's D-League affiliate, the Rio Grande Valley Vipers.
"You go from being the big man on campus, flying private planes everywhere and winning an ACC Championship to four-hour bus rides through North Dakota," said Mitchell, who came close to averaging a double-double in his junior year. "It's a really humbling experience,"
While he did say he feels ready to contribute in the NBA, Mitchell, playing in his second consecutive summer league, also acknowledged that it might not happen, at least not now. Instead of spending additional seasons in less-than-ideal conditions at the D-League level, and facing more uncertainty in the summer league, playing overseas is an enticing option for him.
"I love the challenge of learning. Just the process of growing, watching film every day, getting up extra shots; it's what I love to do… But if I can make good money overseas and get good game experience too, then I'm all for it."
And then there players who, after years of summer league rosters, years of assignments to the D-League and the disappointment of being waived multiple times, finally realize their dreams.
Willie Reed, whom I heard some writers at the beginning of the week jokingly refer to as a "Summer League Hall of Famer at this point," began in Orlando with the Miami Heat, only to receive some of the biggest and best news of his life toward the end.
On Thursday, July 9, the Brooklyn Nets announced the signing of the 25-year-old to a partially guaranteed contract, a deal that gives him the best shot of his career to play in the NBA for the first time.
"Since I was three years old, the only thing I've ever wanted to do was play in the NBA. While I'm young, I'm gonna keep fighting for what I love and what I always wanted to do," Reed told the Palm Beach Post.
Willie Reed's story, and others like his, are why the Summer League matters. He, along with countless others, have found their way into the league through these glorified exhibitions, as Siva mentioned earlier. Reed played in the D-League for three years and went overseas to continue his professional career. Now, he has a real opportunity to not only play in the NBA, but stay there, too. Fittingly, the Nets signed him in Orlando at summer league.
Examples like Reed are what give Siva, Mitchell and others the drive to continue their pursuit of a basketball career in the NBA. Summer league is one best avenue to their dreams.