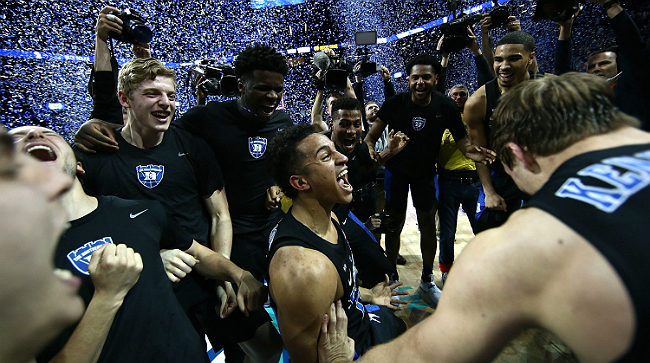 Re-up your KenPom subscription and ask your boss about taking Thursday and Friday off, because the NCAA Tournament is here. On Sunday afternoon, the Selection Committee announced the 68 teams that will get the opportunity to compete for a national championship this year.
There will be plenty to discuss/analyze over the coming days, but for now, here are the teams that will make up this year's field.

Here's how each region breaks down.
East
Midwest
South
West

The 1-seeds this year are Villanova (the No. 1 overall seed) in the East, Kansas in the Midwest, North Carolina in the South, and Gonzaga in the West. Plenty of teams had claims for 1-seeds – namely, Arizona out West had a really strong case to unseat Gonzaga, and we'll get to the Blue Devils over the Tar Heels in a second – but for the most part, these four teams are fairly uncontroversial.
Still, this means that the 2-seeds (Duke, Louisville, Kentucky, Arizona) and 3-seeds (Baylor, Oregon, UCLA, Florida State) are especially good this year. We also have some incredible matchups during the first weekend, like the showdown between two of the best mid-major programs in the country in Dayton vs. Wichita State in the South, or a potential Kansas vs. Michigan State matchup that pits Bill Self against Tom Izzo in the second round in the Midwest.
The thing that many people wanted to see coming into Sunday was the placement of the ACC tournament champs, the Duke Blue Devils. While they came into the season as the No. 1 team in the nation, Duke had plenty of struggles, as evidenced by its 27-8 record on the season and the 11-7 mark the team put up in ACC play. In fact, Duke's ACC tourney win was the first time that a 5-seed won the championship.
The committee made a statement on Sunday that Duke's eight losses outweighed its bevy of wins against top-50 RPI squads, conference title, and overall talent. No matter what, Duke is one of the favorites winning a championship, which really doesn't mean all that much, because anything can happen in March.