---
Everybody thinks they have a shot at winning their bracket pool. It's easy to get sucked in, convince yourself with positive thinking and walk into Thursday saying "this is it, I'm going to have the perfect bracket, this is the year!" The harsh reality is that you are probably not going to win your bracket pool.
Don't let that piece of information stop you. Probably not does not mean definitely not, and there are ways to increase your chances or at the very least make it seem like you are increasing your chances.
Here are 10 quick things to keep in mind when you're making your picks. Use this information wisely. (Or don't use it at all. I won't be offended if you don't.)
1. No team has gone undefeated in the regular season and won the NCAA Tournament since 1976.
I'm not hating on Kentucky. I really think they can do this thing. It's just something to know. Wichita State entered the NCAA Tournament undefeated last year with a 35-0 record and the Shockers lost in the round of 32. Who'd they lose to? Oh yeah, that's right, Kentucky. So maybe Kentucky absorbed Wichita State's powers (especially seeing as the Wildcats made their own run and almost won it all as a eight seed).
2. Don't forget about No. 11.
You're going to hear again and again that you need to pick the sexy No. 12 vs. No. 5 upsets. That's all fine and good, but you might be better off making sure you nail the correct No. 11 seeds to win. ESPN's Rece Davis mentioned on Sunday morning that the 11 seed was 10-10 over the past five years in opening round games. Just last year No. 11 Tennessee won in the First Four and made it all the way to the Sweet Sixteen, missing out on the Elite Eight by two points in a 73-71 loss to Michigan.
3. Avoid Taking All Four No. 1s To The Final Four
This has happened only once, in 2008, when Kansas, Memphis, UCLA and North Carolina made it to San Antonio with the Jayhawks beating Memphis in the title game. Only one top seed has made it to the Final Four in four of the last five years (Florida in 2014, Louisville in 2013, Kentucky in 2012 and Duke in 2010). The fifth year – 2011 – saw no top seeds among the four left standing.
4. But Don't Be Afraid To Take A No. 1 To Win It All
A top-seeded team has won the whole thing seven of the last 10 years. So don't get too cute with your picks and try to grab a No. 11, No. 8, No. 9 and No. 4 in hopes of being some sort of Nostradamus. That's likely not happening, and if it does, everyone's bracket is going to be in tatters by that point.
4. The ACC Hasn't Had A Final Four Team Since 2010
The last time the ACC had a team play in the final weekend of the NCAA Tournament, it was Duke's national title team in 2010 when the Blue Devils beat Butler. But there are two current members of the ACC who have made it to the Final Four over that stretch (Louisville in 2012 and 2013 and Syracuse in 2013). Obviously the league would like to see that change this March, and expansion bringing in teams like the Cardinals and Notre Dame will stack the deck a bit more in the ACC's favor.
5. Know What You're Getting Into With Gonzaga
Once upon a time the Bulldogs were a Cinderella, and Mark Few ultimately built that program into one of the nation's elites. But that hasn't necessarily translated into deep runs in March recently. Gonzaga will likely win its first game of the tournament, but it's important to note the Bulldogs haven't made it to the second weekend of the tournament since 2009. They're also 1-4 in Sweet Sixteen games with the lone Elite Eight appearance coming in that miracle 1999 season.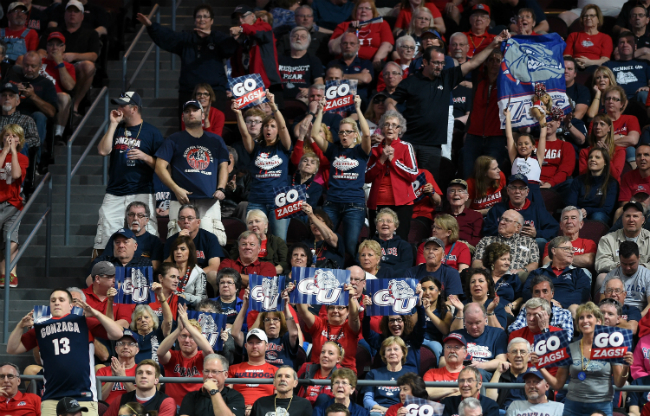 ---
---
6. A No. 16 Won't Beat A No. 1
I mean, it might happen someday. I'd love for it to happen. But it hasn't happened yet, and there have been a lot of games played between No. 16s and No. 1s. My hope is that by writing this I am jinxing myself and we will be treated to one of the most amazing tournaments in history.
7. Watch The First Four
I cannot stress this enough. It's easy to gloss over that slash in the middle of the matchup line, but these games matter. VCU was a First Four participant in 2011 and made it all the way to the Final Four. Plus you get to learn about those little tiny teams who are maybe in the Big Dance for the first time or have enrollments of like 1,000 people, and they always have great stories and fun facts.
8. KenPom Is Your Friend
By this point you should be using the extremely valuable statistics and rankings Ken Pomeroy puts out there, but if you aren't, now's the time to get on board. Pomeroy uses advanced metrics and tempo free stats to rank every team in college basketball, and he has other useful, easily digestible numbers like effective height and experience for each team.
9. Respect The Big Ten
Overall the Big Ten might be down from the stacked amount of great teams it has had in recent years, but don't let that keep you from penciling a Big Ten team into your Final Four. There has been a Big Ten team among the last four teams remaining in five of the last six years, with Michigan State making it in back-to-back years from 2009-2010 and Ohio State, Michigan and Wisconsin each grabbing an appearance. Just know this: a Big Ten team hasn't won it all since 2000.
10. Trust In Izzo And Pitino
Some coaches just do more in March. Tom Izzo and Rick Pitinio are two of them. I have a rule for myself in which I do my bracket based on feel and make my picks very quickly, almost like word association. Then I look at what I wrote down and I move Michigan State and Louisville forward one additional round from where I originally placed them. It typically pays off. Between them, Izzo and Pitino have made 13 Final Fours. Billy Donovan is another good person to use here (with four Final Four appearances of his own), but the Gators are missing out on the NCAA Tournament this year.
---