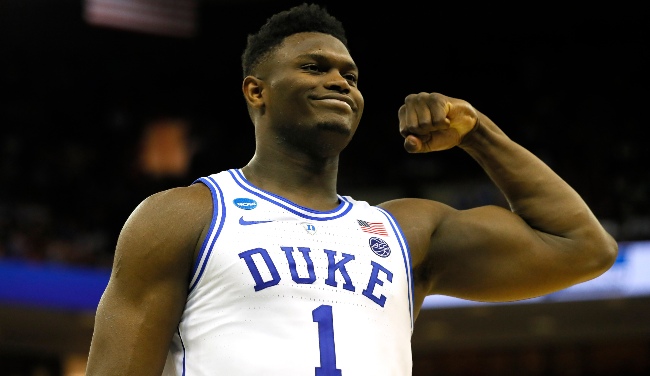 Four teams are celebrating berths in the Elite 8 and, after a gauntlet on Friday evening, four more squads will join them. While there was plenty of buzz for Thursday's Sweet 16 slate, the big guns really arrive on Friday, with each game deploying a legitimate blue blood program with television partners undoubtedly pleased with the giant fan bases involved in the proceedings.
Beyond that casual interest, there are wildly intriguing on-court story lines to monitor and, in short, a big-time night of basketball awaits. Let's take a look at what is in store.

No. 2 Michigan State (-6, 148) vs. No. 3 LSU, 7:09 pm ET, CBS
Michigan State's opening round performance against Bradley was shaky at best and, throughout the season, the Spartans have endured some iffy moments. Beyond that, Tom Izzo's bunch has been banged up from an injury perspective and they don't have projected first round picks up and down the roster. However, the Spartans entered the Sweet 16 with a No. 3 KenPom ranking nationally and they are legitimately good on both ends of the floor, led by Cassius Winston at the point of attack.
On the flip side, LSU's statistical profile is one of a top-20 team (No. 19 in KenPom) rather than a team that you would project to land in the Elite 8 and that is accompanied by coaching uncertainty. Will Wade remains away from the team and, while the Tigers looked great in the first half against both Yale and Maryland, things got dicey when the opposition made adjustments.
Could this be interesting and fun? Absolutely, but it would be a surprise if the team with the better coach and a veteran roster didn't emerge victorious. Best bet: Michigan State in the second half (and -6 full game if you have to)
No. 1 North Carolina (-5, 164.5) vs. No. 5 Auburn, 7:29 pm ET, TBS
Everyone is circling this game as perhaps the most entertaining of the Sweet 16 and it's easy to see why. Both teams sport top-10 offenses and, while Auburn doesn't always play at a blistering pace (they are merely above-average in tempo), North Carolina loves to run. The result of that is a total in the 160s (!) on a weekend with totals in the 110s and 120s.
Things got a little bit weird when word broke on Thursday that UNC freshman (and projected lottery pick) Nassir Little was questionable with flu-like symptoms but despite that, the Heels haven't relied heavily on Little this season. Instead, they lean on a pair of veteran frontcourt players in Cam Johnson and Luke Maye, with freshman guard Coby White taking things to another level when North Carolina really kicked into high gear during the season.
Auburn, on the flip side, isn't a great defensive unit and, if the Heels have it going on offense, it could be a long day. The Tigers do have the great equalizer as a team that is very good at shooting (top-20 in the country in three-point percentage) and very willing to launch (top-10 in three-point attempt rate) from beyond the arc.
In the end, the hype about the high-scoring affair may be going too far with Auburn's ability to play a bit slower and, instead of picking a side in a game with a tight line, we'll go with the contrarian move. Best bet: Under 164.5

No. 1 Duke (-7.5, 144) vs. No. 4 Virginia Tech, 9:39 pm ET, CBS
With Justin Robinson back on the floor after an injury-related absence, Virginia Tech isn't a typical No. 4 seed. In fact, they have the profile of a No. 3 seed statistically (No. 11 on KenPom) with upside beyond that at full strength.
In contrast, Duke has been the favorite to cut down the nets all season long and no one is unfamiliar with the talent on Coach K's team. Still, the Blue Devils have a flashing red alert with their lack of perimeter shooting and it was roundly exposed in a near-loss to UCF just a few days ago. Was that an aberration? Maybe, but Tre Jones, Cameron Reddish and company are going to need to make shots against a Virginia Tech team that is top-20 nationally on both ends of the floor.
Zion Williamson and R.J Barrett are must-see TV and Duke should win this game. Still, the Hokies have a first-round pick in Nickeil Alexander-Walker and Buzz Williams will have his team prepared. After all, they beat Duke not long ago, even with the caveat that Williamson and Robinson weren't involved. Best bet: Under 144
No. 2 Kentucky (-3, 134.5) vs. No. 3 Houston, 9:59 pm ET, TBS
The status of P.J. Washington looms over everything with the nightcap, as Kentucky's best player hasn't been in uniform to this point in the NCAA Tournament. If he plays, the Wildcats are unquestionably better than if he doesn't but, at this point, the consensus appears to be that Washington would be relatively limited if he took the floor.
Regardless, this should be a fun game between two teams with contrasting styles. Kentucky deploys a bunch of five-star prospects (even without Washington) and they are a top-11 team nationally (per KenPom) on both sides of the ball. Houston doesn't quite have that statistical profile but this is an experienced, well-coached bunch that took Michigan to the brink in the NCAA Tournament just 12 months ago.
Casual fans certainly won't be picking a team from the AAC (even one that beat LSU and Oregon this year) to beat Kentucky on a neutral floor but, make no mistake, Kelvin Sampson's bunch is capable of doing just that, with or without P.J. Washington. Best bet: Houston +3