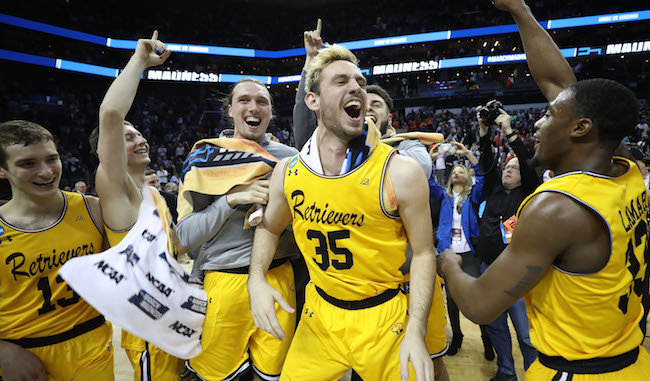 Here's an extremely fun sentence to read over and over and over: The round of 32 will, for the first time in NCAA Tournament history (at least on the men's side), feature a 16-seed. The pesky UMBC Retrievers have already done something unprecedented with their absolute drubbing of Virginia on Friday night, and if they could do that against what came into the Tournament as the No. 1 overall seed, anything is possible.
Beyond that, Sunday's slate of games is going to be absolutely terrific. There are two in-state games, one with a whole bunch of bad blood, and a number of contests that feature intriguing matchups between teams capable of making Final Four runs.
Here's your watch guide for the fourth day of the 2018 NCAA Tournament. As always, all times are EST.

Game of the Day: No. 9 Kansas State vs. No. 16 UMBC (7:45 p.m., truTV)
I mean, this has to be the game of the day, right? A 16-seed is playing a round of 32 game! That's insane! Until UMBC loses a game, which could very well happen on Sunday evening, it is the must-watch team of the Tournament, because you should always make it a point to witness history.
The crazy thing about this is that the Retrievers went up against a Virginia squad that played slow, possessed a great defense, and was without one of its best offensive players. That can absolutely be the case here, as the Wildcats are 305th nationally in adjusted tempo, 34th in adjusted defensive efficiency, and may not have star big man Dean Wade.
If UMBC is improbably able to keep on dancing, it will be because it follows the same blueprint it did against the Cavaliers. The team has to hit threes, keep their opponent from hitting threes, crash the glass, push the ball up the floor, and most importantly, be able to withstand any potential counter-punch that Kansas State might throw.
If I had to bet on this, I would take the Wildcats, which really did look good against Creighton. Should they get a big game from someone (like freshman guard Mike McGuirl gave them on Friday) in addition to what Barry Brown will do, anyway, they're a safe bet. But of course, Virginia was also a safe bet against this UMBC squad, and they got rolled, so who knows what'll happen?

Watch these games, too
No. 2 Purdue vs. No. 10 Butler (12:10 p.m., CBS): One of two in-state games that are worth making it a point to watch. The two sides faced off earlier this season, with the Boilermakers coming out on top, 82-67. The big question mark is how things will go this time around without Purdue center Isaac Haas (who, if he does somehow play after being ruled out for the Tournament on Friday, won't be near 100 percent). The big man went for 15 points and three rebounds in 16 minutes when the teams played in December.
No. 4 Auburn vs. No. 5 Clemson (7:10 p.m., TBS): Both of these teams were trendy picks to lose in the first round. Auburn responded by eking out a 4-point win over the College of Charleston, while Clemson's 11-point victory against New Mexico State was more comfortable. The team that controls the pace of the game here wins: The 4-seed Tigers are 19th nationally in adjusted tempo, while the 5-seed Tigers are 287th in that metric.
No. 5 West Virginia vs. No. 13 Marshall (9:40 p.m., TBS): This is going to be awesome. West Virginia likes to play fast. Marshall likes to play really fast. Watching the absolute war between a pair of outstanding guards — West Virginia defensive savant Javon Carter and Marshall marksman Jon Elmore — is going to be a blast. The entire game might come down to how well Marshall is able to take care of the ball against West Virginia's vaunted press, which is no easy task.
Oh, and Thundering Herd coach Dan D'Antoni has said that the Mountaineers are afraid of playing his program, which WVU coach Bob Huggins called ludicrous. Seriously, look at this.
Even if it ends up as a blowout, which would be a surprise, this game is going to be awesome.
Upset alert
No. 2 Cincinnati vs. No. 7 Nevada (6:10 p.m., TNT): The Bearcats are really good at keeping you from making shots — they're second nationally in defensive effective field goal percentage — and forcing turnovers. The Wolfpack don't turn the ball over and are great at hitting shots, especially from three, where they connect on 39.7 percent of their attempts. This is some really hot take-y analysis, but whichever team can do the stuff they're good at better will win. Crazy, right?
No. 2 North Carolina vs. No. 7 Texas A&M (5:15 p.m., CBS): Both squads will want to get out and run, and both teams have tall, lengthy players who can (and will) attack the glass. The battle between the Tar Heels' Cameron Johnson and Luke Maye vs. the Aggies' Tyler Davis and Robert Williams could decide this game. Also fun: North Carolina's do-everything wing Theo Pinson against rangy Texas A&M forward D.J. Hogg.
Could get interesting
No. 3 Michigan State vs. No. 11 Syracuse (2:40 p.m., CBS): If this game gets interesting, it's because it is an absolute slog. Syracuse's zone will be a tough case for Jaren Jackson and Nick Ward to crack, but if Myles Bridges, Cassius Winston, and the Spartans' sharpshooting specialists can hit threes, it might not matter, especially with how much the Orange struggle offensively.
No. 1 Xavier vs. No. 9 Florida State (8:40 p.m., TNT): The Seminoles can absolutely win this basketball game. They're a team with a number of players who can score on the Musketeer defense, even if they lack that one guy who is viewed as a go-to scorer. That also might be their downfall if things get close, as Xavier will put the ball in the hands of veteran guard Trevon Bluiett and tell him to go to work. If that happens, can Florida State respond?