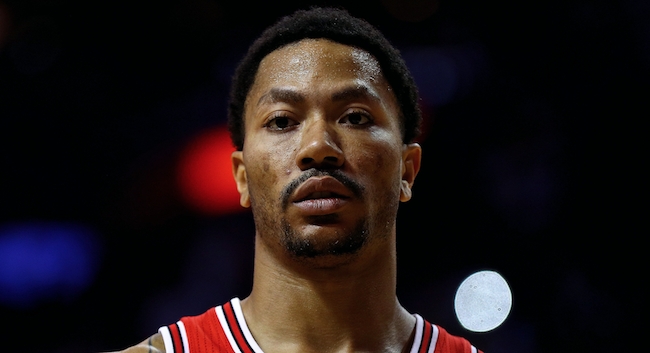 It's being reported by ESPN.com that the Knicks might be interested in Bulls point guard Derrick Rose. The Knicks are looking to improve their backcourt, but it's still not clear whether they'd want to do that via a trade or free agency, although if this report is true, it looks like we have an answer to that question.
As much as they would like to trade for Rose, the Knicks don't exactly have a lot of assets to offer the Bulls outside of Carmelo Anthony, Kristaps Porzingis, and future draft picks. The Knicks are in re-building mode, and it appears the Bulls are also headed in that direction. It's more likely that Chicago will want young players and draft picks if the Knicks want to make a move for someone as unpredictable as Rose.
Rose is a free agent after next season, and if the Bulls already know he doesn't want to stay or they just don't see him being part of their future, they might as well get something in return on the trade market instead of nothing next year in free agency. He averaged 16.4 points on 42.7 percent shooting and 4.7 assists in 66 games last season, which was a solid year for post-injury Rose, even with Jimmy Butler emerging as a leader.
Also, with his checkered heath history, it could be wise for the Bulls to move the former MVP before the season starts, just because one more injury could completely tank his trade value.
It's probably going to be a crazy offseason this year due to the league's salary cap being higher than anyone expected. It's important to note the Bulls have not openly said that they are looking to trade Rose. All this report says is that the Knicks are scrambling to get an impact point guard and the Bulls might be listening, waiting to see how everything will unfold.
(ESPN.com)