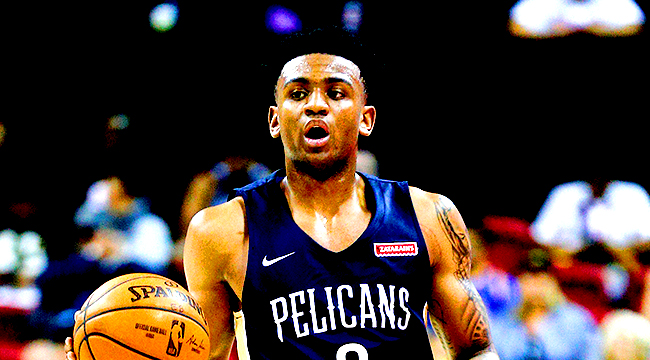 It's been a busy summer for the New Orleans Pelicans, beginning with a franchise-changing victory in the NBA Draft Lottery. That win allowed David Griffin and company to select Zion Williamson with the No. 1 overall pick and, despite only a brief appearance in Las Vegas for the former Duke standout, everyone agrees that the Pelicans are in good shape with Williamson as the face of the franchise.
From there, Griffin landed the No. 4 overall pick as part of an asset-laden package from the Los Angeles Lakers in the Anthony Davis trade. The front office elected to move down in a deal with the Atlanta Hawks, taking Jaxson Hayes 8th overall. New Orleans grabbed the No. 17 overall pick in that deal, too, which it used to select Nickeil Alexander-Walker.
Hayes grabbed the headlines on the strength of his unreal physical profile and, to be clear, the former Texas center produced one of the clear highlights of Summer League when he jumped over a defender for a big-time dunk. It would be easy to argue, though, that Alexander-Walker has been the better of the two, and observers have been blown away by his progress as he's cemented himself as a potential steal in the desert.
Due to the combination of the league's moratorium and trade machinations, Alexander-Walker didn't take the floor in the Pelicans' first two games. With Williamson's all-too-short showing, some of the wind could have been taken out of the sails for those interested in the Pelicans, but Alexander-Walker's NBA-ready game immediately jumped to the surface.
In two appearances, the 20-year-old guard is averaging 24.5 points and seven assists per game, with both figures good for top-three honors in all of Las Vegas. Beyond that, Alexander-Walker has been efficient as a scorer, shooting 53 percent from the floor, and he is contributing defensively to the tune of 2.0 steals and 1.5 blocks per game.

While we are hardly dealing with the largest or best sample size, the Pelicans aren't shying away from significant expectations for Alexander-Walker, while admitting that the organization's decision-makers have been keeping close tabs on him for quite some time.
"He probably has no idea how much I've watched him over the past two years, but I've enjoyed his defensive presence on the floor and his ability to do that night in and night out," Pelicans general manager Trajan Langdon told Rod Walker of NOLA.com. "I have a tremendous amount for respect in him doing that in a tough ACC going against very good players. He is the one who would choose to pick up and defend the best perimeter player from the opponent night in and night out. That's something we truly liked."
Alexander-Walker doesn't necessarily fit the profile of a true lead ball-handler at the NBA level, if only because he isn't an overly dynamic athlete. That is usually a prerequisite to explode past professional defenders but, while in Vegas, Alexander-Walker hasn't encountered any real trouble athletically, using his 6'10 wingspan on a 6'5 frame to create separation.

In even a cursory viewing of his college tenure, Alexander-Walker shined from a skill perspective, shooting 38 percent from three across two seasons and seemingly always operating under control. Offensively, he brings an impressive basketball IQ to the proceedings and, even with the slight worries about his burst, Alexander-Walker can score from the perimeter and interior, all while creating quality looks for his teammates.
Defensively, Alexander-Walker has flashed some of the tools that make him wildly intriguing, particularly when playing alongside options like Jrue Holiday and Lonzo Ball. He probably doesn't possess All-Defense upside, simply due to his athletic profile, but Alexander-Walker already knows where to be, executes well, and shows great hands when creating deflections. That combination stands out in sharp contrast to the vast majority of rookies, much less run-of-the-mill Summer League guards.
Quietly, the Pelicans have constructed an impressive, ready-made roster that features starting-level guards in Holiday, Ball, J.J Redick and Josh Hart, to go along with strong wings in Brandon Ingram, Darius Miller and E'Twaun Moore. As such, there may not be a crystal clear pathway to immediate playing time for the No. 17 pick but, to put it plainly, Nickeil Alexander-Walker is on the short list of best players to appear on the floor in Las Vegas. If nothing else, that is a fantastic start to his career and a peek into what should be a bright future as a do-everything role player with upside to be much more than that.