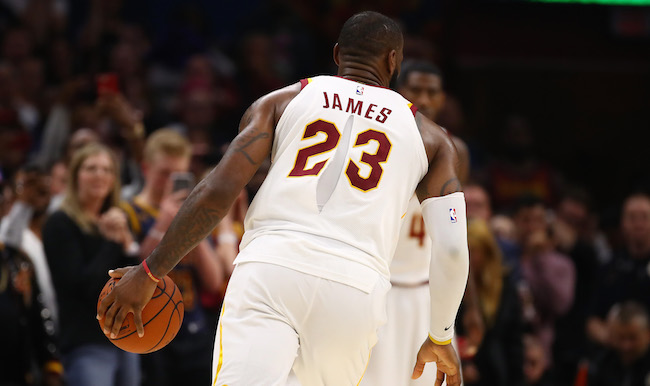 One of the storylines of this early season in the NBA has been the issue of jerseys tearing on the court. Nike took over jersey production this season, and their new jerseys, made with lighter materials meant to wick away sweat faster, have been tearing at an alarming rate.
The jerseys aren't just ripping with small holes, they're massive tears that are immediately noticeable. The list of players that have had their jerseys rip don't help Nike's cause, as high profile stars like LeBron James, Kevin Love, Draymond Green, and Ben Simmons have been among those to deal with the tearing issue.

To this point, no one has complained about the jerseys — it helps that all of those players are Nike sponsored players — but it's certainly not a great look for Nike to have this happening so frequently in such a short amount of time. Nike is now working on a solution to the problem, and is hopeful to have the issue taken care of soon and stop it from being a story moving forward.
In a statement released late Monday night, Nike said it was "working to implement a solution" to the problem and the company was targeting strengthening the seams on the gameday jerseys to help.
(via ESPN's Darren Rovell)
"Nike has always put the athlete at the center of everything we do and we have worked hard to create the most advanced uniforms in the history of the NBA," the company said in the statement. "They are lighter and deliver great mobility and sweat wicking characteristics, and the feedback from players has been overwhelmingly positive. However, during game play we have seen a small number of athletes experience significant jersey tears. We are very concerned to see any game day tear and are working to implement a solution that involves standardizing the embellishment process and enhancing the seam strength of game day jerseys. The quality and performance of our products are of utmost importance and we are working with the NBA and teams to avoid this happening in the future."
It's clear Nike isn't thrilled with the way the jerseys are ripping, and it will be interesting to see if these new measures work. There's reason to question whether these measures will work, considering a number of jerseys have ripped in areas not on the seams. Most notably, LeBron James' jersey ripped between the numbers on opening night, which would seem to just be a matter of the fabric not holding up to a grab and pull.
As Rovell notes, there haven't been reports of these issues on jerseys purchased by fans — which, is understandable considering they probably aren't getting grabbed and pulled by very strong men like NBA players' jerseys are — which has minimized the impact on sales. If this latest effort doesn't work, it might be back to the drawing board on the jersey material choice for Nike.