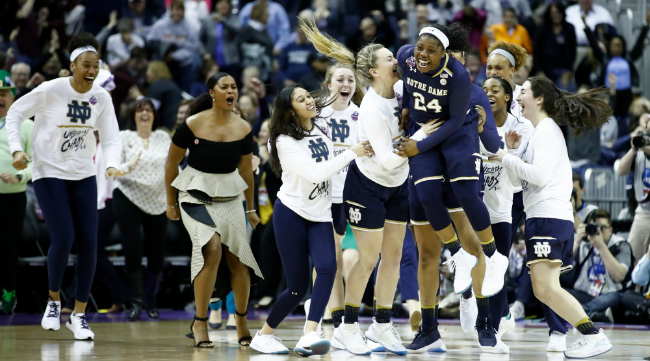 The best college basketball game you will watch this March — or, really, at any point during the 2017-18 campaign — happened late on Friday night between a pair of No. 1 seeds in the women's NCAA Tournament. UConn and Notre Dame faced off in an absolute gem of a basketball game, and by the time the clock hit zero on the overtime frame, the Fighting Irish came out on top, 91-89.
The entire game was tremendous. Notre Dame raced out to a first quarter lead, UConn came back to lead at the half, and the two teams exchanged hay-makers during the second half. Let's start by going to the final 20 seconds of the fourth quarter, in which the Fighting Irish had a five-point lead. The Huskies' Napheesa Collier canned a three, and on the following Notre Dame possession, UConn's Kia Nurse made a game-saving steal and layup.
It forced overtime with the two teams knotted up at 79. As was the case in the fourth quarter, Notre Dame had a five-point lead with less than a minute remaining in OT. Collier hit a jumper again, this time to cut the lead to three, and after Notre Dame's Arike Ogunbowale missed a pair of shots from the charity stripe, the Huskies came down and got a great look for Crystal Dangerfield, who connected from downtown to tie things up.
The good news for UConn was that the game was knotted at 89. The bad news was there was a ton of time left, and Ogunbowale was looking to make up for her misses from the line. She busted out a crossover, pulled up with her foot on the line, and knocked down as perfect a jump shot as you will ever see. The Huskies came awfully close to forcing a second overtime, but Katie Lou Samuelson couldn't connect on a runner.
After the game, Ogunbowale — whose 27 points trailed only backcourt mate Jackie Young's 32 for a game high — shouted out someone in the stands (who just happens to be tight with UConn coach Geno Auriemma) for the inspiration on her game-winner.
With the win, Notre Dame earned the chance to compete for a national title on Sunday against fellow No. 1 seed Mississippi State, which secured a spot in the game by toppling Louisville (which, you guessed it, was a No. 1 seed) in overtime, 73-63. The game will tip off at 9:30 p.m. EST, and hopefully it's half as good as the instant classic we got thanks to the Fighting Irish and Huskies.