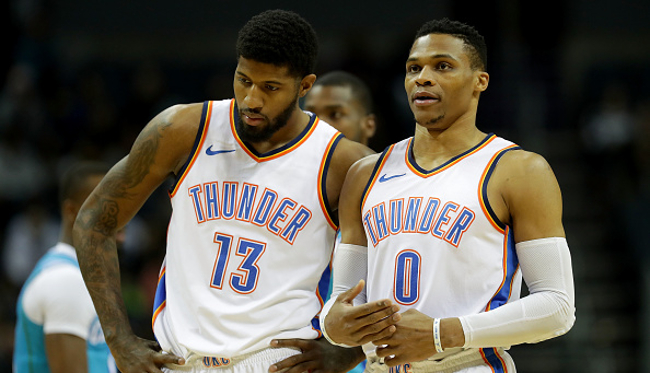 The 2017-2018 season was quite disappointing for the Oklahoma City Thunder, especially after the additions of Paul George and Carmelo Anthony inspired all kinds of buzz during the summer. However, the 2018 offseason will, once again, bring a lot of attention to Russell Westbrook and his team, especially as George faces free agency, Anthony appears likely to opt in to a contract that will vastly overpay him, and Sam Presti deals with a roster that has limitations even in its current form.
With that as the backdrop, the Thunder don't have an incredible amount of capital in the 2018 NBA Draft but Presti does have two picks (No. 53 and No. 57) to work with in late June. Obviously, the bigger names will all be off the board by the time the Thunder are able to make their first selection but there is potential value to be had and Oklahoma City may look to prioritize upside, even by attempting to package their selections together to slide up the board.
Only George and Jerami Grant are set to hit free agency among OKC's rotation from a season ago but, clearly, the looming doom of George's free agency could influence all kinds of actions for the Thunder. Regardless, a "best player available" approach (through the prism of upside) seems wise at the moment when it comes to the draft and here are a few prospects that might combine availability and talent that OKC could desire.

Rawle Alkins – SG, Arizona – Alkins will billed as a 3-and-D prospect that nearly remained in the draft a year ago but, after a brutal season at Arizona (for almost everyone), he has slipped on some draft boards. It is conceivable that a team falls in love within the top 40 picks but, if teams weigh Alkins' tape from his most recent season, the Thunder may have a chance to nab him.
Bruno Fernando – C, Maryland – No one has any idea what to make of Fernando, who could fly off the board 20 picks before the Thunder are on the clock. Still, that kind of divide on evaluation lends itself to the potential of free fall and OKC could allow him to develop slowly in a frontcourt that already includes Steven Adams.
Shamorie Ponds – PG, St. John's – Ponds might be hurt by the glut of quality, projectable backup point guards in this class but he is the best pure scorer of the bunch. In many ways, he should at least consider returning to New York for another go-around in college but Ponds is also the type of pick that could return a ton of value in the 50's.
Gary Trent Jr. – SG, Duke – The jury is split on Trent Jr., who some believe will be off the board in the top 35 picks or so. However, there is another camp that places him as a late second round pick and, even if it took OKC trading both of their selections to move up a bit, Trent makes sense given his shooting stroke and role projection.
Jarred Vanderbilt – SF/PF, Kentucky – It might be wise for Vanderbilt to return to Lexington for another season but, if he doesn't, there is a real scenario in which he is available at No. 53 or even No. 57. That opens the door for a potential partnership, as he would bring legitimate upside to the table, and the Thunder could afford to take a swing given the presence of two picks and their current roster.