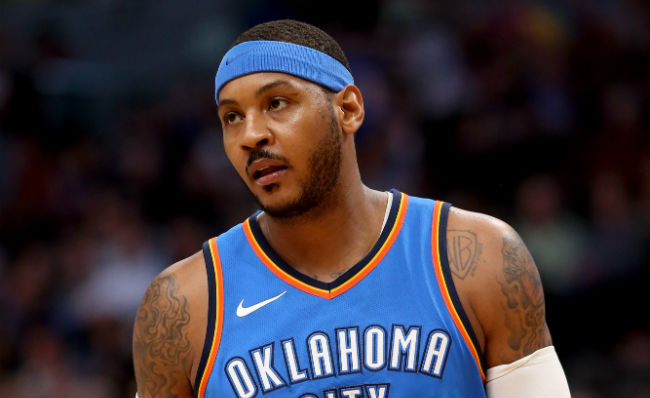 The grand experiment that is the Oklahoma City Thunder is not off to the start that many had hoped. The Thunder lost its fourth straight game on Thursday night, a 102-94 loss to the Denver Nuggets.
While Thursday's loss was far less notable than blowing an 18-point lead to the Boston Celtics a week ago, the Thunder reportedly held a team meeting after the loss in an attempt to make sure the team can bounce back from its recent struggles.
But Carmelo Anthony and company claim the meeting is a good thing, part of the team's continued search for cohesion and identity as it looks to find its way with three big stars on the roster in Anthony, Paul George and reigning league MVP Russell Westbrook.
"You have to talk about it. You have to look at it. You have to be up front with everybody," Anthony told Fred Katz of the Norman Transcript after the game on Thursday. "Everybody's got to be held accountable for what's going on."
And the team does appear to be talking about it, viewing a 4-7 start to the season as a mere bit of rain. Paul George also posted an inspirational message to his Instagram account on Thursday, a message that was quickly liked by Russell Westbrook.

"If you are caught unprepared by a sudden rainstorm, you should not run foolishly down the road or hide under the eves of houses. You are going to get soaked either way," the quote from The Hagakure: The Book of the Samurai said. "Accept that from the beginning and go on your way. This way you will not be distressed by a little rain. Apply this lesson to everything."
Everyone continues to say the right things in Oklahoma City. That it will take time. That everyone is in it together. And all that appears to still be the case. But it's undoubtedly frustrating that it hasn't come together for the team just yet. We'll see if that unity continues if their struggles follow in kind.