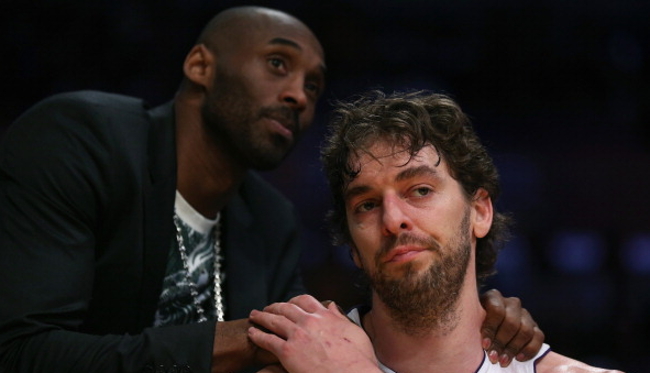 Pau Gasol is no longer a Los Angeles Laker, but it sounds like when he finally hangs it up, he'll have a significant place in Lakers history. Two major names in the Lakers organization came out in favor of Gasol getting his number retired by the Lakers once he retires.
When the Lakers hosted the San Antonio Spurs on Thursday night, it was the first chance Gasol had to see Kobe Bryant's numbers hanging in the rafters for himself. He tweeted his appreciation for Bryant and his time with the franchise before the game on Thursday night.
It was a cool little moment for the two that was made even cooler when Bryant retweeted the message with a "#16" message, which implied that the number Gasol wore while in Los Angeles was destined to join his up there next.
https://twitter.com/kobebryant/status/951587670135721984
Perhaps not everyone would say Gasol's seven seasons with the Lakers are worthy of retirement, but after the game, Lakers coach Luke Walton backed up Kobe's thoughts with his own endorsement of Gasol.
"My first gut instinct is yes," Walton said according to the Orange County Register. "He's a teammate and we won championships because of him. Obviously when we traded for him, everything turned around for us here."
With just 10 numbers up there for the Lakers, though, it's a tough ask.
"It is tough for the Lakers," Walton said."Because the names up there aren't just great players. They are all-time greats (and) a lot of them spent a lot of their career in L.A."
Whatever happens, it's got to be great to have players advocating for your jersey to be retired while you're still playing. Whether Gasol is truly a Lakers legend, it's clear he's an NBA legend that will be remembered for a long time after he retired.