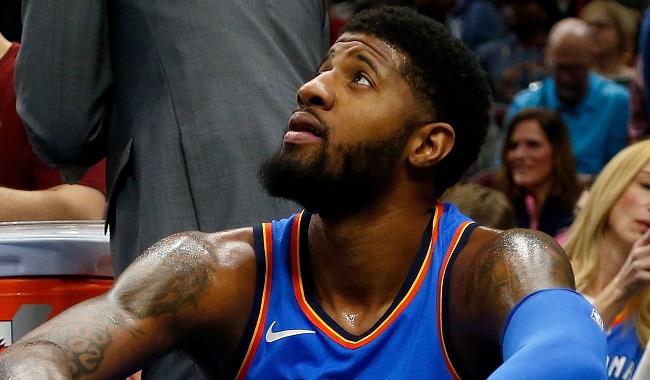 While the Los Angeles Lakers didn't win an activity battle against the Cleveland Cavaliers for the weirdest trade deadline performance, the team did pull off an important move that potentially sets the stage for the future.
Magic Johnson and company flipped Jordan Clarkson and Larry Nance Jr. to Cleveland for Isaiah Thomas and Channing Frye, laying the groundwork for two max contract slots in July and sending the whispers about free agent pursuits to even a higher level.
The headliner between now and July will be LA's pursuit of LeBron James but, on Thursday evening, fans of the franchise reminded anyone singularly focused on James that Paul George is also a significant draw in that particular market. George hails from the area (including a college basketball stint at Fresno State) and, in the midst of a home blowout win against the Oklahoma City Thunder, the Staples Center crowd showered him with chants of "We Want Paul" for all to hear.

The message was clearly heard even through the TNT broadcast and, as you can tell, the announcers even acknowledged its presence. However, George himself claimed to not decipher that particular message, leaning on the cheers as more of a "welcome home" gesture than a pure recruitment exercise.
A lot can happen between now and early July, with the Thunder putting a (much) better current basketball product on the floor than the Lakers. Still, Oklahoma City taking a lopsided defeat in Los Angeles probably didn't help matters and the Thunder have significant pressure to perform well in the playoffs, with a potential emphasis from George on the ability to win big in his current home when compared to the lure of Los Angeles.