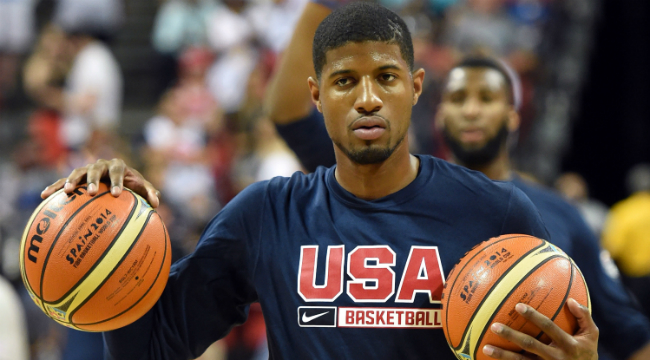 Paul George, despite the gruesome leg injury he suffered while playing meaningless basketball for Team USA last year, still wants to be considered for the 2016 Olympics. To do so, he needed to fulfill Team USA boss Jerry Colangelo's mandate that he show up at the Team USA minicamp in Vegas this week. He showed up, and according to ESPN's Marc Stein, that's all he had to do, so he left after attending a team meeting on Monday.
Stein speculated it was to spare George from being required to speak to the media after Wednesday's practice, and we all know what kind of questions he would have been asked, so it's a shrewd move on his part. George also had a one-on-one meeting with head coach Mike Krzyzewski while he was in Vegas.
Even though George did return to the court for the Indiana Pacers during the 2014-15 season following last summer's ghastly broken leg, he only played six games before suffering a calf injury. So he was never expected to participate in the practices on Tuesday and Wednesday, much less the intra-squad game on Thursday. Even though Carmelo Anthony and Kevin Durant are practicing during their injury rehab, we can all forgive George for not wanting to return to the scene of the most traumatic moment of his basketball career until he knows he's fully healthy.
(Via ESPN)