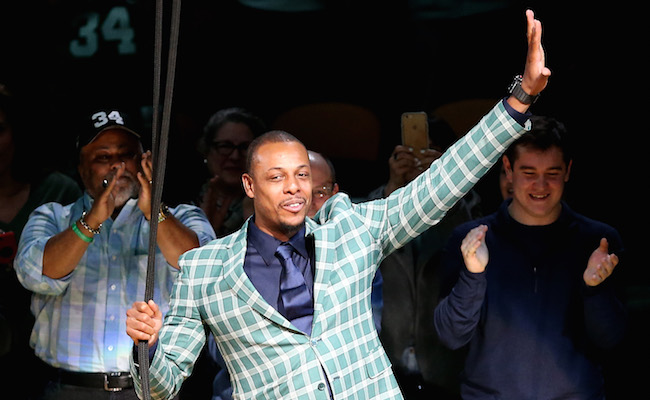 The NBA season is finally set to tip-off on Tuesday night with the Celtics on the road at the Sixers and the Warriors hosting the Thunder on ring ceremony night, and that means everyone is fired up about actual, meaningful basketball games being played again.
The Association hasn't been out of our minds, though, thanks to the new year-long news cycle it creates with the draft, free agency, and the seemingly annual superstar trade request prior to camp. This year, that honor belongs to Jimmy Butler and the Minnesota Timberwolves, who have reached an odd detente for the start of the season, with an agreement in place for Butler to play nice with his teammates and be on the floor while management continues to work to find a suitable trade for him.
That's the lead storyline in the NBA as the season approaches, but there's tons to talk about all around the league, so we called up ESPN's Paul Pierce to get his takes on the upcoming season, Butler's trade request and subsequent drama, his beloved Celtics as the East favorites, who can challenge the Warriors, his expectations for the Lakers, adding Stan Van Gundy to the NBA Countdown crew, and why Rachel Nichols and Michelle Beadle are like Rajon Rondo for him.


Let's start with your former team, the Celtics. Do you see them as the clear favorites in the East? And then what team in the East do you think presents the biggest challenge to them?
I definitely see them as a clear favorite based on what they did last year, especially with the injuries to Kyrie and Gordon. They should be favored to go to the Finals after pushing Cleveland to game seven of the Eastern Conference Finals. Now there is no LeBron James in the East, so you don't have to worry about Cleveland running the East no more.
I think their biggest hurdles are gonna be Toronto and Philadelphia because those two teams feature two All-Stars. I don't see any other team in the Eastern Conference having more than one All-Star, so those are the two teams that will present the biggest problems. I think it's all gonna come down to the health of the Boston Celtics. If they stay healthy, they should be in the Finals. If not, it'll be a disappointment.
It's been what, three years in a row now that we're talking about maybe this is the year the Bucks put it all together around Giannis? They've got a new coach in Mike Budenholzer, who had success getting the most out of a lot of those Hawks role guys, and now he goes to Milwaukee. If there is a team outside of that top-3 you mentioned, are they the one that can be the biggest threat out there?
Well, without a doubt, when you've got a superstar like Giannis, a guy who should be in the top five MVP voting this year. But the problem is they don't boast another All-Star. You know, you need star power once you get to the playoffs, because when it comes down to scouting, and the defense gets tougher, you need guys who can win games for you. That comes from your stars when plays don't work.
They just need … I know Middleton is a borderline. He could be an All-Star in the Eastern Conference this year. He played great last year, and looked really good in the playoffs. So, yeah, they could have an outside shot depending on the development of Middleton. If he can turn himself into an All-Star this year, then they have a shot.
The West definitely has the most storylines, and the one that's unavoidable right now is in Minnesota. Have you been surprised at all at how the Timberwolves have handled this whole situation with Jimmy Butler now that he's back in the mix, and it seems like they're gonna start the season with him?
Yeah. I'm surprised to see him out there, because I mean, just after all the turmoil over the past few weeks with the demanding of a trade, and mouthing off about ownership, and his teammates. For him to go out there, and it seems like … from what I've been seeing the last couple days is he's gonna play, and they've worked something out until they can trade him. It just doesn't seem like it's gonna be just a culture to where it's built for winning, because on one end you've got a star who doesn't want to be there, but's gonna play anyway. Guys know that he can be gone any day now. It just doesn't seem like a culture built for winning right now as long as they have Jimmy Butler on the roster.
But if he can turn it around, and be positive, and not worry about being traded, and buy-in to what's going on with ownership, and the team, then they've got a shot at being good. But if not, it's just gonna be a toxic environment until they do something with Jimmy Butler.


The guy that he seems to be butting the heads the most with in the locker room seems to be Karl-Anthony Towns. He said in the interview that Towns challenged him. There were reports it was the other way around. But in any case, it seems like him and Towns aren't seeing eye-to-eye, and Towns is the guy that, going forward, has to be the leader of this Timberwolves team. Does Jimmy challenging him like this — and whether Towns is meeting that challenge or not — how does that effect how the team view Towns once Butler is gone and he's going to be thrust into that leadership role? How will that play in the locker room?
Well, I love the fact that Jimmy is challenging him. It's just a certain way to do it. Because when you challenge your teammates, and it goes public, you know, that's not good for the relationship when you're trying to build something. You've got two star players. Obviously, Towns is the future of the franchise. He's their All-Star. He's the youngest guy. They just gave him a max deal. I think what Jimmy has been able to give him over the last year [is] what Kevin Garnett in the one year he was with him [was] able to give him. He should be ready to step into that leadership role.
He's in his fourth year, I believe, and he's paid a lot of money. This is the year where you start turning around and start showing some leadership. He should be ready whether Jimmy is there or not to step into a leadership role and lead that team. He needs to be a bigger voice for them. I mean, he's the guy — the highest paid, the best player. So, whether Jimmy is there, he's got to step up. But I just don't like the way Jimmy went about everything. It just doesn't build a good relationship.
Yeah, I had my differences with Kevin. I had my differences with Antoine Walker, with Ray [Allen]. But this stuff never went public. This is stuff that we talked about, how can we make each other better? When it goes out and it's in the public's eye and in the media, you just feel like he betrayed you as a teammate, as a brother, you know? If you're brothers, and y'all trying to build something, or you're trying to make me better, let's do it behind closed doors, and that's the way you can help each other. But when it goes all public, it's like a bad relationship, and it's all on social media, or it's all on reality TV. That's why reality TV doesn't work because it's in the public eye and those marriages on those never work in that situation.
Spinning it forward because eventually we think he's going to get traded, what team out there do you think benefits the most this season from going and getting Jimmy Butler?
If the Houston Rockets can find a way to get him because it gives them a third star. I still think Golden State is head and shoulders above everybody, but Houston is the closest to them. I think they should try every which way to get him. I mean, they benefit the most now.
I'm hearing all these rumors about him going to Miami. I'm not sure how much better that makes Miami. It doesn't make them a top-four seed in the Eastern Conference with just a guy like Jimmy Butler. I mean, a team like a team like the Houston Rockets can benefit him the most. Or the Los Angeles Lakers because it gives them a second All-Star to pair with LeBron James.
Speaking about the Lakers, as they're constructed now, where do you see them finishing in the West this year?
I see them as a top-five or six team, and I'm saying that because they're still young. They're still learning how to win. Last year LeBron played 82 games for the first time in his career. Will he be able to do that again? I don't think he'll be able to do that again. I think they would want to rest him at certain times. He won't be playing as many minutes, and so will that take a hit on their record?
They're a team who isn't that deep, I believe. So, if they get hit with the injury bug, that could set them back also, and you have to prepare for that, every NBA season that comes into play. You know, it's hard to have a healthy team for a whole season. You know, when you lose one of your key contributors, a rotation guy, that can set you back. I can see that with the Lakers, so that's why I don't see them finishing no better than five or six.
For those young guys on the team, we saw last year when Rodney Hood and Jordan Clarkson and Larry Nance all joined the Cavs, there are growing pains for these young guys in playing with the expectations that come with being on a team with LeBron James. Every shot you get carries a little more weight, is a little more important.
Absolutely.
How tough is that for young guys to adapt to that? This is a Lakers team that none of these young guys have ever played on a competitor. What are the challenges they're gonna face in suddenly playing with these expectations that come with LeBron?
Well, it can be a little intimidating, I can tell you that. From a player who is in their second or third year playing with one of the greatest players to ever live, it's like when you get a pass from him wide open, you may be a little more nervous on if you make or miss the shot. Those nerves come into play because now this group has never had expectations, so it was easy to play. Now there is all this hype surrounding the team with LeBron, expectations for them to make the playoffs. and it's just going to be interesting to see how they perform with pressure now.
It's easier for young player to go out there, no pressure to win or lose, take good or bad shots. Now you've got to execute. You've got to be on point every which way, especially in the Western Conference if you're gonna compete on any level. That can be tough on a young players. You know, these guys have only been in the league — Lonzo's second year. Kuzma's second year. Ingram's third year. So, you're depending on a lot of guys who are so young and haven't been in that situation. I can see a lot of pressure and it can mount up if things don't go well, especially early.


You mentioned the Rockets are kind of the clear number two team in the West behind the Warriors. Is there another team out there that if the Warriors run into them in the playoffs, they could see themselves getting pushed to six games? A team that could present a challenge beyond the Rockets to the Warriors? Maybe not even to win the series, but to just push them to kind of have to kick it into that extra gear before the Conference Finals?
My one team I would pick … this team, they're exciting to watch, especially with the young second year guys: Utah. They have great coaching. They all understand who their stars are. They run a great system. They're a great defensive team. I would want to say Oklahoma City, but it is just something about them. It's just something about them that just scares me. They're so inconsistent night in, and night out, and they host two perennial superstars with Paul George. So, you would think off top it would be them, but it just seems like they've had chemistry issues over the past couple years. I just think maybe if it's going to be a team, it's going to be Utah.
On the flip side, there are 10 or 11 teams fighting for eight spots. Who do you think is like Denver last year, and on the outside looking in, in the West?
I think it's gonna be San Antonio. I think they're gonna be a team that's gonna miss the playoffs for the first time in a long time. I mean, they're dealing with injuries. They lost their superstar. I know they got one in DeMar Derozan, but I think they could be on the outside looking in.
And with Dejounte Murray out…
…yeah, that's a huge blow losing your guard. You need guard play out here in the West.
You're entering your second full season as analyst with ESPN. You had done some guest work with them before, but what was the transition like for you last year going into TV full-time, and what are some things that you learned on the fly?
It's been a pretty good transition because even before I went into it, I worked the Finals the year before that when I was playing. I found I really enjoyed being on TV talking about the game. I just saw that as something I could continue to do after basketball. It allows me to be around the game still that I love. When you walk away from a game you play your whole life, and that's it, that's tough, but this gives me an opportunity to still be kind of a part of it. We travel at times. We get a chance to go to certain arenas, be there for the playoffs, till be there in the arena for that excitement, even though I'm not on the court.
The thing I learned the most is just being around Jalen [Rose], and Chauncey [Billups], you get nervous, and you've got to understand you're a team, also. You share the spotlight out there, and there is not a lot of time to really say what you want to say. But the good thing is I learned to relax more, because before I was kind of nervous at first, and it took me a while to really like just be myself. Once you say just be yourself, be your personality, be who you've always been, it comes natural for me and it's easy now. The nervousness is gone. It's just talking about the game that I love and that I've been around my whole life.
You mentioned the team you had last year. This year Chauncey moves to game broadcasts. Stan Van Gundy is coming in to join the Countdown crew. What do you think he can bring to the show? From a coach's perspective, a GM perspective, considering what role he had in Detroit recently, and kind of what have you seen from him since he joined, what, two weeks ago?
Yeah, I haven't had a chance to be on with him yet, but I think it's great when you get a coach who's been around the game like you said, and hear your coach's perspective, and a GM perspective of a game. You know, I'll give you a perspective as a player, and how the players think, and how the players feel, and the camaraderie of a team. But he's on the other side, where he gives you a coach's feel, or a strategy a lot of times. You know, moves to make as a GM, what's the right move, what's the type of culture you have, and you try to bring into a locker room.
So, you know, you get every aspect of the game when you add a coach, along with former players, and people who have been around the game. I think it's going to be a great addition, a guy who's not afraid to really speak his mind and who has been critical of ESPN also, so that will be interesting [laughs].
Lastly, you mentioned that you learned to kind of be yourself and just enjoy talking about a game of basketball. The two hosts you work with the most on Countdown and The Jump in Michelle Beadle and Rachel Nichols are two of the best in the business at what they do.
Yes they are.
How helpful has working with those two and the way they set you up? Keeping it conversational, keeping it comfortable even though you're on television.
Man, they're so easy to work with. Like you said, they similar to what they are for ESPN, it's like what Rondo was for me in Boston, how he sets you up for easy buckets. They set you up for great takes and perspectives on the game, and also with their knowledge of the game, it's fun to really talk to them about hoops. They're women who are into the game, who are very knowledgeable about the game, and very passionate the way I am as a player. It's fun to really be around them and get their perspective on the game of basketball, because they've been around it for so long, also.