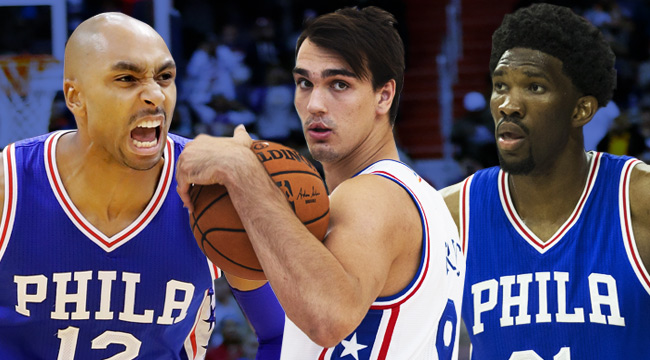 Comedian Chris Trew is a New Orleans Pelicans superfan who has a single season ticket directly behind the visitors' bench inside New Orleans' Smoothie King Center, where he chats with and listens to the opposing team. He will be documenting some of his interactions with players and coaches here for us in a regular column called Behind the Bench. You can follow his in-game interactions live on Twitter at @ChrisTrew. The Pelicans' opponent in this column: the Philadelphia 76ers.
Times weren't so joyful the last time Pennsylvania's basketball team, the 76ers, stepped on the hardwood in New Orleans. Joel Embiid wasn't around yet, Ben Simmons was still hanging around Baton Rouge, and tissue boxes were taking dives (while we're here, I credit the tissues with the Sixers finally landing that top draft spot).
While their winning percentage isn't that much different this season, their smiles are bigger, the laughs are louder, and their body language was perky-ish, as if they were saying, "the process is, in a way, nearing completion, and we're all very pleased with that."
How did I read all of that from just looking at their bodies? I was sitting directly behind them analyzing their movements and conversations more than I was analyzing the scoreboard.
Here are the highlights:
– After shootaround the Sixers were parched, and the hydration station hadn't been set up yet. When Gerald Henderson couldn't figure out how to reach around the Gatorade jug to pour his own cup (not his fault, by the way, it's positioned awkwardly) I offered to grab a gin and tonic for him to down before tip-off. He smiled, I smiled, and we both overheard Pelicans coach Alvin Gentry chatting with Sixers coach Brett Brown. The question was basic: "How you doing coach?" Gentry's answer was sobering: "Struggling like hell." Gerald declined the gin and tonic.
– After Hollis Thompson drank half his orange Gatorade, I asked him for a sip because that's how I like to introduce myself to role players in the middle of the first quarter. For the first time in my history of sitting behind the bench, he obliged, craning his right arm over to mine. I grabbed the Gatorade, made a joke I'm not very proud of ("how much can I get for this on eBay?" smh) but then exhibited the kind of follow up I am very proud of (actually putting the cup for sale on eBay).
– You know how when you're a kid and you take a bad shot – a terrible shot – and someone on your team catches it and then they score and then you claim it was a pass the entire time, only everyone knows you're a huge liar? That's a very bad joke that kids on basketball courts all over the world make. It's also a very bad joke that guard TJ McConnell made during the game, and I was happy that nobody laughed or acknowledged him.
– Brett Brown is a very hands-on coach who has a hell of a time hiding his emotions. Even the smallest hiccups on the court caused his face to twist in anger and his assistants to avoid making eye contact. But while one minute he is beet red and cussin' his little heart out, the next he is in a squatting position joshin' with one his backup guards. Brett Brown should get to coach this team for the next decade.

– The Pelican who listens to the opposing team's bench most often is Terrance Jones. Unclear if this is advantageous or not, but I do enjoy noticing his eyes wander during in-bounds plays.
– An obvious move for a fan in my position is to scream behind a player putting up a corner three point shot five feet in front of me. I do not do this every time in low stakes scenarios, but I absolutely fire up a yell once or twice a game. Sweet boy deer-in-headlights and Sixers forward Dario Saric seemed to be quite amused by my screech. He turned around and smiled as if to say "ya dog, you got me". Joel Embiid, the NBA's newest most fun player, was extremely unhappy with me and told me I shouldn't be yelling like that. It was very confrontational and I like Embiid so much that I didn't do it again, though I do like him less for saying that. Hollis cooled the situation off by saying "didn't I give you a Gatorade earlier? Chill out" with a smile.
– I felt very bad for Dario Saric when he couldn't find his warm-up shirt. "This is bullsh*t, it's bullsh*t" he kept saying and nobody seemed up for helping him. Makes me wonder if he's the kind of friend who is always losing things and eventually you stop feeling bad for him because it's like, you can't expect us to always be there for you whenever you lose your warmup shirt, Dario.
– The last time the Sixers were in New Orleans, Kendall Marshall would not shut up about my beard which led to my Dime editor penning this headline. This time around, I kid you not, I was on the receiving end of a "you have very pretty eyes" compliment from my guy Hollis Thompson. He went hard in the paint on the sweetness, so hard that his teammates were taken aback. "Look at them," he said and pointed back to me. (And then Gerald Henderson asked me where the gin and tonic was as the clock ticked down to zero as the Sixers beat the Pelicans.)