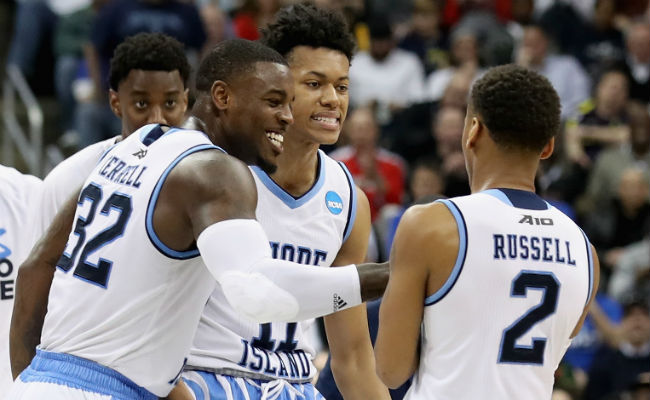 The first game of the NCAA Tournament can set the tone for the next three weeks of basketball, and hopefully that is the case for this year's event. No. 7 Rhode Island and No. 10 Oklahoma had the honor of being the opening game of this year's March Madness and they delivered plenty of dramatics in an 83-78 overtime win for the Rams.
The two teams traded leads in a game that was close throughout, with both teams hitting big shots late. Rhode Island held a six-point lead with under five minutes to play, thanks to some sharp shooting and passing like this dime from Fatts Russell for a dunk.

Trae Young willed Oklahoma back into the game with some great drives to the rim and a pull-up three-pointer with two minutes to play to put the Sooners up one.

Young started hot but didn't shoot especially well down the stretch, but those three were the biggest of all of his 28 points. Rhode Island was able to tie things up and the two teams battled for the final two minutes to a draw. It was nearly a buzzer-beater win for the Rams, but a tip-in effort by Stanford Robinson at the buzzer somehow rolled off of the rim to send the game to overtime tied at 69.
Oklahoma took an early lead in overtime, but a big three-pointer from E.C. Matthews, who led the way for the Rams with 16 points, gave Rhode Island the lead for good with 1:42 to play.

Another big three by Rhode Island gave them a five-point cushion and some Matthews free throws late sealed the win and a trip to the second round for Dan Hurley's squad.
Ultimately, it was the three-point shooting from Rhode Island that was the difference, as they went 11-of-28 from distance while Oklahoma shot a dismal 4-of-20 from three, including a 3-of-9 afternoon from their star in Young.
The Rams figure to face Duke in the second round, barring a stunner from Iona, and against the Duke zone that three-point shooting will be critical if they're to pull of an upset to make the Sweet 16.