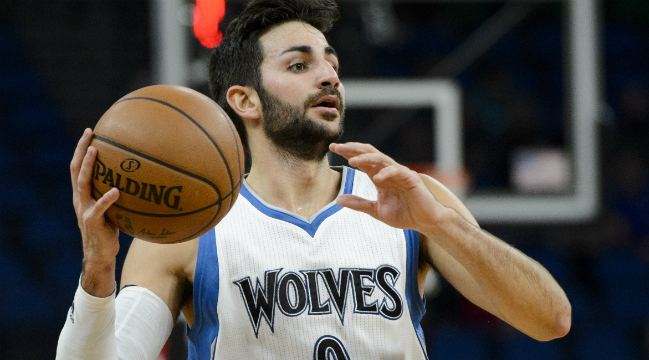 Look out, everyone. We could see an NBA record fall on Monday night. Ricky Rubio had 10 assists in the first quarter during the Minnesota Timberwolves' game against the Washington Wizards, putting him on track to destroy the league's single-game assist record of 30. The record was set by Scott Skiles for the Orlando Magic in 1990.
You have to be super locked in to get 10 assists in a quarter, obviously. But Rubio showed that he is far beyond locked in with this assist to Nemanja Bjelica. Rubio had the ball at half court and saw that Bjelica was streaking down the center of the floor. The only issue was two Wizards defenders were in the way … well, this would be an issue for most people.
But for Rubio, whose ability to pass is among the best on earth, this didn't mean anything. He decided to throw a bounce pass that split the defenders and put Bjelica in a perfect position to get two points.

I have watched this like 10 times and it gets a little crazier every time. Not only is it ridiculous that Rubio can do this, the fact that he'd even think to attempt this is absolutely insane. But hey, when you're on pace to break an NBA record that has stood for more than 25 years, you gotta swing for the fences.