It would be easy to make this about the Los Angeles Clippers.
They played the scoreboard. They forgot about Blake Griffin. Their lack of depth reared its ugly head. They grew afraid of the moment. They're simply not destined for meaningful playoff success.
And all of it might even be true.
But to focus on the loser always does injustice to the winner, a reality never more obvious than on Thursday night at Staples Center. The Houston Rockets outscored the Clippers, 40-15, during a mind-bending fourth quarter, turning a second-half deficit of 19 points into a 119-107 victory to stave off elimination and force an all-or-nothing Game 7 come Sunday.
Not even those general dramatics, though, properly convey just how outrageous the Rockets' comeback was in real time. Los Angeles jumped on Houston from the first tick of the third quarter, running, blocking and frustrating its way to an utterly dominant 22-8 stretch that had a raucous crowd and millions watching, looking ahead to the Western Conference Finals.
It appeared the Rockets were, too.
Both Dwight Howard and James Harden were assessed technical fouls as the Clippers' stretched their lead to one seemingly insurmountable, lending credence to the many who believe Houston lacks the poise of a viable championship contender. And when Harden left the floor late in the third quarter with his team down 89-72 and didn't return for the first few minutes of the final stanza, it still seemed the result of Game 6 would support that notion.
Kevin McHale hadn't given up, however, and instead sensed the game's momentum slowly and surely heading in Houston's direction.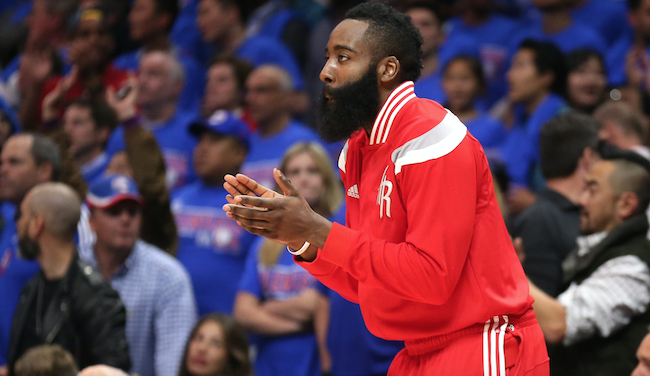 But the Rockets still trailed by 12 after J.J. Redick finally found the range and hit a triple with 8:17 left in regulation. Was McHale counting on a historic 34-10 run over the game's remainder to send Houston to victory? Surely not.
But give the oft-derided coach immense credit for sticking to his guns and leaving the MVP runner-up on the bench for all but the final minute of Game 6. A less confident decision-maker might have pulled the trigger on the unit that gave his team a chance to win in the first place, yet McHale resisted that obvious temptation despite knowing the public pitfalls of such a strategy.
And he helped save the Rockets season in the process.
There's no single play that sticks out from the many that proved so instrumental to Houston's herculean rally. Jason Terry, Corey Brewer, Trevor Ariza, Josh Smith and Howard simply played with a fearless energy their opponents sorely lacked, and took advantage of almost every opportunity afforded them – and the mentally, physically exhausted Clippers provided many.
It all officially began with a gaffe by DeAndre Jordan that would make most middle-schoolers blush. After Redick drained the triple that eased growing concerns of a suddenly hushed Staples Center, Los Angeles' big man stripped Ariza and saved the ball under his own basket – to the awaiting Brewer for an easy corner three.
Then Smith hit consecutive long-balls, Jordan missed a simple dunk, and J-Smoove got free for an uncontested layup. In just over 150 seconds of play, the Clippers' lead had been cut to 102-99. What looked like it would be an uncomfortable yet decisive victory less than three minutes prior was suddenly anyone's game, and the Rockets were the ones playing with confidence and energy.
Los Angeles had neither. Consistently stagnant offense was more jarring than their inability to get a stop down the stretch, but it was the latter failure that most contributed to the Clippers' unlikely demise. Los Angeles just didn't have enough in the tank to bang in the paint and rotate on the perimeter with its re-charged opponents, allowing Houston 10-of-14 shooting (6-of-8 3PTs) and a 16-3 rebounding edge over the game's decisive stretch.
Watch Jordan elect against contesting another long-range try from Smith, then mirror Griffin's malaise by standing and watching the ball carom off the rim.
That was when the Clippers still had a lead. After Howard split the ensuing free throws and stymied Griffin on the other end, the Rockets tied the game at 102 on Brewer's run-out dunk with 4:20 left on the game clock.
We could show you the fleet-footed wing's game-tying jam, his go-ahead trey on Houston's next trip down, or even Terry's splashed step-back jumper that put his team up, 108-102, as Jordan again proved too tired to do anything but stand flat-footed. But what best exemplifies the Rockets' incredible drive is their defensive performance on a possession the Clippers had to have.
Trailing by six and following a timeout as the game clock read 2:27, Doc Rivers designed a set for his sharpshooter. Not only did Ariza get through Jamal Crawford's pick and refuse to allow Redick an open look, but his teammates made similarly awesome multiple efforts as the ball continued moving.
Smith stopped Redick from shooting a mid-range jumper. Terry recovered to Paul after digging down to help and somehow stayed attached to the ball over a screen from Griffin. Howard cut Paul off and got his hands up to prevent a big-to-big alley-oop. And Smith was in perfect position to swat Griffin's lefty layup out of bounds.
There isn't one hero of the Rockets' comeback, but if there were it would undoubtedly be Smith. He scored 14 of his 19 points in the fourth quarter; notched the crucial block above; and knocked down a dagger three-pointer on Houston's following possession to give his team a nine-point lead and essentially put the game away for good.
Smith was brilliant. Like Houston's win isn't just about him, though, certainly don't forget that it's not about the Clippers, either.
"We gave this one away," Rivers said after the game via NBA.com. "There's no doubt about that."
Perhaps.
But only certain teams would possess the necessary combination of talent, hunger and belief to take it from Los Angeles, and the Rockets are one of them. Might McHale and company take the series, too? Playing a do-or-die game on its home floor and riding the high of an instant classic win, the odds are certainly in Houston's favor.
Yet if there's anything Thursday night exhibited other than the Rockets' will, it's that this series won't be over until it's really over. That end is finally coming Sunday; let's see if the Clippers can match Houston's shocking victory with one of their own.
(Via NBA.com)