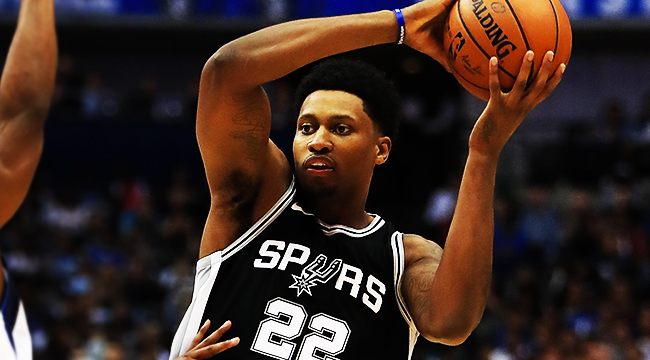 If you were to get into a lab and design what you would consider to be the least "Spurs" player possible, what would that player look like?
Right off the bat, there is no question that he would have a high usage rate that was not justified by his efficiency. He'd probably be a ball-stopper that liked to hold the ball, survey the court, and then attack a set defense. He'd be a below-average passer, a sub-par rebounder for his position, and a lazy and often inattentive defender. Mostly, he'd be a guy that was known for his ability to score that couldn't actually score all that well, and couldn't do much else, either.
In other words, he would look a whole lot like the player Rudy Gay has been for most of his NBA career.
During his time in Memphis and Toronto, Gay was about as anti-Spur as it gets. He was a volume shooter in every sense of the word, and the shots he took were generally the wrong ones. He lived in the dead offense area between the paint and the three-point line, and many of the shots he hoisted from that range were off the dribble, off-balance, and highly contested.


Gay siphoned possessions away from more efficient players — he had nearly a 25 percent usage rate — and he didn't do other things to make up for his wildly below-average shot profile and slightly below-average conversion rate. He collected only nine percent of available rebounds and assisted on only 10 percent of his teammates' baskets while on the floor. His teams routinely got outscored when he was in the game, and their pace-adjusted point differential decreased by only 0.2 points per 100 possessions when he hit the bench. For a player putting up 18-6-2 every night, his actual impact was relatively muted.
Even in Sacramento, or "basketball hell" as Gay so infamously called it, Gay was less a changed basketball player rather than he was a slightly improved one. He still used a ton of possessions (25.3 percent), but he was a bit more efficient with them than he'd been in the past (55.4 true shooting percentage compared to 52.6 in Memphis and 49.7 in Toronto).
He still didn't do much in the way of rebounding, but he was at least a bit more willing to create for others, as was reflected in his assist rates. His teams were still outscored (they were the Kings, after all), but his importance to the success of specific lineups was underscored by the fact that they were nearly four points better per 100 possessions when he was in the game and 9.2 points better per 100 during his abbreviated final season.
While that final Sacramento season showcased a version of Gay that was as close to the realized peak as we could reasonably expect in his age-30 season, it was also cut short after just 30 games by a full rupture of his Achilles tendon. Considering what that injury has done to the careers of so many players in the past, it was quite a surprise when the Spurs, of all teams, deigned to sign Gay during the 2017 offseason. He didn't seem like a Spur in the first place; and he was coming off a major injury, to boot.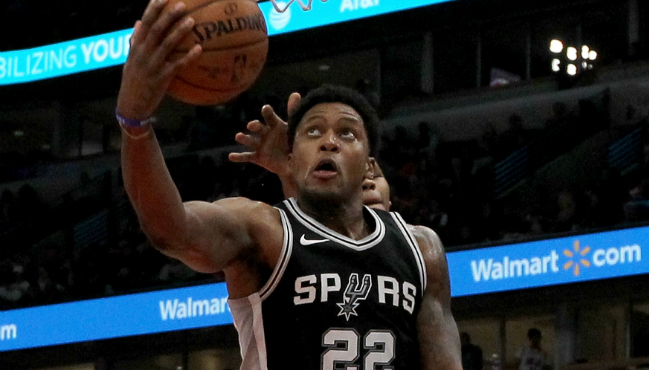 Instead of regressing like so many Achilles rupture veterans before him, however, Gay has become the latest shining example of the Spurs' ability to put players in position to succeed. He was the team's second-leading scorer during Kawhi Leonard's absence despite playing a career-low 23.5 minutes per game. He's kept up his typical usage rate (24.4 percent), but he's combined it with career-best efficiency levels (57.5 true shooting percetage) despite his three-point conversion rate being as low as it's been since 2013.
Gay is posting up smaller defenders on the block. He's beating closeouts with smart pump-and-drive moves. He's getting out on the break. He's almost completely excised long twos from his game, as a career-low nine percent of his shots have been attempted between 16 and 23 feet from the basket.
In a major departure from what's happened with essentially every other modern player that has ruptured his Achilles, he's finishing around the rim at essentially the same level he was before the injury, and he's getting there even more often. The last time Gay took a greater percentage of his shots within three feet of the basket, he was 23 years old.
But it's not just scoring. Largely because he's spending more time than ever playing as a small-ball power forward (64 percent of his minutes, per Basketball-Reference), Gay's offensive, defensive, and total rebound rates are at the highest points they've ever been. He's defending multiple positions, playing crunch-time minutes, and succeeding almost no matter who else is on the floor with him.


The Spurs are outscoring opponents by 3.9 points per 100 possessions with Gay on the court. That's the best mark of his career. He's on track for a career-high in Win Shares. ESPN's Real Plus-Minus paints him as one of the 25-best forwards in the league so far. In short, he's been one of the best stories of the first third of the NBA season.
And he's been even better in December than early on: 16 points, seven boards, and two assists per game on 59-36-72 shooting, with a steal and a block a night thrown in as well. He's climbed up into the high-20's in minutes per game, indicating that he's getting stronger, gaining stamina, and earning even more of Gregg Popovich's trust. With Kawhi Leonard back, Gay's job should get even easier over the rest of the season.
More than that, his skill set will actually allow Popovich to more comfortably throw "small" lineups out there during playoff games, something he's been reluctant to do over the last few seasons because he didn't have the proper personnel.
Rudy Gay becoming an important rotation cog for a playoff team is surprising enough at this point, given his reputation and career to date. Him doing it at age 31, coming off a ruptured Achilles, for the damn SPURS, is a basketball marvel. Let's appreciate it right now in case it doesn't last.