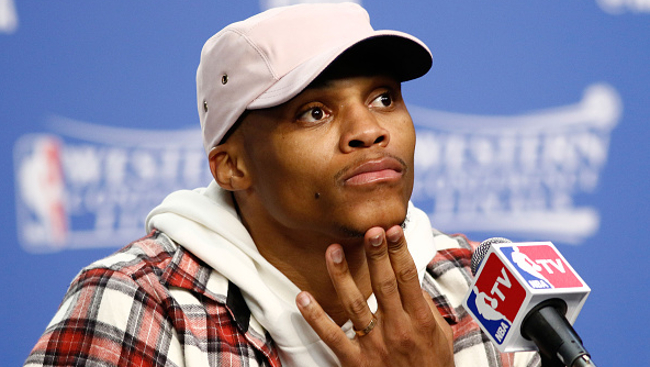 On the court, there are few if any NBA players more intense than Russell Westbrook. Off the court, however, Westbrook has shown more than once that he knows how to have a good time.
We know all about the time and effort he puts into his fashion choices, but the NBA All-Star has also taken the time out to find the perfect gift for Kobe Bryant, and played a huge role in helping the Thunder equipment manager propose to his girlfriend. If you follow Westbrook on his Snapchat account, you also know that the OKC point guard is also a big fan of music, and specifically singing along to his favorite songs.
Twitter user Alysha Tsuji has been doing her part to document all of Russ' best singing and dancing moments and they are all phenomenal. During the Thunder's series against the Mavericks, Westbrook was feeling some Justin Beiber.
Then, ahead of a playoff game against the Spurs, Westbrook got in formation and lip synced to Beyonce.

Tsuji forgot to record Westbrook and his wife getting pretty into R. Kelly's hip-hop drama, "Trapped in the Closet," but thankfully, Twitter user R0BaTO had it covered.
Most recently, Westbrook was feeling some Marvin Gaye and his classic "Let's Get It On."
Russell Westbrook is the only athlete that is using social media correctly.