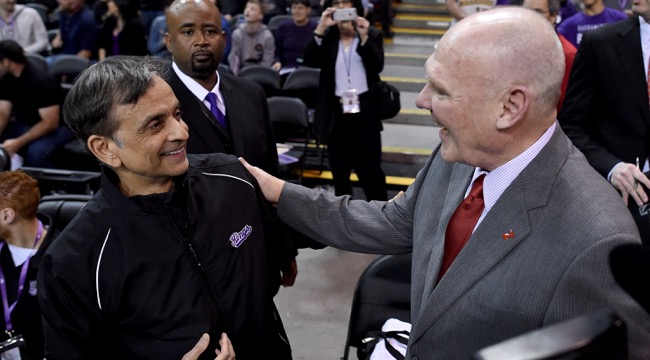 The Kings offered more money to Monta Ellis and Wesley Matthews, but both spurned them for better basketball situations in Indiana and Dallas, respectively. This after the Kings *successfully* opened up some cap room with a salary dump to Philly that might be the coup de grace of the Vlade Divac's future as a general manager in the NBA.
That's because the Kings could have used the stretch provision on either Carl Landry or Jason Thompson and opened up enough room for their unsuccessful bids to acquire Monta or Wes. And it wouldn't have cost them picks.
But, many are unsure about whether Vlade, or Vivek, or any of the current Kings braintrust is even aware of the stretch provision. How else can you explain giving the Sixers those players, plus the picks?
Regardless of how they got here, the Kings now have a surfeit of space under the cap they didn't have earlier. So, who should they spend that money on? We can all crack wise about them going after Rajon Rondo, but they're really going to try and sign him, even if no one else in the NBA will after his half-season in Dallas. But, what's that, now they might do Brooklyn a solid and take Deron Williams and his $21 million plus owed next season off their hands?
Or perhaps 28-year-old defense-averse Sixth Man of the Year, Lou Williams? Or 29-year-old "the Pistons are paying me millions so I won't play for them" Josh Smith? Yup, the Kings are looking at them, too:
So, rather than pooh-pooh their pu-pu platter of names that looked a lot sexier when current decision-maker Vlade Divac was still playing in 2009, we'll give them a primer on some available free agents they should vet before they likely waste that money they so stupidly freed up in the first place.
The hybrid forward impressed after being dealt to Orlando in the 2013 deadline trade that gave the Bucks a couple months of J.J. Redick before he signed in L.A. But after that half season of solid play, Harris severely sprained his ankle before that 2013-14 season, and never really found his original Magic footing after that.
Sure, he averaged 17.1 points in 34.8 minutes a night last season with Orlando, but he's like Paul Millsap's ugly step-sister, someone who's long and can play both forward positions while knocking down three-pointers at a reasonable clip (36.4 percent last season on 5.2 attempts per game), but he can't pass or rebound as well as Millsap can, and he's still figuring out his niche in the Association. We won't even get into the defense because very few young, offensive-minded early 20-somethings can ever defend at a level requisite with the near-max he's seeking.
Still, the Kings could — and probably will — do a lot worse, and Harris has a nice upside (basically, a younger Paul Millsap).
Would you look at that. Pat the pest HAS fielded calls from the Kings:
But he's also got the Knicks, drawing "major interest," according to Sean Deveney at the Sporting News and Alex Kennedy of Basketball Insiders.
Obviously, this likely means the Kings go back to the older Rondo, who was supposed to be the lockdown Dallas defender Beverley actually is for the Rockets, at a fraction of the cost. We know how Rondo's attempt in that role went.
The really nice thing about Beverley is he can run for days, and he's developed a nice three-point stroke so teams can't cheat off him in the paint like they've been doing to Rondo since he first tried an awkward pull-up from 18 feet. Rondo is a bigger name, but Beverley is the better value. Then again, Pat's restricted, and if the Rockets strike out on improving at the PG spot, or opening up room to go after LMA, they'll likely match all but the most monumental offers for their spritely point guard.
Reggie's also a restricted free agent, but the Pistons aren't as high on him as they might have first appeared after dealing for him at the deadline this past season.
They likely would have let him walk this summer if they had been able to pick Emmanuel Mudiay with the No. 8 pick in the Draft. Instead, Mudiay went to Denver and the Pistons got a smart rookie win in Stanley Johnson.
Still, Reggie is a good player, even if he might not mesh with Darren Collison. The Kings point guard last season has spent time sharing PG duties in L.A., Dallas and Indiana, so another instance where he's expected to part with the ball in the backcourt could create even more friction within a Kings franchise that's run similar to a scene from Mean Girls.
Plus, Reggie wants the max, or something close to it, if he's going to sign. That's part of the reason Sam Presti dealt him to Detroit in the first place. The other was an attitude at odds with the rest of the Thunder, including the time he refused to play despite being healthy.
Looking at this choice, the Kings can do a lot better. It's like whenever you're talking about the Kings, you get pushed into finding the craziest concoctions even when you're deliberately trying to fix their blunders. Perhaps the honorable mentions will be better, so please just ignore this choice.
HONORABLE MENTIONS
Instant offense, and at least his dunking will keep fans from miming the name of their arena. He's not the best defender, and he can get a little shot-happy when he's feeling it from deep, but they could do a lot worse than Green, especially if they can find a balance on price. Then again, their in-state rivals might beat them out for the sweet-shooting wing's services.
The idea of a return to Sac-town for Hayes already has us excited. No player at 6-foot-6 plays better post defense off the bench, but the 32-year-old's incredibly powerful lower body isn't getting any younger. This would just make us happy because we love Hayes, and we fell in love with him the first time he suited up for Sacramento.
The little brother of Jrue saw some time off the bench on occasion with the championship-winning Dubs last year, but the Warriors didn't like him enough to tender even a $1.147 million qualifying offer, so he's an unrestricted free agent. Then again, they might try to bring him back anyway for less than that QO.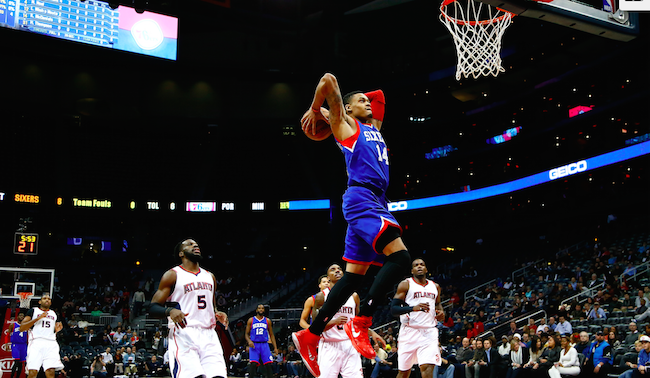 The second-round pick who wow'd in Philly, and then sat on the bench in Houston after Daryl Morey picked him up at the deadline, received a qualifying offer. Even though Houston might match, this is the sort of young, athletic wing the Kings should go after, especially if they plan on implementing George Karl's speed-it-up offense that could use a big body who can fill the lane on the break. Then again, the Knicks are sniffing, and Phil is trying to improve their defense.
He's a former Spur, so maybe the Kings sign him so he can give their front-office some pointers he picked up from Pop and R.C. Buford. Neal isn't returning to Minnesota, and while the Bulls have interest, it might be a sign-and-trade opportunity for Sacramento like it would be for Chicago.