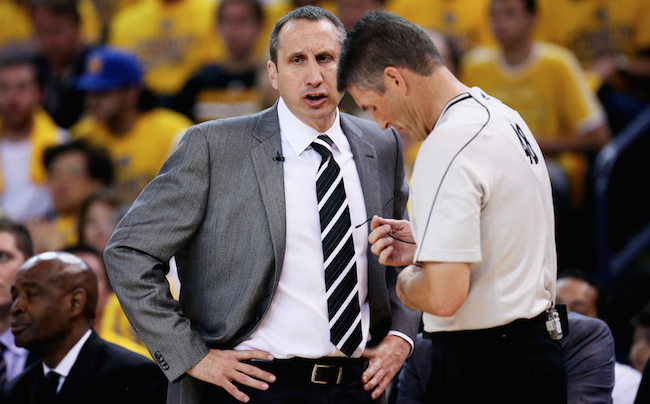 Game 6 won't be decided by referees. If the Cleveland Cavaliers can keep Steph Curry in relative check and finally afford LeBron James some much-needed help, they have a good chance of beating the Golden State Warriors on Tuesday to force a Game 7 back in Oakland.
But considering the makeup tonight's officiating crew, fans across the country are already preparing to call foul on the outcome of tonight's contest.
Scott Foster is the lead referee for Game 6. According to basketball-reference.com, the road team has won 11 of the last 12 playoff games in which he's officiated. Not exactly ideal circumstances for the Cavaliers as they face elimination from the Q, right?
Conspiracy theorists everywhere will be even happier to know that one of Foster's cohorts on Tuesday is Zach Zarba. The pair refereed Cleveland's Game 2 win at Oracle Arena, a wild affair that the league's postgame report said contained four incorrect calls in the last two minutes of overtime.
Adam Silver and company have intentionally stacked the deck against the Cavaliers, right? Curry is basketball's golden boy, after all. And even though Cleveland won the last game that included Foster and Zarba, it was obvious most every questionable decision went in favor of the Warriors. Golden State's title was already tainted by the absence of Kyrie Irving and Kevin Love, and will be even more so after the refs hand them Game 6. Conspiracy!
Except not at all.
If the league has a rooting interest one way or another – which is untrue, by the way – it would almost assuredly be for the Cavaliers. This Finals has received more attention than any other since Michael Jordan's last appearance in 1998, and would likely shatter any ratings record if it went to an all-or-nothing Game 7 on Friday. The only way that can happen? If Cleveland beats the Warriors tonight, naturally.
Sorry, folks. It's mere coincidence that Foster is refereeing Game 6. And while there will undoubtedly be calls that go Golden State's direction tonight, they won't be confirmation of the conspiracy theories to which so many casual fans love to cling – instead, they'll be the opposite.