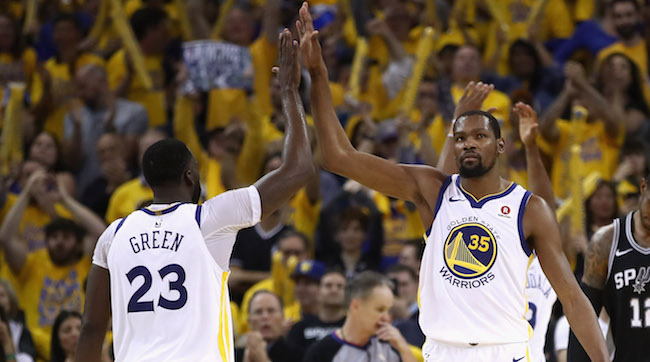 The Golden State Warriors are looking to win their third NBA title in four years, and with their core group capable of staying together, provided ownership doesn't get tight with money, they figure to be among the title favorites for years to come.
The NBA has historically been dominated by dynasties. The Minneapolis Lakers ruled the late 40s and early 50s to the tune of five championships in six seasons. The Celtics controlled the late 50s and 60s with an absurd 11 championships in 13 seasons. The 70s were a rare time of parity, in the sense that eight franchises won titles in 10 years, but quickly order was restored as the 80s were all about the Lakers and Celtics once again.
In the 90s, it was the Chicago Bulls that won six titles in eight years. The modern NBA has featured short burst "dynasty" type teams, from the early-2000s Lakers and the Big Three Heat, with the Spurs ever-present as a force winning five titles, but not necessarily a dynasty in the traditional sense. The Warriors, should their core group so choose, appears to have the best chance to have a long-term run and rival that of the 90s Bulls — the team they've been compared to since their arrival on the scene as a dominant force in the NBA.
Scottie Pippen was the second-most important piece of those Bulls squads that lorded over the NBA in the 90s, capturing six championships alongside Michael Jordan. Pippen spoke with Dime while shooting an upcoming video for House of Hoops' "Off the Record" series, and explained why he doesn't think the Warriors should be categorized as a dynasty.

"You say they're on a dynasty run, but I don't see it that way," Pippen told Dime. "They picked up probably the best player in the game after they won their first championship. I don't consider that a dynasty run. They went out and got the best player in the game after they won their first championship and after they lost in the Finals defending their first title. I don't see them as a dynasty, I think bringing Kevin Durant in really changed my respect as to where I rank this team going forward in terms of a dynasty."
Pippen expounded on his argument, believing that adding Durant after losing the Finals in 2016 is what sets this apart – at least until they win a few more with KD.
"I thought they were organically built up until they went out and got Durant," Pippen says. "And I think that was the change, but I don't really see Golden State as a dynasty. Dynasties are teams that does things special, does things different. Even in the year that they won 73 games, they lost the title. So I can't consider that part of their dynasty. That wasn't a dynasty season. So then they came back the next season and won a title, so I can't back track and say let's add last season to it because Kevin Durant wasn't with them at that time."
I think you would be hard pressed to find too many that would agree with Pippen's sentiment, but it's certainly an interesting perspective on defining what a dynasty is and how linked that first title is to their current run with Durant. Some will undoubtedly point to this as being sour grapes from Pippen, as this is the teams most often compared to his Bulls teams of the 90s and ever since that 73-win season there's been a constant debate about whether they would beat those Bulls squads.
In any case, if this iteration of the Warriors with Durant rattles off a run of championships going forward, they'll have to be considered a dynasty even under Pippen's definition. To do so, there's a long way for Golden State to go and they will have to dispatch the up-and-coming contenders to their crown led by the Rockets out West.