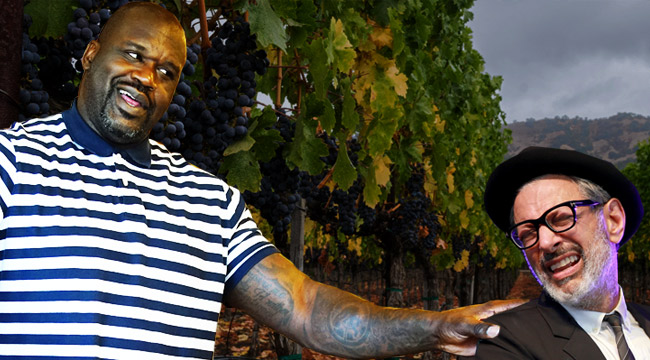 There was a time (before he was gunning for titles) when Shaquille O'Neal wanted to be a movie star. Shaq, a charismatic, enormous superstar who easily appealed to children and took up a lot of space on a screen, managed to get a few roles in before the turn of the century. In Kazaam, which was something of a flop and one of the strangest movies of all time, he played an absurd rapping genie who lived in a boombox. He also appeared in Steel, a DC Comics movie, where he played a very strong metal man, one of the many abysmal superhero movies that had the misfortune of being released a few years before anyone figured out how to make one of those things.
His performances in both of these movies are probably best described as "a little much." Shaq is charismatic, certainly, but his line readings are a little wooden and the material — a pre-2000 superhero movie and maybe the most absurdly-plotted Hollywood movie ever released — didn't do him any favors.
But, Shaq's acting career hasn't been all nonsense. He was sly and funny on as himself on Curb Your Enthusiasm, playing a victim of Larry David's leg placement malfeasance, and he is straight-up interesting in Blue Chips — shot before he was even in the league — playing a raw basketball prospect with a deep well of suspicion reserved for white America.
Charismatic and gravelly voiced, with an unparalleled physically-dominating presence on screen, there is no reason to believe that, with a little bit of work and a role that would preserve and stroke his talents, that Shaq couldn't become an actor of note, a professional who brings a big, weird flavor to everything he appears in.

But what would the right vehicle be for Shaq? Movies are a no-go, what with the stream of genre nonsense Tinseltown is pumping out nowadays. And if you think Shaq is gonna kick it on some horsesh*t indie movie set, or grind it out on some 22-episodes-a-season network procedural, buddy, you got another thing coming.
No, Shaq's light can only be harvested by bringing his spirit to the small screen of cable. I'm talking about supporting roles in the wonderful world of serialized prestige TV dramas. To help you envision the next step for America's Big Man, I've put together a few brief pitches, below:
ESPOSITO: Hot Tempered Detective David Esposito (BOBBY CANNAVALE) is in a rut. Working on the sun-bleached suburban streets of Phoenix, Arizona, he's tracking a series of murders in the desert, seemingly unrelated but tied together by tenuous strings of coincidence, vague social connections, and a very mysterious check written for one victim by another victim, and stowed away in a third victim's pocket. As Esposito confronts the truth and the limits of his mind and spirit, he seeks counsel and good humor from his partner, Joshua Williams (SHAQUILLE O'NEAL), a wily, deadpan and quick-witted detective investigating a murder that went down just a few blocks away from City Hall.
ST. RITA'S: Hope and death both run through the life of Dr. Irma Kennedy (EMMA THOMPSON), the director of medicine at St. Rita's Children's Research Hospital, a hospital that services terminally ill children. Dr. Kennedy, who has worked at Rita's for more than 20 years, finds herself becoming more and more worried that the remnants of her humanity are slipping away in living a life that, by its necessity, treats death as a process, instead of a tragedy. She works with head nurse Robert Harden (SHAQUILLE O'NEAL), whose sense of humor makes him a silly, fun hit with the kids, but it conceals the personal pain of a private, past tragedy.
THE SHIP: Life on a U.S. Navy battleship is given the wide-scope Altman treatment in this ensemble tale of life on the U.S.S. BENJAMIN FRANKLIN, an aircraft carrier stationed in the Persian Gulf. Moments of panic occasionally cut into large swaths of boredom and tedium. Commander Darryl West (SHAQUILLE O'NEAL), a Naval academy basketball star and a big-bodied, big hearted officer, renowned for his skill at late night poker and his love of a ribald joke, is somehow always at the center of both extremes.
VINES: The many lives and loves of Master Vintner John Ridder (JEFF GOLDBLUM) drift in and out of his day to day on his Napa Valley winery, The Henri, where the only thing sweeter than the grapes … is the loving. John maintains a friendly rivalry with his neighbor, the sharp tounged, ambitious upstart vintner David Ayken (SHAQUILLE O'NEAL), whose love of wine, cheese and the myriad delights of life is second only to his unquenchable thirst for publicity.
MANUFACTURE: The shady lives of Washington, D.C. lobbyists are illuminated in this tale of manufacturing industry representative and on-the-sly Washington fixer Karen Stotts (JULIANNE MOORE), whose lifetime of wheeling and dealing could be in trouble following the unexpected election of President Christopher James Turner (SHAQUILLE O'NEAL), a reform-minded progressive who is taking aim at the lobbying industry. Stotts, feeling the heat, has to find and exploit his weakness. But does he even have one?
And hey, that's only the TIP OF THE ICEBERG! A bird scientist whose work unexpectedly contributes to a possible cure for cancer? SHAQ. A basketball shoe company representative, on the grind in China? SHAQ. The sweet talking cameraman on a television show about the life of a cable sports network game broadcasting unit? SHAQ. Please, prestige TV writers: just hire the man. He belongs on your tasteful Emmy-hunting dramas.