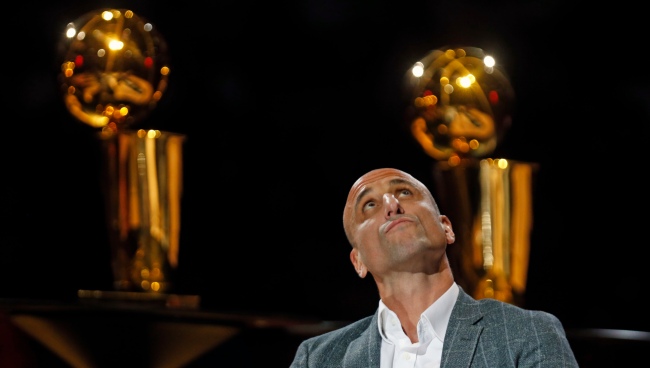 The San Antonio Spurs honored a legend on Thursday night, giving Manu Ginobili the ultimate praise by retiring his No. 20 jerseys for his contributions to the franchise on and off the court.
Ginobili sat in the crowd next to Tim Duncan and Tony Parker, watching the Spurs barely hang on to knock off a feisty Cavaliers squad, 116-110.

Once the game was over, the ceremony began. The festivities started with Parker roasting seemingly every single person that has ever put on a Spurs jersey, then acknowledging how much he appreciated what Ginobili did for him as a teammate.
https://twitter.com/NBATV/status/1111470166343188480/
Gregg Popovich was up next, declaring that "without Manu there are no championships." Considering he won four of them, that's extremely high praise. But Pop is known for his biting sense of humor, so he also said that Manu is the reason his hair turned white.

Next up was Duncan, who famously was not particularly into Ginobili when he was initially drafted. Of course, Manu quickly changed his mind.
The final message of the night came from Ginobili himself, in which he reminded everybody how unlikely his journey was and when he truly knew when he belonged.

Manu's speech was as heartwarming as it was inspirational. He even gave a message in Spanish specifically for all of his fans in Argentina. Then, it was time to watch as his jersey was raised to the rafters.
It was an awesome moment for a player whose importance to the franchise goes beyond any gesture or honor. Gracias Manu.