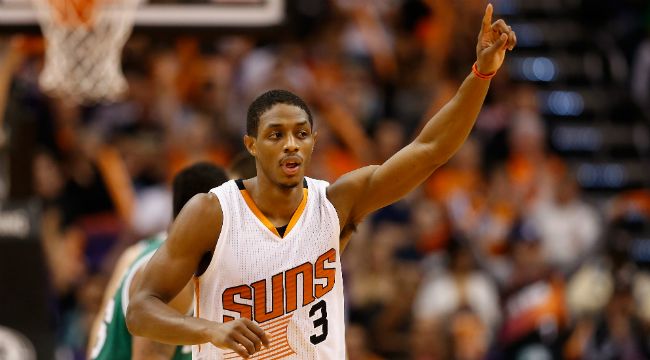 The Phoenix Suns may have settled on their long-term backcourt as a pairing of Eric Bledsoe and Brandon Knight, or they may have just chosen one over the other. The former signed a contract for five years worth $70 million in the 2014 offseason, and now Gery Woelfel of the Journal Times is reporting that Knight will sign an identical contract with the Suns once free agency begins on July 1.
Knight was set to become a restricted free agent, but he and Phoenix have seemingly removed all the drama from this process. That's in some ways a relief, considering the last year has seen its fair share of such drama for Phoenix guards. Recall that Knight was traded from the Milwaukee Bucks to Phoenix at the trade deadline last year as part of the insane series of moves that sent away Goran Dragic and recently-signed Isaiah Thomas to Miami and Boston, respectively. It was an abrupt turnaround after Dragic and Bledsoe showed such chemistry in leading the Suns on a surprise run that fell just short of the playoffs in the 2013-14 season, a chemistry that the signing of Thomas seemed to ruin, based on how quickly it all fell apart.
But the Suns maneuvered their way out of that situation and wound up with Knight, who has a world of talent offensively despite a poor initial showing in Phoenix that was cut short due to injury. Of course, the drama might not yet be over, as Knight's signing appears to have spurred the Suns to explore the trade market for Bledsoe. It's not a desperate dump the way the Dragic and Thomas trades were rumored to be, but with Phoenix picking Devin Booker with the 13th overall selection in the draft, the Suns may feel that they have the flexibility to use Bledsoe to fill other positions of need. At least the Knicks are interested in Bledose, who has the talent to attract his fair share of suitors, but a good enough deal may not materialize.
If the Suns hold on to Bledsoe, he'll have a whole offseason to build chemistry with Knight, and the core that the Suns have built of the two guards (and perhaps Booker), the Morris twins and improving young big Alex Len is an intriguing one. Bledsoe and Knight's matching deals are short of the maximum contracts, which should allow the Suns some flexibility to add another piece this offseason without giving up anybody.
(Via Journal Times)